'' Stories apart, I know that my Grand Ma made Avial almost daily. She made different versions of avial. Her favorite avial was jackfruit avial. Jackfruit was on the menu almost every day due to its abundance. I  secretly feared that eating jackfruit dishes daily would somehow adversely affect my intelligence. So, I resisted eating avial as much as I could. But I cherished the crispy golden jackfruit chips all the while. My only relief was that jackfruit was seasonal and it was not available throughout the year. But, as it turns out, I was actually consuming an exotic fruit packed with proteins, vitamins, fiber, minerals, and antioxidants during my childhood days.''
An excerpt from my book ''The Taste Of Classic Coconut Cuisine''.
In my childhood days, I thought of Jackfruit as a fruit of the poor because of its daily appearance in our kitchen as a free commodity.  The trees grew wild everywhere and the fruits were so abundant to the extent no one even cared or cried out in joy when a ripe jackfruit fell from the tree. But this was not the case with the mangoes. Whenever ripe mangoes fell in wind we rummaged the entire ground to pick every single one of them. Mangoes were considered delicacies back then also and got all the attention, while the Jackfruit tree remained humble and kept on supplying its huge and sweet fruits in plenty to the needy.
The very act of cutting this huge thorny fruit into small pieces needed expertise and skill, mostly avoided by the delicate women of the household. This task required pinning down the jackfruit firmly to the ground with one foot and cutting the thick outer covering with a sharp knife using both hands. This didn't look very feminine and was mostly done by the workers or menfolk.
I learned the art of slicing a jackfruit from granny's maids. I also learned to make idli batter in a grinding stone, chopping splinters, cutting grass for fodder, etc. Sometimes I offered my expertise by cutting a small jackfruit valiantly, making my Granny proud.  Nevertheless, I despised eating Jackfruit delicacies those days.  Back to the present, Jackfruit is a rarity in Pune, and whenever I get one I celebrate it fully…seeds and all. 
The Legend Of Jackfruit  And A Temple
( The story of Ammachi Plavu )
There is a famous story related to a Jackfruit tree located inside the premises of Sree Krishna Temple of Neyyattinkara at the capital city of Kerala  Thiruanantha puram.   This grand old Jackfruit tree is known as The Ammachi Plavu ( Means Granma  Jackfruit Tree ) . There is a heroic legend associated with this tree.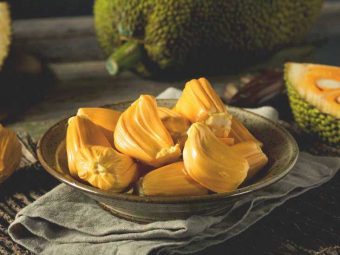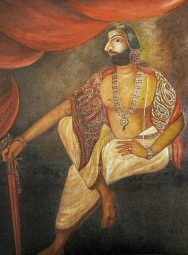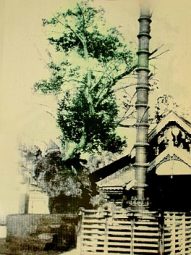 Anizham Thirunal Marthanda Varma was a  great King of Travancore from 1729 to 1758.  A rebel group of warriors known as Ettuveettil Pillaimar got jealous of King Marthanda Varma and attacked him often to dethrone him. Once the Ettuveettil Pillai mar chased Marthanda Varma  and The King fled and crossed a river and reached near The Sree Krishna Temple Of Neyyattinkara.  There he found a boy grazing cows. This boy kept  The King in hiding inside the hollow trunk of a giant Jackfruit tree , thus saving King's life. Thereafter this tree came to be known as  The Ammachi Plavu or The Mother  Jackfruit tree who protected The King of Travancore inside her hollow belly.  The legend is that the cowherd boy was none other than Sree Krishna himself. Jai sri Hari.
(The images are of  Jackfruit,Sri Anizham Thirunal Marthanda Varma and Ammachi Plavu  respectively )
The traditional Jackfruit delicacies are Avial , Thoran, Erisery , puzhukku, Jackfruit seed fry , chips , sweet preserve, payasam etc.  It is also the new vegan rage. The new popular items are  Jackfruit barbeque sandwich ,  Jack Teriyaki, Jackfruit Pot Pie , Jack biriyani , only to mention a few. The list is endless, even the poor Jackfruit never dreamt of this five star upgrade.
It is also loaded with protiens , Vitamin  B and Potassium . Seeds contain Thiamin and riboflavin which is good for eyes, skin and hair. More than anything it is very tasty and blends well with all types of cuisine.
In the year 2018  Jackfruit  went on to become The State Fruit of Kerala .  A well deserved recognition for this humble fruit .  Isn't it a remarkable journey? 
Check out my book  The taste Of Classic coconut cuisine for many mouthwatering  (traditional ) recipes.
The link is here: https://www.amazon.in/dp/1636401570
I would also love to know more recipes of Jackfruit from other states too 🙂 Please post in comments. 
---