My thoughts were sweeping from one theme to another for the blog today. Since morning I couldn't finalize the topic. I also wanted to finish writing at the earliest. But along with my daily chores, my 9 yr. old started pestering me to take her to the nearby park.
Since it was still a bit sunny in the cold winter day, I thought some cycling and playing will be better for the child. Also, her spent energies will help me to keep her settled and I could focus on my work later. As the children were playing, I parked myself on a corner bench.
This public park is the afternoon siesta site for most of the housemaids and servants working in the nearby colonies. While they would rest, their children would play. These uncouth children would also engage in fighting, shouting, rolling in the dirty mud, and chasing of street dogs.
But today, the scenario was quite different. They were playing team games, following proper rules, and taking all the commands by a lady, seemed to be from a well-to-do family. She was making them do various activities, playfully scolding, punishing, and awarding them. The children, in turn, were giggling, laughing, and enjoying every bit of the funny activities and games. They forgot their fights and troubling of the stray dogs.
As the lady was about to leave, I rose from my observant bench and walked up to her. I inquired whether she was working for some NGO or was a social worker herself. She smiled and told me that she casually came to walk in the park. She saw some kids scattered and some fighting so thought of engaging them in positive team games. She then distributed some sweets to the children, walked out of the park and left me standing dumb founded.
In such a materialistic world, did I really witness a scene of selfless service? This lady did not even take pictures to upload on social media. She just spent qualitative time with complete positive involvement with the underprivileged children. After she was gone, the brash kids were wishing "Namaste" and "Good Evening" to all the visitors in the park.
The incident left me with a wonderful insight. We need not wait for some big opportunity, money, and forum to do charity; our mere presence and positive involvement is sufficient to transform lives, give happiness and beautiful everlasting memories.  
(Sharing few pictures that I took during the kid's activities in the park today).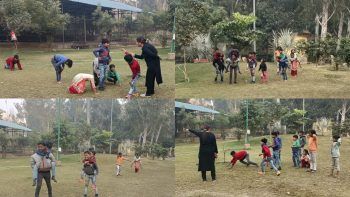 Jai Shri Hari 😊 
---