A good recommendation can make a huge difference
I received two amazing recommendations — they combined together to produce magic.
These recommendations doubled the number of books on my toddler's bookshelf and helped him develop a fascination for books.
The recommendations led me to the lock-the-box event, a unique book buying experience.
"Surround Your Child With Books"
"Surround your child with books."
Os.me favorite Akshay Om gave me this advice last year. He recommended Tulika Publications, publishers of high-quality children's books. My wife, child and I visited Tulika's in-person bookstore in Chennai as many as 20 times last year.
We bought all the books we could find at the Tulika bookstore. Gajapati Kulapati has become a part of our family. Bahadur the elephant and his friends delighted all of us at home, not just our toddler.
Pretty soon, we purchased all the good options at Tulika.
What next?
I asked Akshay for further recommendations.
"Try Bookchor.com", he emailed back. 
Anangsha Alammyan Purchases a Box Full of Books
Anangsha Alammyan, a popular blogger and editor of a Medium publication Books Are Our Superpower, came home with a box full of books.
She had gone to an event called lock-the-box. Boxes are available in three sizes. You purchase a box. You fill the box with as many books as you can. A staff member then "locks the box" by taping it with scotch tape.
Anangsha posted a video of her trip to the event where she filled up a box with 20 books.
The concept sounded fantastic. Purchase a box and fill the box up with books— how cool is that?
We Visit the Lock-The-Box Event at Chennai
I google bookchor.com and find out lock-the-box is a Bookchor initiative.
And even better — they were having their event in Chennai at that very moment!
Talk about synchronicity, and the universe coming together for us through Akshay and Anangsha. My wife, toddler and I visited this amazing book fest. We bought several books for my toddler.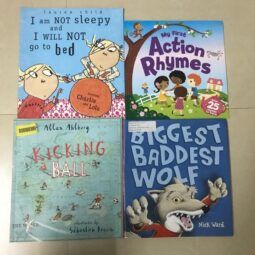 We purchased a total of 37 books. 29 books for my toddler, 8 books for my wife, and one for me (I purchased Roald Dahl's Boy Tales of Childhood, if you're curious).
Interestingly, I didn't find many books for me. These days I read non-fiction exclusively, and there weren't many non-fiction books.
For fiction readers, however, Christmas had come early.
We Go Again to Purchase a Second Box
My wife and I don't agree on everything.
After returning home from the first lock-the-box sale, we agreed on one item: we had to visit the lock-the-box sale again.
The second time around, we enlisted the help of an accomplice. We requested my mother-in-law to accompany us. She is the perfect person to fit in that extra pair of clothes in an already full suitcase. With her expertise, we were sure we could pack in more books in a box.
Having been to the sale once, we knew the battleground. We got straight to work and selected one wonderful book after another.
When the dust settled, we selected 60 books.
You read it right. 60 BOOKS.
And my mother-in-law masterfully fitted them in the medium box.

I Wanted To Go to a Lock-the-box Event at Another City
My toddler loved the books we purchased in the sale.
My wife and I read these books to him many times. He developed a love for books thanks to these gems we purchased.
I wanted to drive out of town again and purchase more books. My family thought I was crazy.
After the Chennai event got over, Lock-the-box announced events at Mysore, Bengaluru and Coimbatore. These cities are less than an eight-hour drive from Chennai. I tried hard to persuade my family to make a trip to these cities. "It would be a nice vacation", I meekly pleaded. I almost succeeded in making the case for going to Bengaluru, but the plans fell through in the last minute.
The last lock-the-box sale was held in Ahmedabad, a 30-hour train ride from Chennai. We considered making the trip(!). Once again, this fell through.
And then I got the good news.
Lock-the-Box Is Coming to Chennai Again in September 2022!
That is right!
Lock-the-box is coming to Chennai again! From September 23rd through October 2nd, they are having a sale again in Chennai.
I look forward to visiting the children's section in the sale. As you can see, I'm as excited as my kid. He gets excited after we purchase the books (he's understandably not a fan of the 2-hour book selection process). I'm excited with the idea of the sale. I'm looking forward to purchasing more high-quality books for my toddler.
Books are a superpower, and I'm thrilled he is getting a taste early.
Concluding Words
Thank you, Akshay and Anangsha.
Your pieces of advice worked in tandem to double the books in my toddler's bookshelf.
And dear reader — if you are in Chennai between September 23rd through October 2nd, check out this event.
You won't be disappointed.
Image Credit: Stephen Andrews on Unsplash
---