Hola!
Some trips later, I am here again. This week's topic was inspired by a reader friend from Mallorca who died two months ago. We talked only once, through these screens that are our windows to the world, but I know from his daughter that he had many titles of mine and that he shared my passion: giving away books.
Martí González always treasured a lot of books that he distributed, as a therapeutic kit, among his friends and acquaintances. According to the vital moment of each one, he gave them the book that could be best for their soul. Every morning he went out to visit different people whom he mentored.
Núria, his daughter, tells me that after Martí's death, a huge box of books that he had ordered for his mission arrived at his house. What a beautiful way to leave your mark on the world! Since August 20, he is no longer physically here, but each volume he delivered has left a part of him in the heart of that reader.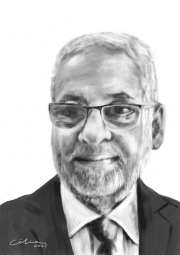 Portrait made by Cèlia Vallès, cousin of the book giver .
Without having the dedication of this dealer of parallel worlds, I recognize that giving away books has been my passion for many years. When I discover a reading that I find delicious — the last one was A Walk in the Woods by Bill Bryson — I start buying it for my friends as an evangelist distributing Bibles.
This seemingly generous act, in my case, has its selfish part. If a reading excites me, giving the book to a good friend allows me to discuss it with him or her later and relive the pleasure again.
The poet and essayist Charles Baudelaire said that"A book is a garden, an orchard, a storehouse, a party, a company by the way, a counselor, a multitude of counsellors".
In 1977, pop group ABBA, who is now back, expressed their gratitude to music with one of their most beautiful songs, Thank You for the Music. I also thank the books and all their lovers who, like Martí, spread their inspiration to the people who need them.
Happy week!
Francesc
---