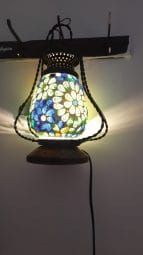 As I lay silently on my bed, listening to the quiet night's whisper, my eyes fell on the night lamp that hung from the hook on the room's wall. How it was glowing, warm and yellow, making a few of my room's objects identifiable. Even a little noise seems loud at night, and so, making a soft sound of my bedcover crushing under my hands' pressure, I sat up and dramatically ran my fingers on that lamp.
It was almost a year and a half back, that I had longed for the exact same lamp when I went to Shilparam ( a tourist attraction or kind of a park and open market for antique things) with Maa, in Hyderabad. The city had welcomed us with warmth of the loving people and tremendous heat of the summer, nevertheless, it was a pleasant stay there. Two years of my life spent in Hyderabad, and I cherish every moment!
At the antique wooden shop, there were colorful cut glasses, embedded on the body of night lamps, there were wooden worship thrones, side tables, book holders, and what not; all carved with great attention and passion! Rows and rows of jute crafted articles lay at the shop fronts, with big cardboards displaying their prices. My eyes fell on the attractive 7 inch night lamp. What a beauty! Thick metal wires simply twisted around the body into a pear shaped border, and the skin of the lamp was made of cut colorful glass, attached to each other in the shape of flowers with the help of a white binding material, maybe POP? Its bottom was a border of hard wood, carved into a smooth design. The light bulb was inside it, a wire with a plug attached to the wood at the bottom slithered out of the lamp, and it was tied together with a rubber-band.
Upon noticing that my gaze was not moving from that lamp, Maa said a few comforting words about why we would buy it later and not now. She explained that we did not need it now, and that it would hardly be of any use. I gave her words some thought, although all of it was true, but it was bitter. I thought, moreover, where was the place to keep it, for, being middle class, I did not have a modular room where there would be side tables at either side of a cozy bed, and a huge window with heavy curtains. So stepping aside, we moved to the other direction to further explore the park!
Not that I was desperate for that lamp, but a tiny wish of owning it crept into the universe out of my mind, unnoticed!
Wonders happen, at the most unexpected times! So true!
After quite a few months of this episode, when we were in Bangalore, where I am currently staying, one of my days ended with extensive reading, for there it was- my exam the day after!
Maa and Baba were to attend a family friend's birthday party, and would return late that night. So I made my bed and bid them goodbye, though there was nothing good about saying bye. It is so depressing to watch others having fun and being in a helpless state of rest and pause, for you have a test the next day!
Anyways, I calmed my agitated mind, and went to sleep. My parents returned very late at night, and I only felt their presence after I woke up the next morning. As I dismissed the morning alarm, I walked to the kitchen, unmindfully, and poured a glass a warm water into a glass. As I neared the sofa, I noticed a box, neatly packed with a colorful gift-wrap! My mind became curious and alert at the same time!
To my astonishment and delight, the exact same night lamp I had wished for long back, popped out of the box! Upon enquiring about the present further from Maa, I got to know that it was Salony Auntie (the same auntie whom they met last night) who gave me the present. She said that it was the gift that was pending from my previous year's birthday! How nice of her! How nice of the universe to remember my wish!
This may sound insane of me to think this way, but it isn't. I say this because, (returning to the present moment) as I turned around and looked at my room, I realized how everything I had, was something I had once wished for! The bed on which I was sleeping (all these 16 years of my life, I was sleeping on foldable cots, and Baba bought an actual bed 2 weeks back!), my book shelf (which I hardly use, I prefer using the dining table more), my ukulele (although I was the one to pay for my instrument, it was my parents who drove me down to the shop!)…and the list goes on!
We all fail to notice how blessed we are, for if you are reading this story, then you already are a person who has access to the internet, has a gadget, a roof to stay under, blessed with eye sight to see this, blessed to be associated to this organization! Life is beautiful, but we often complain, apparently about everything! But let's ignore all the discomforts, and focus on what we have! Life is a flower, and it shall unfold when the time is right. Have faith, and be thankful. The rest of what you are supposed to do in life is something you already know, and I am no one to instruct you further!
Thank you for your precious time, for time is life, and you just spent a few minutes of your life in reminding yourself that God is there, if faith is here ( in your mind and heart).
Om Namah Shivay!
Yours lovingly,
Kripa Sarkar
---