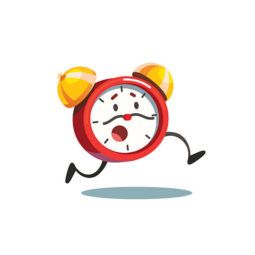 This is Friday evening and time to go to bed, and then it occurred, the entire week I have either been running ahead of schedule or behind it for my alarm clock had decided to go amok.
Today, I heard the alarm and got up confused because the alarm was ringing but I felt it was a little early. Doubting my instincts and trusting the gadget, which after all was a whole piece of precision. I rushed and reached my work quarters but what do I see… nobody from my shift, except the canteen in charge. I saw her and realized I was hungry. I addressed her, 'Mama I am hungry.' She gave a quizzical look and said, 'Mr. Y, you are pretty early for lunch and too late for breakfast.'
Ohh! Ohh! I had worked around the wrong alarm and now had zero choices, I had trusted the machine and not the instinct.  
I never liked you dear clock but I always will have to for my dear old uncle entrusted you with me, with precise orders to use you forever.
Now, this is seriously funny, do I respect my uncle's last wishes or hold my life in order? What a beautiful pain my uncle has given me. I live with my sweet sorrow, love for the old man, and respect for his last wishes!
Do I have a choice_ keep the ties, keep the clock_ what a bitter-sweet sorrow!
---