Do you have a miniature idol in your house (any God, maybe a horse, an elephant)?
You have an attraction to the miniature because it is the representation of something bigger.
You want to hold the secret of immortality in the cup of your hands and sip it?
---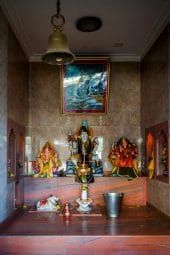 Shiva is eternal. Om, Shiva or Shivoham. It is generally believed that Lord Shiva resides in the insurmountable Kailash. It is also the source of the Ganges and endemic rare herbs. These herbs cannot be found elsewhere. When Ganga glides, caressing and cajoling those plants to lend their virtues to the already powerful Ganga. It is no wonder that when it flows back to us, it is highly potent water.
Have you participated in a Shiva Abhishek? The Shiva Lingam is made of stone, like Mount Kailash. We pour clean and pure water on the Shiva Lingam, same as Ganga. Offerings such as Bael leaves, Paan leaves, Dhatura, varieties of flowers, Tulsi, honey, milk, curd among so many. These represent the plants on Mount Kailash. The gradual pouring of clean water on all these elements which flows over the Shiva Lingam transforms it into a powerful and energised beverage.
Now you must be thinking, why the need to go attending Shiva Abhishek when you could just mix all the ingredients with water and drink your full? For the simple reason that there is a subtle activation process.
Do you feel the power of Mantras? Do you sway to the humming of the vibrations?
Mantras chanted and repeated through collective consciousness towards a common goal-Shiva, can alter the chemistry of the offering that flows from the Shiva Lingam. The rays from the Diyas (subtle), Aarti (moderate) and Hawan (very powerful) of different intensities enhance the beverage into a very potent blessing. If laser therapy is a thing, light travelling in space can show us distant galaxies, Music therapy nursing people back to health, Sound waves are used to monitor our health. Is it surprising that Sound, Light and Elements together make a sip from the Shiva Lingam into a marvellous health nursing for the body, mind and soul?
What can the gentle sip from the Shiva Lingam do?
---