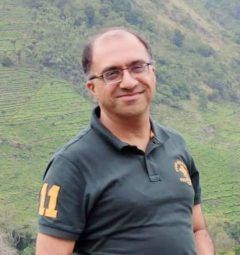 Mehul Sonpal, my Kaka's son was just 45 on Feb 1, when a massive heart attack took him away from us. Survived by his wife Bijal and kids   (14) and Jugal (10), Mehul has left behind a legacy that is going to be hard for us to follow. He was an extremely pure, totally down-to-earth and hard working man. He had a clear idea on what his goal was and simply work diligently towards it, quietly, at his pace, at his time. He was the first one to come forth and offer a helping hand, wether it be for his ailing uncle (dad) or ageing aunts. A friend, philosopher, guide and lifetime tutor to his daughter Miloni, his astute skills in all subjects, especially Maths, were the first port of call for Miloni, on almost every matter. An idol and a hero for his son Jugal, he was the omni-present He-Man who could shake the world to make things happen, any time. To his wife Bijal, he was everything.
The tragic way in which his death occurred, totally out of the blue, with no past history of any major ailment except high BP, put the family in state of shock for a moment. Yet they were in a state of pride the very next, when swarms of people gathered to pay homage to the noble man who touched so many lives in not so long a life. 
However, as I had promised, this post is not an obituary, its a message of hope and positivity that I wish to communicate to his daughter Miloni, so like me, see the signs of positivity in this act of God. God, who she wants to complain to, for this untimely act of his. 
I have thought on the following points and since this platform is full of noble souls who all have faced numerous challenges in their lives, I am sure you all will help me make this far more comprehensive and detailed, so these points will serve as a guiding light for Miloni, for a lifetime.
Life Is not Fair : As a child you are brought up with lot of love and affection. You are taught the right things told to choose the good options. However, in reality everything will NOT go as planned, every wish will NOT be fulfilled and not every person will NOT do what you expect of him. 
There is no right or wrong time for something sad:  When we look at the life overall, things happen when they are supposed to. We may feel confident or in control and we may assume that nothing can go wrong in the plans we have made, and yet everything may still go wrong. It does not mean that we stop planning or stop assuming, it just means that we be prepared for the eventuality, whatever it is.
Not everything is in your control: However well you behave or however well intentioned your actions are, its not possible that everything will go as per your plan. 
Life is a series of events and not just one big event, however big it might be: There is lot more to follow. Just like a sad thing will pass, so also a moment of joy and celebration will also not last, so be prepared. This Too Shall Pass.
There is nothing called 'reality' in life. Everything is perception: How you perceive the situation, is upto you.
Why Bad things happen to Good people: So they can get better and best
When life throws lemons at you, you make lemonade: See the opportunity here. Whatever has happened, was not in your control. But what happens now, is upto you.
After every stormy night, there is a beautiful morning: This moment, however tough, will soon lead to another one with lots of positives and reason to be optimistic.
Would be glad if all of you can contribute to this list, to help make in comprehensive and complete to help the young child get direction and take the next steps in her life with lot more courage and confidence.
Amen!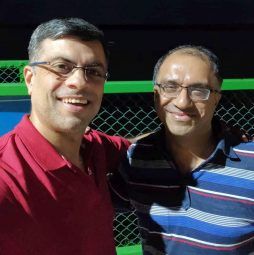 ---