After 2.5 years of moving to our new home, our new clubhouse was inaugurated earlier this month. It was then officially thrown open to the residents to use as of this morning.
Knowing this, I planned my day well in advance. I decided what I'd wear for my first badminton session in the new club, complete with track pants, matching socks, non-marking shoes and a hair clip to hold my locks in place. I laid it all out on a chair by my bed so I'd be able to pack it as soon as possible in the morning.
I was also keen to try out the new swimming pool so that meant getting my swim gear in place. From the light blue, knee-length suit to my black swimming cap and matching goggles, those went on the chair too.
Knowing that the ladies playing badminton would be there by 8 am, I planned backwards to determine how much time I'd need to prep lunch boxes, make breakfast, do a load of laundry and then head out the door.
Right on cue, at 8.00 am, I headed out the door, energised by the sheer idea of working out again.
Knowing how important it is to stretch before any workout, I spent 15 minutes doing just that.
For the next half hour, I laughed, swung, whooped in joy as the shuttle soared over the net and the racquets swished through the air. The atmosphere was charged with women cheering one another, racing from one end of the court to the other, in an attempt to defeat their opponents. The adrenaline was incredible.
After that, I headed off to spend 30 minutes in the pool, did a few energetic laps and then cooled down by floating on my back in the element I find most comfortable of all.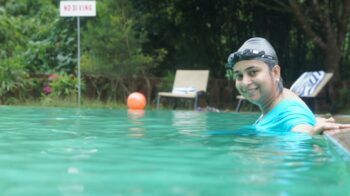 Image is actually from a trip to Wayanad in 2016, but I have the same suit even today
I share this today because I'd been feeling a niggling sense of seclusion and solitude over the last few months. It's especially more pronounced when you work from home all the time and the work keeps you glued to the laptop for the better part of the day.
A part of me wondered if I had forgotten to interact with people, play a sport or just be part of a community. In my earlier place, all of these things came very naturally to me, thanks to my groups of friends.
Today, it was a sign that I hadn't lost it. It was a reminder that living each day can be as joyous or as tedious as we make it out to be.
It was a reminder that I could definitely make time to work out if I chose to do so. That making friends is as simple as showing up and playing a friendly game of badminton.
That going for a swim starts with something as easy as getting everything in place the night before.
The bonus? I had no time to check my laptop or my phone in the morning because I was making sure I finished my chores before heading out to work out.
This way, when I did open my laptop at 10 am, I did it with a profound sense of gratitude as well as readiness to tackle the workday.
There's another interesting discovery I made. I am comfortable with group sports such as badminton where I have to speak to other people and engage. I am equally comfortable with a solo workout like swimming. Strange? But true.
I am beginning to think it's part of my introvert personality which kind of spills over to my blog and work too. Blogging, by itself, is a solo activity and I love it wholly. But the engagement, the readers, the audience- those appeal to the side of me that likes to talk to people.
This is what I wish for each of you: to find the joy in living each day and to make time for the things that truly, deeply matter. Everything else will naturally fall into place.
---