Charan Sparsh Swamiji. 
Today, let me share some really challenging situation with a baby on a lighter note to all of you. Some of our family conversations can be interpreted as follows in an alphabetic manner!
A – Aja, aa aa jaa aa aa aa aa jaa (When Samil raises his hands expecting any of us to pick him up!) / Ajeeb dastaan hai yeh, jahan khatam wahan suru (Samil's Crying reloaded!) / Aa dekhen zara, kisme kitna hai dum (Samil sings this when he cries inconsolably testing our patience)
B – Baar Baar Dekho Hazaar baar dekho, yeh dekne ki cheez hai… (Has Samil passed motion in the diaper?!🤣🤣🤣) 
C – Chalte chalte mere yeh geet yaad rakhna, baby karne k liye jigra hona aur patience v bahut hona
D – Dil hai ki mantaa nahin (When Samil goes on burping continuously and demands feeding frequently)
E – Ello ello, ello ji sanam hum diaper fula diye susu kar kar k… (Samil sings this when he makes the  diaper thick!)
F – Fir wahi raat hai; raat haai jagne ki (When Samil sleeps for the entire day and is in a very playful mood as we go to sleep)
G – Gardish mein fir apna parcham lahra do, lahra do lahra do… (When Samil gives that elusive innocent smile!)
H – Har dil jo baby karega, woh chain se khana naa kha paega (The moment we sit to dine and Samil starts crying!)
I – Ikraar karna mushkil hai, izhaar karna mushkil hai; Samil teri Mummy ka order inkaar karna muskil hai (When Sanghamitra orders me to do the burping of Samil in the midnight after feeding)
J – Jab koi baat bigad jaye, jab Samil ulti kar jaye tum dena saath mera… (When Samil vomits, and I ask Sanghamitra for napkin!)
K – Kabhi aar kabhi paar laga teere-e-nazar (When Samil switches between watching the fan and our faces very fast) 
L – Lat lag gayee lag gayee, zamana kahe lat yeh galat lag gayi (When Sanghamitra tells me to cut some vegetables and I tell her, I am holding Samil and you do it. (with Samil fast asleep and I am watching James Bond Movie!))
M – Mujhe nind naa aye, mujhe chain na aye, tu rotaa hi jaye (When Samil cries continuously) 
N – Nind aa rahi hai, baadi nind aa rahi; raat jagne se, tere rone se jaan jaa rahi hai (When have a disturbed sleep and next day I have to go to office)
O – O mere dil ke chain, chain aye mere dil ko dua kijiye (When I successfully get Samil into sleep mode after long struggle)
P – Pag ghoongroo bandhe Meera nachi thi, hum nachen bin ghoongroo k (When I am jugling between pacifying a crying Samil, trying to take bath, perform the nitya puja and run to office!)
Q – Qaafirana sa hai, ishk hai ya kya hai (When Samil continuously watches on the decorative colorful walls of our house!)
R – Raat akeli hai, bujh gaye batti; soja beta Samil, nahin to teri meri katti (When Sanghamitra is very angry on cranky Samil for the entire day)
S – Shama hai suhana suhana, nashe mein jahan hai (when Samil feels extremely sleepy; momentarily opens and closes his eyes like he has taken bhaang)
T – Tu mere saamne, main tere saamne; tujhe dekhoon ke aahe bharoon! (when Samil is about to cry!) / Tadap tadap k is dil se aah nikalti rahi, aisa kya gunah kiya jo loot gaye… (Sahil sings this when Samil's frustration is poured on him by me and Sanghamitra)
U – Ude jab jab zulfen teri… (After Samil does a head shampoo and his hair becomes super silky) / Ude dil befikre… (When Samil takes a long nap)
V – Vaada raha diaper se wipe ka, ab hum naa honge juda; yeh meri mushkilen badh rahi hain khuda! (When I get scolding from Sanghamitra for sitting down to change Samil's diaper without moisturizer wipe) 
W – Waqt ne kiya kya haseen sitam, tum rahe naa tum; hum rahe naa hum… (We, when thinking about watching a movie on Saturday night as we used to do before Samil's arrival. Now sleeping is the highest priority!)
X – X for X-Ray (Nuclear Physics wala aur kya bol sakta hai!)
Y – Yeh mera dil, bhaya ka deewana.. (When Samil stops crying after Sahil holds him and starts playing with him)
Z – Zara zara si baaten, teri mujhko yaad aati hain… (When Samil reminds us Sahil's childhood memories through his activites; we sing this for Sahil)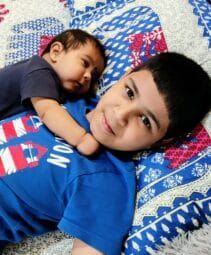 Which one did you like the most, plz comment.
Jai Shri Hari…
---