Participated in the CSW-62, in March 2018. 
Empowering Women
New York is a city which grows on you. The city is so well connected with metro subways that we don't need a car to commute. The yellow cabs are available easily but expensive. The footpaths are so well laid that we can walk easily covering each block without even thinking that a cow or a dog might scare us. The city is very safe and people very warm & civil but always in a hurry. You will see most in black with a cigarette in hand. People are respected for their knowledge and not for their money.
Landed at JFK, without a Plan
Since I was to go to New Jersey at my cousin's place after landing at JFK I never bothered to plan much. On landing at the airport of New York city, I tried booking the uber/lyft cab but since my credit card was not linked I could not do it. I got stuck at the airport. It was pretty late so there was no way I could take the yellow cabs. Panic Attack!! Renu Aunty read my expression of fear and offered her home for a night stay as she said commuting to NJ would be highly unsafe at this hour of the night. Mrs Renu Reddy, was a total stranger to me then. I met her first at the Bangalore International airport just 15 minutes before boarding the flight and chit-chatted for five minutes about our wear about. We again met at Kuwait & Shannon airports and were together for a brief moment. At JFK seeing me anxious,  calmed me down and said not to worry as her doors were always open for me. I was fear-struck so decided to go by my gut feeling and climbed into their BMW. Reddy Uncle was kind enough to allow me, a stranger, into their home. She gave me the 2nd floor with complete privacy and even on my return journey I had to stay for 3 nights with them as my flight got cancelled due to a snow storm. This is when I realised we meet people for a reason. I am truly God's child. My NYC trip became safe and smooth only because of this family. Uncle is a Professor at NYU and a graduate of MIT, and Harvard. Such a humble man with 2 doctorates and practising Medicine. They are my inspiration. Uncle says meeting them was a coincidence but I feel it was destiny as why would I bump into Renu's aunt every time out of 350 passengers?
The next day they gave me the hang of the metro system and explained that NYC is divided into uptown, midtown, and downtown.  Reaching UNHQ was easy as Google maps are basically designed for the USA. After getting the ground pass for the conference I met my colleague from Mumbai, Dr. Veena and I spent time at the UN café where one could meet vibrant people from different countries. Priya, her daughter and I decided to visit the grand central library which is known for its architecture.
Grand Central Library is easily connected with subways and is worth a visit. I fell in love with the grand Lions and the rose room where we could get the feel of Bramhasthan concept which says "open to the sky". Here you can see the ceiling painted with the sky design. (ref pic). My mind rushed back to our Havelis and our courtyard which are always open to the real sky.
That evening I said bye to Dr Reddy and Renu aunty feeling a pinch in the heart to pay $126 i.e Rs 9000/- from NYC to NJ via uber. USA was slowly sinking into me. In Rome live as Romans. The ride was smooth and long and meeting Chitra Bhabhi my distant relative was a great relief as I felt was Home finally. My next two weeks were going to be easy. Who Knew!!
New Jersy
The next day we visited the mall in NJ but I could not shop well as I felt I was paying the same price for the goods which were better packed in India. So didn't enjoy shopping much as we get everything in India now.
I was all geared up for my CSW-62 event at the United Nations where we would be trained for women empowerment and gender equality. The following day Chitra dropped me at Metro park station and from there I took a train to Penn Station, Penn st. another train called 1 to downtown Babylon university and walked half a mile to the venue. It was 10 by the time I reached the UN building. More than 2 hrs to reach a venue made me crazy.  I started at 7:30 am. The opening ceremony event was vibrant and we got the feel of the CSW-62 and what to look forward to for the next two weeks. Seeing all the smiling successful women made me feel ecstatic. Great stories from great women make you feel inspired. On my way back I saw these fat pigeons and while clicking their pictures the phone got shut down (with a 57% battery ). Now how do I use Google Maps to reach NJ? I was stranded. I said to myself that I am brave and took the same road back but somehow reached the wrong station. It said downtown and I was the only person in the subway with an old beggar who was singing songs and trying to gain sympathy. Something in my heart said, Go back! and I ran for my life. I was carrying $2000 along with 3 credit cards. Crazy Me!
Back on the street I saw many rushing to the uptown station and realised my mistake. Somehow I managed to reach Penn station. Borrowed an I phone charger as even my power bank too had exhausted. I managed to reach New jersey metro park station by asking a lot of people for directions and was picked up by Chitra bhabhi. By then I had decided to move to a hotel closer to UNHQ so decided to share the room with Dr.Veena.
Hotel In Manhattan
The following morning I packed clothes for 4 days in a small pull-trolley suitcase which I had to borrow from Chitra. Later we realised it was broken for some reason and I had to brag about it, lift it, pull it. It was crazy and got severe cramps in my limbs and right hand doing this crazy pulling of the luggage. I was cursing myself at the idea that I would buy new luggage in the USA. India is far easy to shop in. I reached the event venue a bit late due to the broken suitcase and gave a damn about the taxi fares. My fingers got boiled carrying this heavy broken suitcase and decided to dump it at the hotel and buy a new one for Chitra as keeping broken things is a bad Vastu. Now I know why. We were supposed to wear a sari but I could not manage as my health was also down with a viral infection. Just before flying to the USA, out of anxiety, I picked this stomach infection, which I still do. Dress like Romans while in Rome. I said to myself, "Just three pairs of pants and 5-6 tops are good enough. Carry less, travel light".
The next few days were Rocking! I would just walk around Manhattan. The best way to enjoy NYC is to stay at the core of the city. I enjoyed the World Trade Centre Observatory, Time Square, the Statue of Liberty, the Empire State Bldg., the Museum of Modern Art, the Museum of Natural History and UNHQ thoroughly. I cried and stood in front of The Starry Night Painting of Van Gogh for an hour. I am a huge fan of Van Gogh and wanted to pursue arts after my 1oth grade. (currently, I am pursuing art through my book covers and drawings)
Just walking on the street of NYC gives you a lot of confidence. The city is full of people from different cultures, countries and who live life on their own terms. It was pretty cold and the trick is to cover your head, ears and neck and wear closed shoes.
I became very good friends with Dr Shivani who is a charming spiritual healer from Delhi. We used to attend events together at the UN and would click selfies all the time. Dr. Veena is a well-known journalist and writes beautiful articles. She has a very warm aura and shining eyes. Sharing a room with her was the best decision and she took great care of me. We three were from the same organisation.
Back to Chitra's place after 4 days brought a smile to my face. She took great care of me and tried her best to make me feel at Home. We shopped at big outlets and I blew on the brands that made me feel awesome. My personal favourite is Coach and Burberry. I did Vastu for Chitra's shop and home and they said they would love to try my energy kast. Sometimes I feel my life is like a sadhu, people offer me food and shelter and in return, I give them solutions for my Vedic studies. Works out for both I guess. Since the storm was expected I decided to go to Renu aunty's place on the day of my departure whom I had met at the airport. She too wanted to try my energy kast. As I was homebound due to a heavy storm, we discussed in detail about my work. My flight too got cancelled. She suggested I give an interview at the local channel there and work from the USA.  A learned Vastu consultant is always in demand and paid very well.
I was particularly impressed by Priya and Renu aunty who made sure their children and grandchildren read the Bhagwat Gita & Amar Chitra Katha stories. In spite of living in the US, they have not forgotten their culture which keeps them grounded. I too felt proud that my son Adithya is a voracious reader and knows our Itihas, Ramayana and Mahabharata pretty well. Adi's favourite character is Danveer Karna.
Inspired by so many women at the United Nations conference I plan to launch my book very soon. I have got a great platform; networking helps you in various ways. These conferences are meant for that.
I totally believe that I am god's child and my adventure makes my travel very fun-filled. My advice would be to you is to save enough for old age and rest spend on your travels. The world is a beautiful place. One life – makes the most of it.
My sincere thanks to all my family, mentors, friends, clients, and colleagues. The weather, city, and people were supportive too.
I Dedicate this blog to Chitra and Renu aunty for allowing me to stay in their home and making my UN trip a grand success.
My obeisance to Mother Divine for giving me the courage to travel alone to help me fulfil my dream of spreading Vedic Vastu.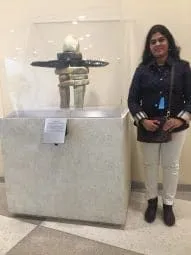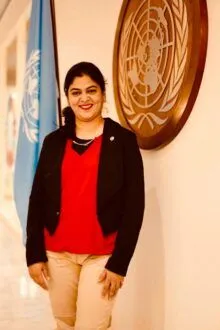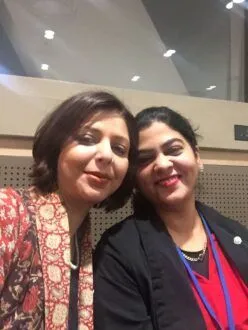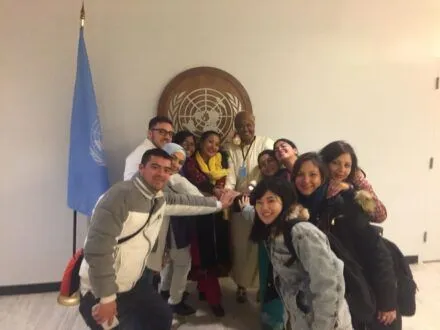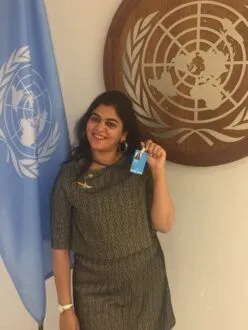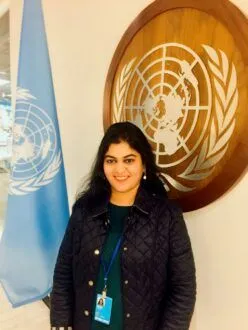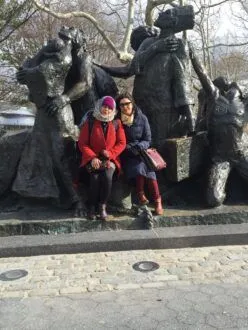 ---