Every last week of the year, we plan to travel to some place in India. This time we chose our destination to be "Rann of Kutch" in Gujarat. We booked tent in the tent city organised by the Gujarat government. Entire trip was planned as per the itinerary shared by administration of tent city and to be frank i was not very sure on how this trip would turn up as it was first time i was relying completely on government accommodation.  But, i was proven wrong and it happened to be the best trip of my life till now! Only one thing changed between my previous year and this year trip that i am following our beloved Om Swamiji teachings. Let me share few experiences:
As Swamiji says, Outer world is reflection of our inner world: In this trip i realised it completely. Since, i reached tent city i met multiple people during my check-in, getting to room, dining and scheduled tours. I was able to see only the goodness of those people and the services they provided to me. I thanked everyone i met as token on gratitude towards there service. I complained less about things as i focused more on the efforts people are putting rather than cornering them and fighting over what is not available.
           We had pretty bad experience on first day due to sand storm followed by heavy rain. At few places my tent leaked and mattress got wet. The                          electricity was disconnected as precautionary measure. It was 9:00 PM, i decided to step out and discuss the issue with cluster manager . I saw                      that people were  already shouting at one person and he was overwhelmed with queries. I decided not to join the gang and once people left i had                    chat  with cluster  manager. I told him my problem politely and understood his situation. He told that he is doing MBA and joined here as an intern.            He is  trying his best to manage thing as in Kutch it is very rare to see rain. I had good chat with him and he was also less stressed post that. I                          managed by using reverse side of the mattress and changing my bed location to avoid water coming on it. 
          This gave me immense pleasure that instead of shouting i shared his pain and problems. Thought i didn't help him to solve his problem but few                    minutes of talk and having empathy for him helped him a lot to ease his tension. To my surprise, i didn't force this behaviour it came naturally to                  me  this time and  all credit goes to our beloved Swamji's teachings.
My Father says: "Shri Hari has blessed you with money not to only enjoy your life but to help others as well": In this trip, i really wanted to reach villagers and help them with money to my capacity which Shri Hari has blessed me with.  As part of the trip, we visited a village in Kutch. The village is famous for embroidery work. I bought Bair and roamed around village. I was approached by two young boys and they asked if i can share Bair with them. I really enjoyed eating with them and helped them with what i had. We interacted and exchanged our names. Below is pic of those charming souls. I met few more people in the village and talked about their work. I was touched by the purity they had and passion for their work. I helped them with what i could. Amazing, part was i could only see Shri Hari in them and NOTHING ELSE. I never had this feeling before!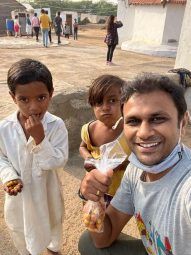 Sharing love gives satisfaction:  On the last day of my trip, i really wanted to thank people who were cleaning the road in tent city in my cluster. They were so dedicated and without fail every morning they come and do there work. I stopped for few minutes and chatted with an elder uncle and aunty. I handed them some money and thanked them for there service. I could see the tears in their eyes and seeing them, tears came to my eyes. I looked up at the sky and just one word came to my tongue: "Shri Hari".
This has been an amazing trip where i could only see positive side of people and situation. I realised this time that Love, Compassion and Gratitude makes you feel Shri Hari everywhere and in everyone. All credit goes to our beloved Swamiji. I am thrilled to welcome next year 2022!
Happy new year to entire os family.
Thanks,
Jaisi Hari Iccha!!
---