Trekking evolves us from deep within!
एवं दाक्षायणी हित्वा सती पूर्वकलेवरम् ।
जज्ञे हिमवतः क्षेत्रे मनायामिति शुश्रुम । ५८ ।
Having thus cast off her previous body, Satī, daughter of Dakşa,
was reborn to Menā, the spouse of Himavān (the deity presiding over the Himālaya mountains) :
this is what we have heard. |58|
-Srimad Bhagavad Mahapuran, 4.8.58
I feel no less than Shailaputri when in the Himalayas.
Devi Shailaputri is the daughter of the Himalayas, and so am I.
On the path of self-discovery, I realized that I am happiest when in the Himalayas. Maybe that's why I keep going there year after year. And now that my Home is at Giripur, Sri Badrika Ashram, I feel I'm one of the most blessed souls, for having found my source, my Guru. The more I'm in the Himalayas, the closer I am to my path of self realization.
After the stressful year of covid scenario, I was yearning to go to my eternal home, the Himalayas, and just by chance, Thrillophilia happened and I was on my way to the highest Shiva temple, Shri Tunganath.  
Adi, my son, was supposed to leave for this easy to moderate trek with all strangers. But the very day when he was to leave, I didn't have the heart to send him alone. So I decided to give him company. Since it was a sudden plan, we hit the sports shop and bought two pairs of hiking shoes and trekking pants. It had been a hectic month for me as I was finally diagnosed with the problem which I had been suffering from since childhood. 
"Lymphoplasmacytic cells in lamina propria"
Finally, after 40 years of struggle with my digestion and six surgeries, I was diagnosed with this unusual and rare disorder. The gastroenterologist said less than 1% in the world has this autoimmune disorder, so there is no medication for it. The only thing I must do is to manage it with diet and try to lead a normal life. For those who are unaware, this is a chronic case of celiac disorder. The TTG shows normal reading, but the gut gets damaged with long term exposure to wheat or sometimes bad eating habits during childhood. Whatever, I now know how to live my life with ease, thanks to my dear friend and doc Mayank. He says, just by avoiding junk and wheat-based stuff, I will be able to travel with no hassle. I don't have a choice but to treat my body like a temple (Moon eighth house and Jupiter exalted in 9th house, it is prarabdha). Any junk food or high carbs gives me super discomfort. So happy to eat simple meals. That way I can keep diabetes, BP, and other dangerous diseases at bay.
This called for a big celebration, so I hit the Himalayas as though Lord Shiva was calling me for HIS darshan. My family and friends were tensed about my health but I knew I had to fight the fear and go beyond my weakness (darr ke aage jeet hai). Putting my faith in my guru, I took the tempo traveler to meet my eternal parents, Mena and Himavan.
We took the traveler from Akshardham metro station, Delhi, at 11.30 pm.
Reached Rishikesh at 4 am. Our driver was a young chap and was blessed with pretty rash driving skills. Our heart was in our mouth throughout the journey. 
On our way to Chopta valley, we stopped by for sightseeing at Devprayag at 6:40 am. 'Devprayag' means 'Godly Confluence' in Sanskrit. As per Hindu scriptures, Devprayag is the sacred event of merging two visible heavenly rivers, Alakananda and Bhagirathi, to form the holy Ganga. Its believed that a third river, the mythical Saraswati river, is underground and meets these two rivers at the confluence. This is said to be the beginning of the Ganges.
Later, we took a break at the Dhari temple, at about 8:15 am. This is down the hill, on the river bed. The temple was apparently submerged totally during the floods of 2013. But nothing happened to the deity and the temple.Dhari Devi is a temple located on the banks of the Alaknanda River between Srinagar and Rudraprayag in the Garhwal Region of Uttarakhand, India. She is considered to be the guardian deity of Uttarakhand and is revered as the protector of the Char Dham's. Her shrine is one of 108 Shakti Sthals in India, as numbered by Srimad Devi Bhagwat. More interesting facts here. 
Since we were early with our timings, we considered completing our third day trek of the Sari village on this very day. This was a blessing in disguise.
We decided to have lunch at a roadside Dhaba. We were dead hungry as we had skipped our breakfast. We were exhausted as we had not slept through the night, not brushed, and not even completed our basic morning routine. I went into the kitchen and gave instructions to make jowar rotis and long gourd vegetable for me. The cook was unaware of this new grain, so I had to make rotis on my own (never done in my home). The rotis turned out to be very thick and hard. But I had to fill myself with whatever was available. No complaints. I was full with one thick roti. 
We reached Sari Village at about 2:45 pm. Once there, we geared up ourselves and climbed up a 3 km trek. This was quite a steep, tough, and pointed stones road. I could not climb up after a while, so had to eat a Munch chocolate bar. That was it. Full of energy, we reached the top before sundown. In between we stopped by for lal chai (green tea). Adi had some local flower juice. This worked as an energy drink and was very refreshing.
When alone on the track, it would scare us lest we met some forest animals, esp leopards or bears. This was a wildlife reserve area. I was praying to SriHari and Swamiji to save us from animal wrath. I would imagine if we confront an animal, I would ask Adi to run away and would stand on the way to protect my child.. (filmy style, lol)
The trek was tough and very tiring, moreover due to our sleepless night, no breakfast, no proper lunch, it became super hectic. 
The moment we reached the hilltop, all tiredness vanished as the view was breathtaking. It was a flatbed with a lake in the middle and a snow peak in the background. Our trek met its mesmerizing end. It was totally worth going up the hill. We felt a great sense of achievement. Finally, we had reached our day 1 destination, Deoriatal, the lake of gods. Mighty Bhima got this lake built for his beloved wife, Draupadi. What love!!! 
We just sat there basking in the ancient glory and contemplating its historical greatness. Bhima had meditated there, so even I tried doing it. But just could not close my eyes, as didn't want to miss any moment of the awe inspiring view. More about the lake.
Post sundown, we had to rush back as nighttime is not a great idea to be around the forest area. Coming down without a stick was a pretty tough task. My right knee hurt and I was scared, too. But the entire experience was thrilling and exciting. 
After a steep climb down the hill, we reached our base camp by 8 pm. I was so looking forward to my international Swiss tent as promised by the trip organizers. Alas! as I entered my tent, a big black spider welcomed us. The tent's toilet floor had gone missing. The tents were pretty shabby. Maybe due to covid, the tent owners went out of business, so the tents lost their charm. But I'm grateful that they were successful in protecting us from the night-long rain and cold mountain breeze.
The food was hot and nice, but the electricity and cellular signals were missing. I appreciate the cooks as they cooked food as per my liking and helped me make my jowar roti. They even served me Mandwa roti made from a local gluten free flour.
After a sound sleep, we were up for our breakfast pretty early and were served hot aloo parathas with tea. We started a bit late for our day 2 trek to Chandrashila. The guide didn't want to come, so it all got delayed. 
We started our trek to Tungnath temple with a Sankalp and reached the temple by 3:30 pm. The path was well laid and it's just a 5km uphill trek. As we go higher, the view gets better. Before we hit the temple, we did darshan of Lord Ganesha, a small temple with a spectacular view.
When entering the Tungnath temple we were kind of numb. We felt really blessed to have been called by Lord Shiva for His darshan. Since I'm a Vedic Vastu consultant, it took me an hour to study its architecture, and as we finished admiring the temple by 4:20 pm, we were late for the Chandrashila trek, which was another 1 km trek uphill from Tungnath temple.
Since we were late to go further up, we dropped our trek to Chandrashila. The rains in the hills are unpredictable and with a hurting right knee, I didn't want to risk our lives. The trek uphill sometimes takes 2-3 hours. And if you are fast enough, it may take roughly about 40 minutes. I didn't know how fast I would be. So we enjoyed the outskirts of the temple. I thought to myself, this much was enough to grow out of my fears.
So we started our descent down, missing the place where Ravana, Sri Rama, and Moon had meditated to impress Lord Shiva. Maybe some other day and time to impress Shiva…
It poured heavily on our way back. My leg hurt, but my mind was strong. It took us close to one and a half hours to climb down. My advice is to start early if you want to cover both, Tungnath and Chandrashila.
We waited for the rest of the group at the starting point with a cup of tea. The girls' gang from Meerut was bold enough to go up to Chandrashila top, though they started from Tunghnath at 5:20 pm. They reached the mountain top by 6:15 pm. Brave girls, I must say.
On day 3, we started our journey back to Delhi after brushing in the running stream. We stopped by Rishikesh, had an early dinner and ran up to Ramjhula for Ganga Aarti which takes place between 6-7 pm. We were right on time and managed to pay our obeisance to Ganga Maiya. I was with a boys gang and running up to the ghat was quite exciting. 
We started from Rishikesh at 8:45 pm and reached Delhi by 2 am. Our driver dai was waiting for us at Kashmiri gate metro station.
We said our goodbyes to each other and slept in our comfy beds with glorious memories.
Later, we realized that temples are made on the mountain top so that after reaching there with difficulties, we can feel a sense of achievement. As we climb up with just one focus—to reach the top, our mind gets clear and all unwanted stuff from our mind gets deleted. It is a great way of self discovery.
Take Away
Trekking is a way to grow out of our fears, resistance, and vrittis (mind-stuff). I think we need a special soul to trek and it is a great way to liberation (happiness). No wonder Pandavas took to trekking for Swargalok through Swargarohini, Uttarakhand. Luckily, even we were accompanied by a dog at times on our way to both the treks. As we go higher, our physical, emotional, and mental levels go higher, too. It takes our state of mind to the next level.
I have come back much stronger with a better fighting spirit. I know for the fact that nothing is permanent, and ups and downs are part and parcel of our life journey.
I am grateful to my eternal parents, Mena and Hemavan, for always welcoming me with wide arms and accepting me as I am.
I am sure you will enjoy pictures and videos of my trekking experience. Maybe you will get inspired too. Click on the links below:
YouTube video of the trek-6 min
Insta post of the trek: follow me for regular Vastu updates and travel pics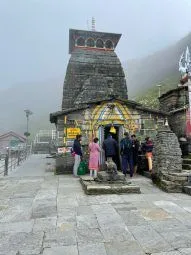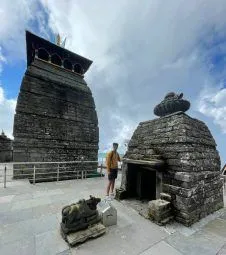 ---