Sastang Pranam Swamiji. Let me continue from where I left in Part-8.
Before I begin, let me pay deepest gratitude to you Swamiji for yet another blessing. In the Maths Olympiad of Class 5, Sahil has scored International Rank One. Let us take the opportunity to place the Certificate at your lotus feet.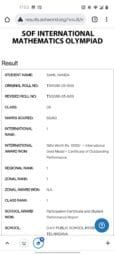 In the special Sunday lunch, we had Veg Biriyani with raita and super soft chapati with thick udad dal. Actually, Sahil is very much fond of South Indian style of taking rice with curd, which he was not getting for the last few days. He was just wondering, "I am longing for curd and praying Swamiji to arrange some for me. But Swamiji is delaying!"
He was really delighted to have his favourite dish of Veg Biriyani with curd raita. Sanghamitra and I, both also ate to our heart's content. Then we roamed around for some time. We came back to our room and on the way, we met Raghu Swami ji. We handed over the shawl offering for Shri Hari to him as per Swamiji's instructions. With his greyish brown teeth, he gave his trademark laugh and assured that, the offering will be done in due course of time.
We took some rest and after that made some packing as time was running out. Then it was dinner time and we got some dinner parceled and got ready to listen the last discourse of Swamiji for the session. At the dining hall, Sadhvi Vrinda ji approached me with a smile and handed me over a jumbo 'Amul Hazelnut' chocolate saying the same is for Sahil. I requested her to handover the chocolate to Sahil directly. But she told that as she was busy and it might so happen that time might not be sufficient for the same. I took the chocolate and handed it over to Sahil. He took it with utmost joy. I again offered to handle Samil and stay outside the hall and asked Sanghamitra and Sahil to be inside. It was the same situation with ACs on and windows closed!
This time, I was eager to see Swamiji with Vidyanand Swami and Vidu Swami coming from their complex. So, I was just strolling across the lawn carrying Samil. As usual, Sushree jis, Brhamachari ji and Sadhvi jis were ready. At the entry point, a beautiful Rangoli was made. Madhavi ji appeared and offered me to take Samil so that I can be inside the hall. It was so kind of you Madhavi ji. But I politely refused as Samil might feel uncomfortable troubling her un-necessarily.
As I was roaming on the lawn, two big sized dogs approached me. They just smelled Samil and me and moved on. The Ashram dogs are very much gentle and docile. Everybody who came to the Ashram, were very much affectionate to them and they also reciprocated nicely with various gestures.
As the arrival time of Swamiji came closure, Divya Manoharan ji appeared with a wet cloth and with all devotion, started cleaning the foot prints (to be precise, shoe prints 😉) on the path of Swamiji. At that time, I asked her, "If I am not mistaken, you are Divya Manoharan ji!" She replied in affirmative. I introduced myself and she was very happy to see me in such a frame of mind. She was quite happy to see little Samil and then carried on with her work. As Swamiji appeared at the long corner, I took position with Samil kneeling down bowing my head. Swamiji passed by and the doors were closed.
The discourse on the day was reading few paragraphs from Sri Ram Charit Manas which Swamiji did very gracefully. Some of the humorous nuggets as delivered by Swamiji are as follows
1.      Swamiji started the discourse in English and then after some time, he exclaimed "Bahot time English mein baat kar k thak gaya hoon, abhi thoda Hindi Switch kar loon 😉
2.      Hum sab duniya mein rote hue aate hain, par kuch log chup hona bhul jate hain. Humesha rote rahte hai chahe kitna bhi mil na jaye: Padosi ki gaadi baadi hai, ghar bada hai, Bhagwan duniya ke sare dukh mere hi jhili mein daal diye ityadi ityadi 😉.
3.      Aap ke vachan par bahut kuch nirbhar karta hai. Aap kisise milte ho toh Jai Shri Hari bolte ho aur aap ko waisa he pratyuttar milta hai. Par thoda change kar k dekhiye. 'Jai Shri Hari' k wajaye 'Ram Naam Satya Hai' boliye 😉. Thoda gambhirta se boliye, Dheere Dheere log aap se Social Distance maintain karenge 😉!
4.      One of the devotees asked quite a long question to which Swamiji summarized the same in a few lines. And then asked the person, "I suppose that was what you wanted to ask, even if not, please say yes 😉".
5.       Swamiji's statement about fried food was awesome! "Tala hua kuch khana pasand hai? Aam taur per log pale badhe hote hain, par kuch log 'tale badhe' hote hain 😉"
Then it was Shri Hari Aarti time. Sanghamitra came out and I went in. The Aarti started with full devotion. Swamiji was in full glory, but all of a sudden…
(To be continued…)
Jai Shri Hari…
PS: The Featured Image is of Giri Ganga river taken by me. Can you spot the bird in it?
---