Sastang Pranam Swamiji. Let me continue from where I left in Part-6.
And then the anhoni happened…
Sahil also started crying (and the cry was more of a spiritual and direct dil se…) and requested Swamiji to permit him to play Swamiji's Keyboard to which Swamiji replied, "Actually, mine is a Piano and I cannot assure you if you can do that. The piano is in the temple in front of Shri Hari. You may contact the organizers if any slot can be provided. But we are really hard-pressed for time."
Sahil presented Swamiji a lettering which he made dedicatedly for him. Swamiji took it with lot of enthusiasm and looked at it. He appreciated the piece of painting. Sahil requested him to keep it, but Swamiji very gently told, "I will bless it and you may please take it back as I do not keep anything from anyone." With some chants, he blessed the painting with a very gentle touch and handed it over to Sahil. The following is the picture of the blessed painting.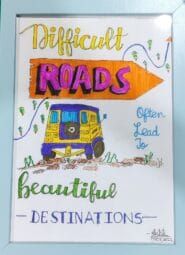 I also took a journal and a pen for Swamiji and requested him with utmost devotion to accept the same. But Swamiji smiled and took the same into his divine hands. He looked at the journal for a few seconds and handed over the same to me. We had taken a shawl and some gulal for the occasion of Holi for Shri Hari and expressed our desire for the offering. Swamiji blessed the same and instructed us to hand it over to Raghu Swamiji so that he would do the needful. Sanghamitra offered something very personal to Swamiji which I cannot mention here. Let it be a secrete between us and Swamiji😉.
We all were in a trans-state. Time had no concept in that room. It was waiting for Swamij's instruction to tick! I was in deep sense of Bhav. I looked into Swamiji's eyes. How deep they are. They were like Blackholes containing Vishwa Brahmand in it. I could not escape from the spell of sammohan magic. Ah! Those moments! I am getting into a trans-like state and these words are just flowing automatically with my fingers running on the keyboard as if my subconscious mind is being driven by Swamiji's instructions.
We were told to prepare some questions beforehand to ask Swmiji and keep them ready to avoid wastage of time. But what to ask? Why to ask? First of all, we (our family) are ignorant enough to ask any question to the intelligence of Swamiji. Secondly, when he knows everything running in our minds! "Tum hi jani kachu rahe naa shesha, tum hi pae kachu rahe naa klesha". Is there anything left to ask after this? Does any question make any sense after surrendering at his lotus feet and grabbing it for the entire life with a Sankalp? Please share your views in the comments section.
He scanned all of us for all our janmas and karmas; multiple times, he reassured that he will be with us in the face of any difficulty. The only thing we need is just to remember him, and he will take care of us. So, with all these assurances do we need to ask him bogus questions like, "Swamiji, plz tell me my future 😉, if not mine, plz tell the future of my kids 😉 or Swamiji can you plz tell me how to know which stock is going to earn me a fortune, hitting upper circuit 😉? Or Swamiji, somebody is doing jadoo tona on me, how to break the spell😉?" Really, what to ask, especially Grihasths like me! Do you really have any questions to ask except for spirituality? Even that option is also not available for me as I have chosen Bhakti Marg rather than Gyan Marg to pray.
I am dumb enough to understand sacred scriptures and savour the nectar of the same. I am busy changing diaper, paying my bills, trying to satisfy my bosses at office and wife at home (aaj main pitne wala hoon😉). Then what is remaining option for me? Bhakti, bhakti and bhakti with no questions asked, just try to follow what my Guru says. I am not good for anything else. So why bang my head in asking anything to Swamiji, my Guru and trouble him😉!
Yes, after I became self-aware, I heard Swamiji telling me smilingly, "Maine aap ke Mulla k jokes padhe hain! Achhe hain, likhte rahiye. Mulla hum donon k favouritr hain" (Meera didi, you were right, Swamiji is impressed with the jokes). I was totally surprized. How much time does Swamiji have and how much work he accomplishes in the time? And still he had the time for reading the Mulla joke series written by an insignificant contributor like me! But, that is the speciality of Swamiji: anyone who gets his satsang, Swamiji makes sure that he / she feels special. What more can I say or write except for offering infinite gratitude at his feet…
Again, Swamiji asked Sanghamitra for Samil to take into his lap. How lucky is Samil! And how lucky is Sanghamitra! She touched Swamiji's both hands four times during handing over and taking back Samil from Swamiji's hands. Swamiji while handing over Samil, told, "Be careful with his neck (in Aussie accent!). So much care Swamiji! I really envy Samil and Sanghamitra… Just kidding 😉😉😉
In the meantime, the time was over, and Vidyanand Swami came into the room as reminder, and we were waiting for this opportunity. We requested him to take a family snap of us at the lotus feet of Swamiji for memory and he obliged us with Swamiji's permission.
And as we left the room…
(To be continued…)
Jai Shri Hari…
---