Sastang Pranam Swamiji. Let me continue from where I left in Part-7.
And as we left the room, an entire new experience had started taking us into a different world altogether. In the time spent with Swamiji, we experienced the divine. We came out with utmost satisfaction though we did not ask anything to Swamiji and Swamiji did not tell us anything specific. As we came outside, we met Madhavi ji and Kirtee Om ji.
Madhavi ji was very curious about the outcome of the meeting. We told her the details and showed her the pics of Swamiji holding Samil. Her expression was like,"Oh! How blessed are you Somu beta!" She could not believe what she saw in the photos. I was totally trembling from tip to toe. Sahil was joyful, Sanghamitra was composed and Samil was hungry 😉.
Then Kirtee ji joined the discussion, and we were in a bhav. Nahin, hum ne bhaw nahin khaya! We told Kirtee that, the visit became even more fruitful with Swamiji's personal Darshan. And I must mention that Shalini ji and Meera ji were very curious for our meet with Swamiji. They were so much curious that as if they were going to meet Swamiji. We were really touched by their gesture.
Upon returning to our room, we shared our experience in brief to both of them. In the excitement to meet Swamiji, we did not take our 'diner' and got it parcelled and stored it in our room for night. We discussed about the experience of the meeting which continued for a long time and then we had our diner. Sahil and Samil fell asleep. But I and Sanghamitra were wide awake, only eyes were closed 😊. We both were recapitulating the magical moments.
Sanghamitra, in her brief sleep had dream of the entire episode. I, in my dream, witnessed the divine dance of Sadhvi jis and Sushree jis in really goddess like attire and avatar. Early in the morning at around 4:30, we could not sleep any more. We both got up, changed Samil's diaper and again got indulged in discussion about Swamiji's appearance, his divine aura and all those which we witnessed. Then in Samil's ears I whispered, "What did Swamiji tell you?" To our utter surprize, he gave a long smile. Even today also he gives a big smile with sound whenever I ask the same question!
I went out to the balcony and lo! The full moon was shining brilliantly. The reflection of moon light on the water of River Giri Ganga was casting an amazing spell. The large pieces of stones were also shining brightly in the cool moonlight. You really have to witness the divinity to have the feel. The air was pure and fresh. My lungs thanked me for deep breathing of the fresh air after a long spell of breathing of polluted air in the chocked city 😉. I looked at Swamiji's abode with utmost gratitude. I thought that Swamiji might be praying, and I should not disturb his Sadhana by remembering him at this 'Brahma-muhurt'.
Gradually, dawn broke, and Sun God started peeping from the horizon. Birds started chirping. And yes, I must admit that first time in my life, I heard different bird calls which I never heard before. I tried hard to spot the birds but failed to do so. Then Sahil woke up and joined us in the discussion. After which we got freshen up and proceeded towards the dining hall to have our breakfast. If I remember correctly, we had Poori.
As we were coming out of the dining hall, the graceful face of Sadhvi Shraddha Om was visible. She told us that last night, after the personal meetings, Swamiji was telling about Samil. "Oh! Kal Swamiji ke god mein yahi bachha tha kya?" she exclaimed. We were stunned that Swamiji even discussed about Samil! How lucky! Due to some urgent work, she left in a hurry. Sushree Nisitha Om ji with her lovely smile also appeared. We handed over Samil to Sushree Nisitha Om ji. She took her in her laps with motherly affection. Below is the picture of her with Samil and Sahil. As usual, I was the photographer😊!
Trivia: Can you guess the age of Sushree Nisitha Om ji from the pic?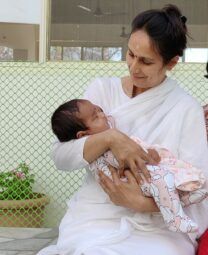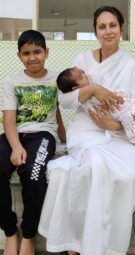 She blessed our entire family and later I remembered that she was my Life Guide, when I fell into the low phase in late 2020. She guided me a lot via e-mail. She is very much compassionate and a kind soul. She is an expert in a wide array of Psychotherapy techniques without involving medicines. Her soft words and perfect smile will remain ever green in my heart. After finishing our breakfast, Sahil and I played two games of chess.
On our way back to the room, many elderly people were curious to see Samil as he was the youngest in the Ashram at 2 and half month's age. They were exclaiming how lucky was the baby to find Swamiji at this nascent age whereas it took them 40 to 50 years to discover a true Guru. We caught some quick nap and then spent some time at Kirtee ji's room. Kirtee ji along with hubby Basudev Om ji are now permanent resident of the Ashram with a very simple life dedicated to the cause of Humanity.
Then we proceeded for lunch and Sahil was totally amazed to see what was there for lunch as Sunday special!
(To be continued…)
Jai Shri Hari…
PS: The Featured Image is a pic of the Ashram by me.
---