Watching a kindergartner is an absolute delight. They're unassuming and unafraid of making mistakes. Most importantly, they can laugh at their quirks! Somewhere along the way, many of us lose that lighthearted and innocent side of ours. Ask yourself – When was the last time you let your guard down and giggled for nothing like a child? When did you laugh out loud at your failures and idiosyncrasies? 
For the longest, I struggled with that. Then, I came across a quote: 
It won't matter if the world laughs at you if you can laugh at yourself. 
So, to rekindle that child in me and laugh at my stupidities, I created a few GuruToons comics. At that time, I noticed that we live in a comical world.
What was I thinking?
Talking of idiocy, let me share a slightly embarrassing backstory of GuruToons comics. It was 2013, and I was zealous about spreading Swami's message. When Swami asked for volunteers for his poster blog, I accepted it without any second thought. The trouble was – forget about graphic designing, I didn't even know where to start or what software to use! When it was time to get into action, I was clueless, and my hands trembled.
In school, my art abilities were nothing short of a disaster. I got a negative point on a science test for drawing an unrecognizable amoeba. Considering that amoebas are shapeless, that was quite an achievement. Hence, not so surprisingly, my first poster for Swami was epic. To put it blatantly, it was awful. Even more foolishly, I decided to email my masterpiece to him.
"That doesn't look like the work of a graphic designer," Swami responded. He probably grasped that I knew nothing. Perhaps, he was silently chuckling as he wrote that reply. Nevertheless, those words pierced my heart like a sword because I was already disappointed with my folly.
Me, A Graphic Designer?
Most people get bogged down by negative feedback, but my mind works the reverse. The more I get criticized, the more I find the energy to push myself to grow. I'm sure Swami knew this side of me, which made him send that feedback. The challenge he threw at me worked magic! To show that I had my act under control, I rolled up my sleeves and toiled.
The approval of my first poster boosted my confidence. I watched numerous tutorial videos and read tons of material about graphic designing. Adults struggle to learn things that kids barely take a few minutes to absorb. It was awkward and tiresome, and I was frustrated beyond reason. Still, to keep my face before Swami and to be a part of spreading his message, I kept myself at it. I spent all my spare time nurturing my skills.
Fast-forwarding to 2016, I created a birthday card for Swami on behalf of the US devotees. Desiring to give my best, I placed a customized comic character of a Guru on it. In 2017, representing the Californian devotees, I made a birthday video for Swami, where I presented my very first comic. With that, this pathetic artist was a hobbyist graphic designer. Forget about everyone else; even I couldn't gather that!
GuruToons Comics
Within 3-4 years, I had made many posters, cards, book covers, and whatnot?! At that time, I laughed at myself for making a joke of myself in front of Swami. Who needed the Charlie Chaplins and Jerry Seinfelds when I could see the biggest joker of my life on the mirror each day?
That gave me an idea. "Why don't I make a comic out of myself," I thought? I made a comic character to represent me and gave her the last name of Dud. But then, I had to think differently. So, I added an extra-d at the end to make it Dudd!
Then, another thought arose – why restrict the comics to me? Whether a householder or a renunciate, we're all weirdies. We have a Mr. Bean or Suppandi hiding within us! I created a few more characters that resembled different aspects of life, taking that thought forward. To help me get started, my husband wrote a few jokes for me, which propelled the project forward.
At one point, I was worried that Swami might get offended by this project due to the Guru character. So, I shared a few prototypes with him. He loved my comics and sent in his choicest blessings:
In an email, Swami wrote, "Wow! These are absolutely beautiful comics! Very nicely done! Awesome! And no, I'm not at all offended. These are cute."
The Future
A couple of years back, I became wiser! I realized that I didn't have to accept every challenge that came my way. I had a choice to accept or reject challenges as per my liking. With that awareness, I decided to choose between working on Sanatana Dharma's scriptures and making GuruToons Comics. My heart lies in the scriptures of Sanatana Dharma, and therefore, that took precedence.
Recently, though, I had a brainwave (my husband and I compete against each other in overthinking!). I felt these wisdom-based comics could add some fun factor to spirituality. Consequently, I'll make a few comics and share them with you as time permits. Through these GuruToons, I hope you'll learn to laugh at yourself as I did because my characters will resemble each of us at some point!
Love,
Devi
*****
A poster parade of my main GuruToons characters (at GuruToons.com):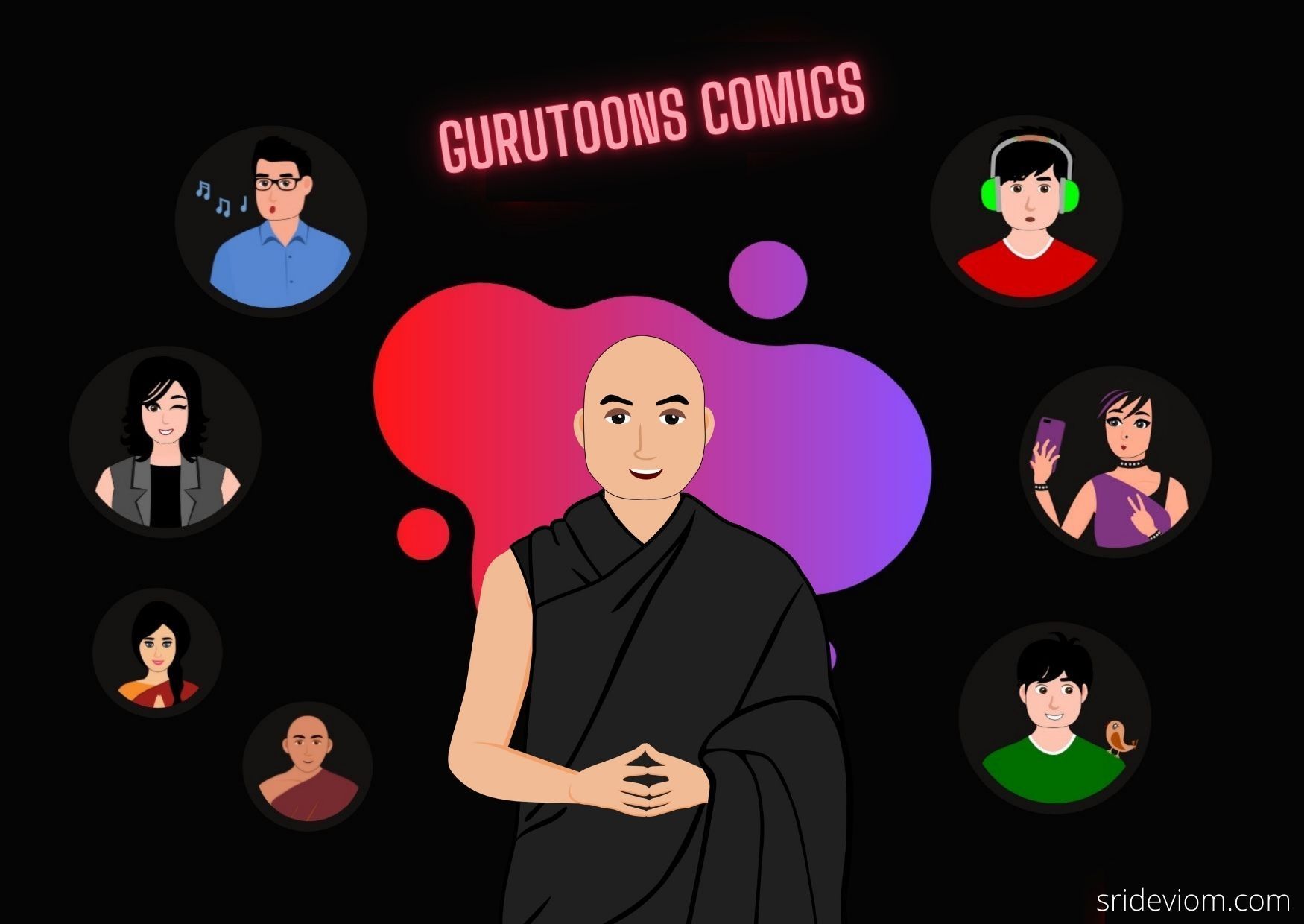 ---