One of the lesser-known yet important Hindu festivals is the Gita Jayanti. This year (2021) it falls on 14 December. As per the traditional calendar, it falls on the Shukla Ekadashi in the Margashisha month. A question I have come across from quite a few people in recent times is what is Gita Jayanti.
As per the name, it celebrates the birth of the Bhagavad Gita, which is the Holy book for Hindus around the world. The book contains a lyrical conversation between Lord Krishna and Arjuna, the celebrated Pandava warrior.
Just before the commencement of the Mahabharata battle between the righteous Pandavas (Yudhishthir, Arjuna, Bheem, Nakul, Sahadev and allies) and the evil Kauravas (Duryodhan, Dusashan, their 98 brothers, and allies) at Kurukshetra, Arjuna developed cold feet. He is overwhelmed to see his own cousins, family members, and teachers on the opposite side. The mere thought of killing them to win the war disturbs him.
Arjuna puts down his weapons as he finds it impossible to fight. This is when Krishna, his charioteer, motivates him psychologically in what later came to be known as the Bhagavad Gita. The Lord explained to him that being a righteous warrior, it was his duty to eliminate the evil forces. He also made him aware of the importance of the soul [aatma] and that one doesn't die when his or her body dies.
After listening to Krishna, Arjuna gets completely counselled and determined to fight the war. He ensures Pandavas' victory over the evil Kauravas.
The Gita Jayanti is believed to be the day when Krishna narrated the Gita to Arjuna on the battlefield of Kurukshetra. The day is celebrated in India and abroad among the followers of the Gita through simple means instead of elaborate celebrations. Personally, I prefer reading a few verses of the holy book on Gita Jayanti each year.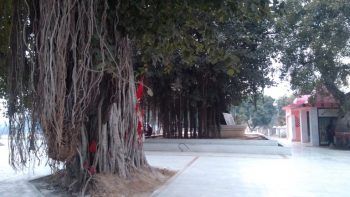 Gita Updesh Sthal at Jyotisar, Haryana
Interestingly, Jyotisar, the pilgrimage site in Haryana, India is considered to be the exact place where Krishna narrated the Gita to Arjuna. The site is revered for the same reason by pilgrims from all over India and outside. The exact spot is known as 'Gita Updesh Sthal' [the place where the Gita was delivered].
The tourism department at Jyotisar organizes a light and sound show daily depicting the important events from the Mahabharata.
---