What started in 2020, having got the name of CoVid19, as it was all initiated in China in 2019, has now come back and hit us the hardest in 2021. Pandemics are once in a lifetime phenomena for most humans, but how long the pain will remain in that 'one time', is hard to say for everyone. Being an optimist at heart, I count myself amongst the 'mujhe kuch nahin ho sakta' band of fools, who, based on either they fitness or their knowledge quotient, tend to believe that we are immortal and a pesky virus does not have capability to do 'baal bhi baanka' of us.
But late last month, when tragedy struck my best buddy, my eyes were opened and mouth was gaping open, as I heard what my friend had gone through. As this article is not about adding one more sad story to many others that you may have had the misfortune to hear already, I will only say that my buddy lost his dad in less than 48 hours of being admitted to the hospital, complaining of CoVid Symptoms. All the horrible things we hear about what one can be subjected to, as a CoVid patient, that one episode, confirmed to me, that they are not only true, but the reality in many cases is even worse.
As far as my thoughts on the crisis goes, wanted to share a few key points on this forum, so the readers can keep them in mind, as we all face our own battles.:
To each, its own:
As a country, we pride ourselves with the slogan "Unity in diversity". But if there was ever an example of how this is NOT true in India, the current crisis is a great example. Just one day of volunteering with couple of task forces helping CoVId Patients taught me this:           
Bangalore, through its tech prowess and entrepreneur culture, seems to be the most organised with database of beds, etc being tracked regularly and info being provided pretty fast                                                                                                                                                                                             
Mumbai – success in managing the crisis during its peak was thanks to the War Rooms concept that was created originally to handle the monsoon flooding.
Delhi NCR: it's in a total mess. There is no centralised database, no war room, thousands of people and organisations volunteering, and trying to whatever they can. maybe because the hospitals had a 'HOUSEFULL' board even before anyone could do anything.
I dread to think, if three of the largest metros in the country have such a disparate way of working with ZERO knowledge and best practices sharing, what must be the state with the other/smaller cities, many of whom also have exhausted their beds and oxygen cylinders.
Its all around us, yet people are gasping for air:
One of the major challenge which has been unique to India in fight against CoVid in the 2nd wave, has been the shortage of Oxygen.
While it all started with the huge shortage in Hospitals in Delhi NCR, it has now spread to many other parts of the country including states of AP and Karnataka.
One of the negative fallouts of this, is the quantum of misinformation about Oxygen cylinder and concentrators usage and applicability in different cases. The Result: people are randomly hoarding cylinders and procuring concentrators from all possible sources and paying a bomb for it.
In case of concentrator, its capacity (less than 10L is not suitable for most of the complex cases) and make (many fake and incorrect reading units are there in the market) needs to be checked.
Also, there are some rough guidelines on what works where:
if SPO2 is less than 90 then you need a oxygen cylinder
if SPO2 is less than 94 then ideally a 10 litre oxygen concentrator or at worse a 5 litre concentrator is needed
if SPO2 is 94-95 then until you get a concentrator or cylinder the portable oxygen cans can provide some interim relief.
please consult a doctor before buying any of these. Don't try to secure your own tomorrow for someone else's today.
Its time to jump in:
A nation is strengthened by people who are selfless, fearless and have a strong urge to help. My morning was brightened by the enclosed message. At this time, we can either feel sad that India has again clocked 4L cases and 4k deaths in the lat 24 hours.
or
We appreciate the thousands of people who are working day and night as volunteers:
Either on their own, with just their phone are gathering, ratifying and passing on valuable information for support and assistance to kins of Corona victims across the country.
Or working as a group, supporting NGOs, Oxygen Langars, makeshift ambulances, fundraisers,
Or using their tech prowess to create websites, apps, communication tools to streamline the flow of data between patients, hospital and various support groups.
It is these people, who do not even have a name (like Covid Warriors), who do not care about a role, designation, job description, salary, reporting hierarchy, working hours, scope for promotion/increment, recommendation, etc. They are working just because as humans, humanity (Insaniyat) is all that is expected of them. nothing more.
Hats off to all the Covid Warriors, who give us reason to stay hopeful and stay positive.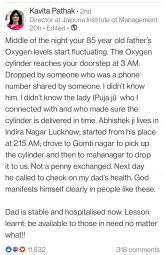 Masking in Glory:
Good to See,
Nice to Wear,
If you still get the Virus,
We Don't Care.:-(
The joke is clearly on the fancy cloth masks, especially all the designer masks which have proliferated the market since June 2020.
The only purpose they serve is to give you a mental assurance, that you have done your bit as far as compliance is concerned. But the virus protection is ZERO in them. If you are anyway making the effort to wear a mask (on your nose and mouth and NOT on the chin) then at least wear a proper N95 mask.
No they are not more expensive and NO, you don't need a double mask in case you have an N95. while it's not more comfy than the cloth mask, it's definitely not a pain to have it on for a while. Be sweet and share the message so it how more people.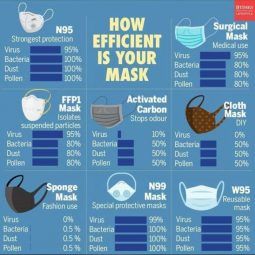 To Vaccine or Not to Vaccine: – That is NOT a question.
After mask, vaccine is the biggest shield we have today from the Corona virus at the moment.
To have an option to get the shot, but not taking it, does not make sense. If u are not one who believes the vaccine has some secret potion that will make you vote for the ruling party forever, then please reconsider the decision.
The typical vaccine development time is 18-24 months. All the vaccines were developed in 1/3rd of that time. There have been compromises on testing, etc. So yes, no one is giving a 100% guarantee against CoVid. Pfizer has announced annual booster shots would be needed. Not only are there few cases of people with both shots of all vaccines getting Corona, but even deaths in some cases. However, this is a very very insignificant percentage (less than 0.001%) of cases. One is better off having the vaccine and having hope that even if we get infected, the chances of symptoms being very severe and especially death, are very very very low.
Despite all the above, it's still better to get the shot than not getting it. Maybe the below analogy will help drive home the point:
While lung cancer is strongly attributed to Smoking and the biggest weapon of anti smoking campaigns, its possible that even a teetotaller can have Lung Cancer. So should one continue smoking anyway?
After Covid, what?
The Aftermath: For those who have recovered from CoViD or who have friends/family who have, the fight, unfortunately, does not end with a Covid Negative certificate.
Hard as it might be to accept, one needs to take additional care in the recovery phase. As the body has gone through quite a lot, there are chances that the immunity levels would be low. There is still a debate whether one can get CoVid infection even within the 90-120 day period which was assumed as a given earlier. However, body is prone to attacks by other viruses, which the body might not be able to resist, due to low immunity. So continue the immunity booster efforts and try and regain physical fitness through exercise and a good diet.
The bulk of the damage done by CoVid is to the lungs. The virus makes the lung surface hard, which leads to a challenge in breathing. Some simple breathing exercises are needed to regain normalcy. The enclosed option is of a known physio who offers these exercises online. Feel free to check with your own doc/physio, if you wish to.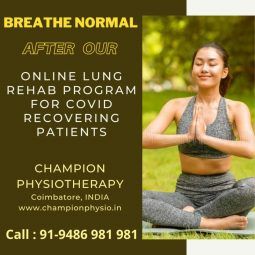 Have the "NO Elephant in the Room" call
If you are stressed or troubled by the news on CoVid and splurge of bad news in the country.. take a break and call a friend, cousin, ex colleague, anyone whom you have not spoken to for a while and:
Ask abt his and his family health.
In case anyone is suffering offer help
If all ok, then talk about anything EXCEPT CoVId. talk abt career, family, kids, movies, music, travel experiences, etc.
Try and do 2-3 such calls . especially in moments where you typically feel low and just dint know what to do. Times are hard and it can be really frustrating. I am sure this will not only help the receiver, but also the caller.
Once in a lifetime crisis also brings with it Once in a lifetime opportunity. Do try and make a difference in someone's life. The goodwill you get, will always remain with you.
---