As soon as Swami Parmananda called out our names, we were immediately standing on tiptoe and remained to be so, as he ushered us in. We were excited,  nervous, joyous  eager, so much more, and everything in between!
It was a room with a sweet, pleasant ambience, where Swamiji's Asana lay, pristine white, as it always is  and in front of Him, a few feet away on the floor an inviting little seating was arranged for the devotees.
We offered our Pranams 🙇‍♀️ and settled down on the asana on the floor before we looked up and Oh My! The moment we all looked up at Him, we were absolutely spellbound! We already had the fortune of  Swamiji's darshan in the temple thrice since yesterday and so  we were aware and entranced by His radiance already yet far from ready to see such wonder. I stole a quick look at Alok and the kids and they seemed  to share the emotions, looking as awestruck as I was! Baffled, we looked up again and same vision 🙏 Swamiji looked as bright as a sliver of the Sun and seemed to fill that entire  room! Initially, I thought I was hallucinating, for the first time in my life was I experiencing such an utterly divine phenomenon! I had seen saints in the picture with a yellow halo around the images, but visualizing it in person was a surreal experience! He looked 'Virat' in that vision & that's the only way I can describe it. He smiled at us lovingly and asked in his voice, soft like a rose petal, soothing like the Giri, "How are you?"
We gazed at His smiling face, those  fathomless eyes with love limitless and universes infinite, and so enraptured, we gazed on. He has some kind of magic upon you and it always works! We told Him how happy we were to have His darshan and requested Him to bless the girls.  What He said after that has remained etched in our memories. " I can see that both of your daughters will go way far in life and the kind of sanskars you both have given them, I give you  10 on 10 for your parenting skills. They are very bright and talented but their sanskars are something I really admire. In this day & age , you have done a very very good job, absolutely wonderful!"🌺🌺
The conviction in His words, "I can see that" has made such a deep impression in our hearts that we know for sure that we will never have to worry about our daughters as He is the one looking after them. And that is what we experience every single day when we see our daughters doing so well in their lives.😊😊
If I say simply that we were overwhelmed,  that would be an absolute understatement.  My heart welled up with unknown emotions and sentimentand tears rolled down from my  eyes without me realising it. I looked at Bhavita, and she too was teary eyed but smiling widely. Hemanya was awestruck and Alok, you know like a child was grinning all the while 🙂. We also discussed about Bhavita's birthday (See, again! Insatiable desire, one can call it.) and He talked in his sweetly powerful voice about how Bhavita shared her birthday with His brother (from Purvashram) Rajan's son Adi. He told Bhavita about how Adi also gets teased being April fool. 🤭
We offered Him mangoes, 🥭 which He politely declined and instead told us that He would bless the mangoes and we could carry it back home as Prasadam.
We offered Him Pranams and  He blessed all of us again, praising both the kids. The only thought that comes to mind when one is having private audience with Swamiji is that time should stop. The meeting should never get over! But as is the way- time never stops for anyone lest for ordinary beings like us.
There was a gentle knock on the door, which was Swami Parmananda reminding us that our time was over, and so, bowing to Him  and for the last time inhaling in the incomprehensibly beautiful fragrance in the room, we came out- or rather, more like had to come out. 😌
We all were over the moon, the sun and the stars! 🌙  It was the moment for us, the moment that we have treasured in our hearts forever and ever, and so always will, etched into our hearts and minds like love itself.
Still elated with the divine experience (The still continues until now) we all sat for a while and  discussed our experiences with each other. Each one of us had felt Swamiji's aura like He had grown in size, like the Gautam Buddha, and had  filled up  the entire room. His radiance is such that one cannot  look at Him constantly for more than a few minutes! Bhavita and I were so emotional about the whole experience that we both cried tears of joy 🙂 Hemanya innocently said, "Mandir me Swamiji itane bade nahi the! Pass me to bahut bade lag rahe the. Swamiji didn't seem so big in the temple. He seemed a lot bigger when we were sitting near Him."
Chirpily, we roamed around the Ashram campus and then decided to head towards the Giriganga, on whose banks our home- the Ashram, is situated. (One is a house, another is a home. You know the difference. ☺️) The gentle murmuring river lifted our spirits even further and we continued gushing about the  divine experience- what a wonder we had just witnessed!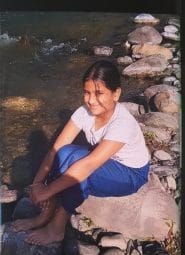 Hemanya enjoying herself at the banks of the Giri.
The kids had the time of their lives playing in the shallow and cool waters of Giri, soothingly caressing over the skin like a mother strokes her petulant child. Till date, it's their favourite place in the ashram, where they can spend time for hours. The Ashram has that energy-  one can go and sit in any nook and corner, yet one feels happy and blissful. 😊 And why not, after all it's divine abode- one's ultimate destination!
After spending an amazing time at the river Giri, we went to the temple again  to spend some quiet moments with the Lord of the universe, in his gorgeous black form- Sri Hari. 
Sri Hari is an ever smiling Lord and once you lock your eyes with His, you are forever in love with Him! You can gaze at Him for hours and yet Bhagwan  keeps you mesmerised. We gazed at Bhagwan as if the sight would leave our eyes if we stopped. The high tide of devotion and love surged in our hearts for his moon like shiny form- the Lord of all Devas.🙏🙏 I remember how fervently we prayed to Bhagwan to call us again very soon and so, with an incredibly heavy heart, prepared to leave. How could the heart not hurt, if a piece was left behind? The only place one can feel whole and complete is the Ashram.
As you all know, my father-in-law was not well, so staying beyond one day was not possible at the time, but Swamiji made sure that we received so much Grace in those 24 hours that we could only be grateful, and more so.  🙏🙏
Just look at his doing- we had reached the Ashram on the 1st of April around 11 AM and we left around the same time on the 2nd of April. In a mere time of 24 hours, we had  Swamiji's darshan upon reaching, Bhagwat puran by Vyas ji, Bhagwan's Abhishekam with Lalita Sahsranama chant, Swamiji's discourse in the evening, melodious bhajans by Swamiji, a surprise gift from Suvi ji, the Vishnu Sahsranama, the morning Aarti and once again, Swamiji's discourse and above all a personal meeting. What more could anyone ask for? Our hearts were full and content. 🙏🙏
It has been so many times that we've visited Ashram since then that we've lost count, we've met Swamiji many times after this, but the first visit is like that first love,absolutely unforgettable. ❤ 😍 💖 Though we were more than happy and overwhelmed with the whole experience, when it was time to leave, an unknown sadness gripped us. We wanted to go home but we were home! What a dilemma! It felt agonising.
Hiding the tears in our eyes, we set out for a long journey to Haridwar, all of us plunged in  deep unknown sorrow.
It took us quite while to come to terms at our mundane routine once again.
We'd lost enthusiasm in our work, and our lives seemed dry and hollow without Him. When we'd turn around, we'd see his mysterious, beautiful smile,  His ringing laughter, the memories of Him would echo in our minds- I kept remembering how lovingly He spoke, His incomprehensibly loving eyes, the marvellous things He said. These weren't hallucinations. They were more real to us than our days and nights. We spent our days praying to Him to call us soon and the nights wondering when the day to see His smile once again would come.🙏 
Merciful as He always is, He listened and granted our wish 🥰 and at the end of October in the very same year we were on our way to Ashram again! Yay! We couldn't, we simply couldn't stay away from Him. Or is it not possible to? For it is He who lies in our hearts and minds, possessing our souls. 
To be continued…
 A/N:- My deepest gratitude to each and everyone who gave their precious time to read and be a loving participant in our journey. The journey continues, and we would be travelling once again on our second visit to Ashram, very soon indeed….somewhere in November!
Immensely grateful to Hemanya & Alok , who are the real anchors behind this series of posts! ❤️
Jai Sri Hari 🙏🙏🙏
---