Bolo JagannMata Ki Jai…..
Well I don't share my experience but today I'm doing so by her grace… Ichhamoyee Ichha…..
Maa answered my phone call? I don't know what was it but it was something beyond words….
Last year in end of August 2020 and start of September 2020, my family suffered a lot…. What happened actually my father got affected by COVID-19. He was facing serious health issue… He's a civil engineer, may be one of their labor was positive, I guess this may be the reason.
But something very weird happened before this incident… On 22nd August may be… I went to my terrace to walk after rainy days, enjoying sun after continuous rain for two days was a grave, I was grateful. What I saw there scared me a lot. I saw a dead little cat. May be she was 5-6 months old. What makes this weird?
Her one ear was half cut, it was like someone did this with some knife… I didn't gave attention. We buried that little cat. I don't know much, once my Gurudev said Gopal Sahastranama is very useful for the peace of departed soul. I chanted same for her soul. But after this incident next day my father called my mom and said he's feeling unwell. After this the worst phase got started. His health kept going bad and bad. After three or four days I saw splatters of blood on my main gate. The blood was dry probably this was the blood of that cat. But what was this?
We didn't cared much about this.
My father's health was getting worse. My mother was so tensed. We used to cry in front of Maa. Maa please help us to come out from this. But don't know why everything was going opposite. One day I remembered about my Aunty. She's a meditator of Maa Kali and in her house there is a small temple of Maa Kali….
I thought she will help me in this, I'll visit her tomorrow I decided this. But before going I thought I should ask her if she will be available in her home or not. I didn't told my mother I'm planning to visit temple. In night around 08:25 pm, I made a call on Aunty's mobile (She don't have any smart phone, an old nokia keypad mobile is all she's having) 
I feel very special while talking to her so before calling her I kept call recorder on.
Now, something happened which was truly strange.
I called her, first call was not answered,…
I tried again and kept the recorder on…
Some lady answered my call,
I said: Hello!
She replied: Hello! (bold voice fearless)
I said: Jai Mata Di….
She said: Ji..
I said: I want to come tomorrow….
She replied: Yes, do come….
I was about to talk more,,,,
But what I see…
I got a phone call from her number… But I was already talking to her.
Her husband was on that call and said:
You called on my wife's number. Tell me what's the matter.
I was like I talked to Aunty just and what's going on?
I said I want to come tomorrow he said "AA Jaao"
I was surprised: What happened just now.
I checked my call history… And Booom
No dialed call history was there.
There were only one outgoing(not connected) and one received 40-45 seconds.
The call in between these two was no there. 
I thought may be there is some technical problem, so I checked my recorder.
Boom No call recording was there.
After this I was crying Oh Maa.
Next day when I explained this to my Aunt she said, I was not in my home yesterday evening and I left my phone there. 
I checked her call history also. and same was there
One missed call from me and second was outgoing.
Unfortunately my mobile got damaged few months back and I lost all those screenshots.
I don't know if you'll believe me or not but that's my truth.
After that day my father started recovering and with in one week he was negative.
Nothing more……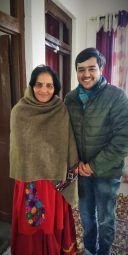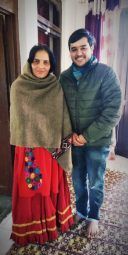 Myself and my Aunty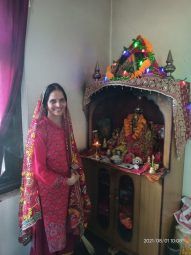 My Aunty with her Maa's altar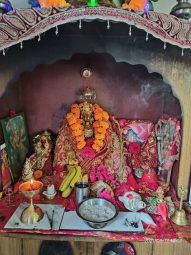 Maa's darshana in Aunty's altar
---