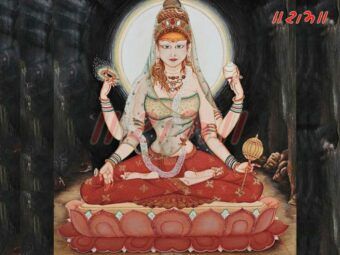 नारायणी नमोस्तुते
Jai Sri Hari!
Jai Jai Maa!
Mandi, Himachal Pradesh is known as Choti Kashi. Mandavya Rishi meditated here, so old name of Mandi is Mandav. Story goes like this, one day King went out for hunting, by mistake he disturbed a Rishi who was meditating there. The sage got angry and cursed that king, "Rajan, go your kingdom will be destroyed." King fell down in Sage's feet. As always Sage came back to normal state and said, my words will not come back, but you have to leave everything, someone who's immortal will be the next king. Everyone got in to this thinking, who's immortal?
Who's is immortal?
The one who is ParPurush, Sri Hari!
So they decided that Madhav Ji will be their next king, as Ray Vansh was leading the state, so Sri Hari was named as Madhav Ray. Madhav Ray is king of Mandi town. The king accepted himself as servant of Sri Hari and took care of Sri Hari's kingdom.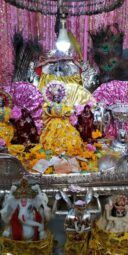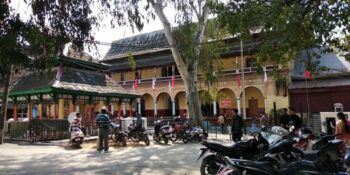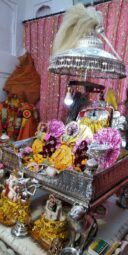 King of Mandi Town and Palace (Rajmahal) of Mandi Riyasat.
As I told you Mandi is Chhoti Kashi because Pandavas spent a lot of time here, constructed many temples of Shiva. Maha Shivratri is greatest festival of Mandi. As we know Kullu is famous for Dussehra, same way Mandi is famous for Maha Shivratri. A month long International fair, different cultural nights, different yatras are main attraction of our festival.
In Upper Himachal, almost every village have it's own Deity. So each Deity has their own palaki which goes everywhere when invited, we call them as Devi Devta ke Rath. So our Village's Deity is Goddess Koyla (She'sKali, Maa killed Kolasur demon, so that's why we call her Koyla). Deities from all over Mandi, some from other districts too comes to Maha Shivratri festival for seven days, they stay their in Mandi town for seven days, during day hours they bless their devotees by sitting in Paddal Ground, Mandi and in evening they go back to their places, where ever it is arranged. 
Our Devi went to festival on 2nd of March and came back on 8th of March. I was lucky enough, when she was coming back I was there at grocery store. Everyone came out from their home to see their Mother coming back.
What happens when Maa comes back to home after a week?
Happiness, joy, peace dwells all around.
Every villager was welcoming back her. Mother was coming in her beautiful way with her different kind of music and with her 100+ devotees, It's not like this, if someone invites Maa and she will go with 10 people, she always goes with more than 50 devotees, who hails her name with devotion, pride and love.
I was lucky to be there when she came back.
I'll share some photos and a google drive link so that you'll get a clear idea of what I'm trying to say.
Google Drive Link: Click here.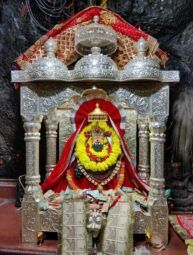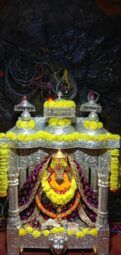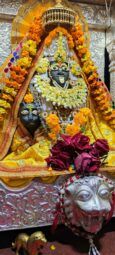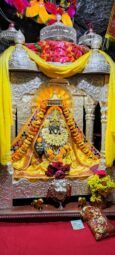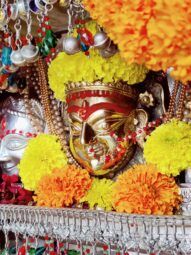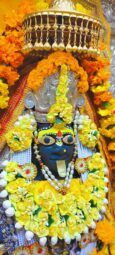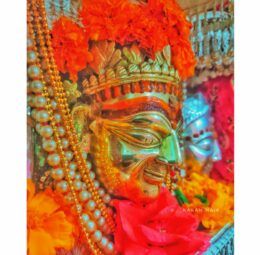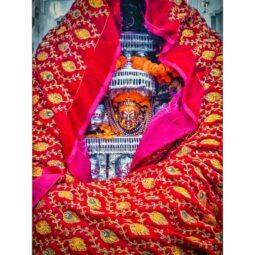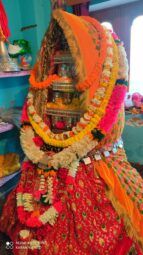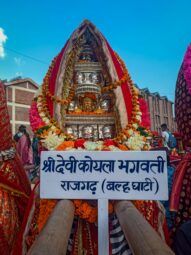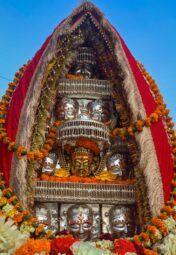 नारायणी नमोस्तुते
---