It was 4:45 am on Jan 27th, as I waited for Asif at the traffic junction in Koramangala, many thoughts reverberated in my mind. Till that point it was not the best, but good-enough preparation for an unusual run. It was unusual in the sense that there was no event, physical or virtual, it was just Asif and me running a full marathon, all of 42.195 kms. He was running because it was his birthday and I …..I was just running. 
On a serious note, Asif has been guiding and coaching me on my running virtually all of last year, keeping close track of my practice runs and what I was doing between the runs. And this run was to put those 'fundas' into practice in a run, together. So I flew down to Bangalore the previous day for the run.
My previous marathon was just 40 days back, the MCM run in Gurgaon, where I had achieved a new personal best (pb) timing of 4:14. The hidden intent was to aim for a sub 4, a popular benchmark among runners. But setting a new pb would also be fine. Runners are smart people: regardless of the way the run goes, we find ways to call it a success. So the result was not so important.
Since the MCM on Dec 13, I had really not run much. Except for two 10Ks each on Dec 20 and Jan 1, my longest run was an 18K on Jan 24. From the perspective of ideal training for a marathon, I was grossly under-prepared and was susceptible to injury. Asif, himself a seasoned runner (he got a pb of 3:08 in the Bangalore Marathon on Jan 17), while encouraging me all through, later mentioned that my training was not enough for a sub4.
Over the carb loading dinner of dal-chawal the previous night, we discussed the timing and hydration strategy. We were to run on the triangular road surrounding Agara Lake in Koramangala. While running 12 loops of the 3.5km route, the plan was to maintain a 5:45 to 5:50 pace initially and scale faster in the last 7-8 kms, hoping for a perfect negative split. Asif is a big fan of this concept, where the latter half, especially the last 20%, one runs much faster than the first half. It's never easy to execute, as our inane instinct is to 'give it all we got' in the initial stages, getting a momentary high when we clock good speed for a while. The idea of conserving our energy in the beginning for a burst later, is easier said than done. But when done, it's a sure-shot recipe for success.
Hydration in self supported runs needs to be planned. We had enough bottles of water and Energal at the start point, apart from gels that we had in our pockets. Of course, no scope for oranges, bananas, chocolates, potatoes, watermelons, etc. goodies that we get pampered with, during most of the large events.
As we reached the start point it was just 5am. It was a calm, pleasant morning with birds chirping amidst the trees. Being a weekday, we were not expecting many runners to be on the route.
The first couple of laps went quite fine. At about the 2km mark, we entered which I love to call the Question Zone. Questions started popping in my mind "Why am I doing this?", "Wasn't I better off sleeping for a while more?", "What difference will one more run make?". Then the niggle of pain in my right knee, from the meniscus tear that I have had for 2 years now; just accentuated the spate of questions. And then, as I proudly claim to be a 'mind runner', I was able to reason out how the injury pain will go away after a few kilometres. Over a period of time, I have realised, any pain in the body can only trouble us if our mind allows it to. Thanks to the mental conditioning and strong will power, I am able to will away the pain most of the time.
Though I was not running very fast, Asif commented that the pace was right and that we should maintain for the next 30 kilometres. Noticing my earphones plugged in, Asif asked if I was listening to some music or podcast. It was odd, as I was wearing them out of habit. As Asif was running right beside me, it would be a 'quiet' run today. By the end of the third loop, we were well settled into the run. I was wondering about my other friend Sagar, who had promised to come at about 6am and run 8-10 kms.
By the time we were into the sixth loop, the sun was out and the few early morning runners and walkers could be seen on the route. As we were running on the road, though on the opposite side, navigating the traffic was now necessary. Instead of relying on the solitary hydration point, I was carrying a bottle with me, to sip water whenever I felt the need. It's important not to take in too much water during the run. The bowl of oats and fruits that I had had an hour before the run, was the primary source of energy my body was counting on during the run. What one consumes during the run really does not contribute significantly on the energy levels, it has more of a psychological play, if any.
Into the eight round, close to the 28km mark, a sense of confidence was building in. Running in loops has its own advantages and challenges. While it's easier to configure the plan based on the number of loops, one gets familiar with the terrain and the task at different stages, it does also get boring and repetitive. The knowledge that I had just four more loops similar to the eight I had done, was quite comforting. I was starting to visualise the scenario on a sub4 finish. How I would surprise everyone with the achievement, as I had kept the plan for this run secret. With the flurry of virtual runs and solo practices being the norm in 2020, people were used to random updates from runners. But a sub 4 in just over a month since the last run of 4:14 timing, I thought that would be impressive. I even thought about what the post would say. 
A gentle tap on the shoulder by Asif woke me from my dream. I was slowing down from the desired pace and was now inching above the 6mins/km mark. Not exactly a danger zone, but the challenge here is that we can't let the body get used to a slower pace for a prolonged time. However confident or mentally strong one is, a faster pace gets more difficult after the 30 km mark. "You need to complete one more lap at this pace. We will try to go faster in the last three laps, especially the last 7 kilometres, so get ready for the same." said Asif. 
As we inched towards the end of 9th lap, I was starting to struggle. The fatigue was just setting in. Asif was trying to push me to a faster pace by running ahead and egging me to catch up with him. I tried a variety of breathing techniques: not using my mouth, taking long breaths, etc. I remembered the on-route leg-massage offered in the Hyderabad Marathon way back in 2018, that had helped, so tried massaging my thighs while running, hoping that the enhanced blood circulation would help. Just then my eyes brightened as I saw Sagar, my running buddy and companion in few of my best marathons, waiting ahead on the route. Visually impaired since 2012, Sagar had been running regularly and he was just the boost of energy I badly needed at that time.
The momentum that Sagar's joining provided, helped in the tenth loop. With less than 10kms to go, we were now in the dreaded zone which runners define as 'the wall'. The wall occurs somewhere around the 32km mark and it is the point when a runner's glycogen (stored energy) within the muscles is depleted. This forces the runner to slow down considerably, sometimes to a walk. Glycogen is carbohydrate that is stored in our muscles and liver for energy. It is the easiest and most readily available fuel source to burn when exercising, so the body prefers it. When you run low on glycogen, even your brain wants to shut down activity as a preservation method, which may lead to the negative thinking that comes along with hitting the wall.
But the 11th loop was a different story altogether. Having run 35kms had no meaning now. How I was going to survive the last 7 was the bigger question. Instead of being a meter or two ahead, now Asif and Sagar were almost 10-15 meters ahead of me. While I asked them to stay together, I knew the gap was really reflecting how far behind I was falling from the desired pace. At some point of time in the previous loop, I had got a sense that I was not in the running (pun intended) for a sub 4 anymore. I was now inching more towards the 6:30-7:00 pace. Trying hard not to stop or walk, the urge was very high to do either. The water I was consuming was making me feel bloated and was working against me. I decided to take the last gel a loop early, to gain whatever momentum possible. But the gel also did not help and my pace continued to drag.
After the miserable 11th loop, as I entered the final lap and the last 3.5 kms, I was just running for pride. I was just running so that I can improve or be close to my pb. I was just running because I love to run, because it helps to be myself, be in the 'zone' , it gets me into a trance, a state of mental peace. The irony at this stage, the same mind which was encouraging the body at the initial stages and egging me, was now working negatively for me. Physically, I still had it in me to push forward. I had attained milestones in push-ups and planks, proof I had a strong 'core'. Engaging the core, Not leaning forward, Taking confident strides ahead : these were tips that Sagar and Asif peppered me with. Sagar also said, "If not for your sub4, for the birthday boy Asif, you need to finish strong".
But I still had 3500 meters to go before I finished. And the distance still looked all of three thousand five hundred meters long. By this time, I had started doing run-walk-run, something not advised generally, but is better than walk-walk-walk towards the end. Sagar was only insisting that my run distance should be longer than walking. I was totally in a trance at this stage. My walk was not the normal walk, these were giant strides. My body was stiff and a small nudge from the side and I would have fallen down with no resistance. I was not looking left or right, my only objective was to get in sight of the finish line. I was not even seeing Sagar clearly, I could just visualise him next to me, egging me on, cheering me on. Asif had sprinted up ahead, but I did not have notice, as I was in a world of my own. My Mind went Blind.
As I touched the finish line, ensuring I ran (and not walked) at the end, Asif was waiting to welcome me and Sagar right next to me, I yanked the phone out of my waist belt and clicked on the strava icon. Unusual and the first time ever, I had not kept track of the time. I was just doing mental maths about my pace. I knew I had missed a sub4 for sure. I was not so sure if I had another pb. I pressed on the stop button and looked at the timing, it said 42.20 km in 4:16. I had narrowly missed my pb, but I had exceeded the expectations of a great race, finishing with two of my best running mates next to me on a pleasant Wednesday morning in Bangalore.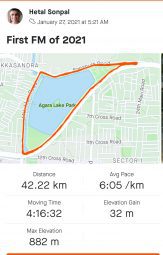 Finish strong is a term which runners love to use. It's about finishing on a high, with our head firmly on our shoulders, which are stiff and not drooping and we still retain the energy to hold our hands high at the finish line, not knowing whether to smile or cry out of joy, totally at a loss of words, hands wet with perspiration, yet numb and we find it hard to move our fingers, our toes cannot feel the base of the shoe for a while, we look around and in a sense of daze, we see the world revolving around us at a slow pace. When we stop, the first instinct is to just stand for a while and get a firm footing, then we want to sit, no, lie down, and look up at the sky and then relieve the moment, every minute of the run, the struggle, the cheers, the pain, the joy. This is the moment, where timing, records, rank, etc. don't matter. We are all runners, we are all champions.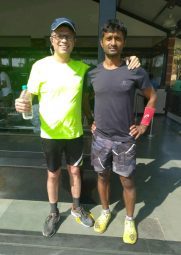 ---