Hello Family……
Hope you all are doing great……
How's you sadhana going on?
Maintain same enthusiasm throughout the sadhana… Feeling of gratitude is more important. Be grateful to the nature for allowing you to stay…
I came back to my hostel after a mall period of almost 2 years…. I'm quiet enjoying but I'm homesick….. Well let it be….. Since it's two years we left our hostels due to covid and now when we came back we all have our old clothes in our almirahs, old shoes and other items. Since we were in home and it's our growing age so some clothes are not fit to wear so we have to give them to someone or just throw them or burn…. 
Same thing is happening in my floor. Students are coming from their home and cleaning their rooms and they are just throwing their clothes, shoes and other items outside the room. Sweepers will come for cleaning and they will clean all this.
I was just talking to my friend over a phone call and just walking in corridor, I saw sweepers talking and they were talking:
"See this cloth is totally fine, see this shoe pair it's good and it's my size, I can wear it."
They took those clothes and shoes with them and the smile on their face brought tears in my eyes….
See, people are suffering so much for small things….. We are so lucky to have good clothes to cover our body, roof to cover our head, food to eat…… Gratitude…..
I request you to donate your old clothes and items to needy people….
Diwali is coming and you are going to clean your house.
I suggest you to clean yourself from inside by bringing smile on someone's face…
Nothing more….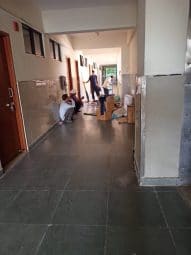 Look at them and feel it….
Pic Credits: Sonu Sood Ji's Tweet….
---