It has been a busy week for me in Delhi. Things were going back to normal, which took some adjusting. And then, smog hit! We are back in a lockdown-like situation. That has left everyone more overwhelmed and confused.
First, we made a schedule to go back to the pre-Covid routine, albeit gradually. Schools started opening up once a week for older kids. The younger one was mighty upset for still meeting classmates online. Parents are panicking because kids need to catch up on the syllabus. Offices started functioning and daycares are still shut.
Then, smog engulfed the Capital. That required more decisions — should we stay in Delhi or shift out? For how many days or weeks? Why are schools shut again — both older and younger kids are upset now. Parents still get to go to work, but no daycares again.
There is a lot of confusion. The plans that one makes go for a toss because one can't control life or what goes around. There is abruptness. No one knows what will happen and how things will pan out anymore. No one has any choice but to accept it and live with it.
Hey! That's life, right? It doesn't give a memo. It is marked with abruptness. You have to accept it and deal with it, even if grudgingly. So, why not make merry when you can.
The account of things I have presented might make you think we are living a grim life. No! People are still partying, celebrating birthdays, anniversaries, shopping and chilling. I mean, the situation is bleak because the city is enveloped in smog and it is like living in some Hollywood dystopian film. But you know what I mean.
People haven't stopped living it up. For some, it is a valid excuse to travel a little more before offices, schools and other commitments tie them down geographically. But otherwise, life here is dotted with fun, love, and laughter.
However, when I spoke only about the grey skies, it is how many of us talk about life as if it is filled only with poisonous air that is filling everyone's lungs. Oh, wait! There is no way I could or should compare life with smog-filled Delhi. Inhaling poison can't be used as a metaphor for life, especially when one is trying to tell people that life isn't so bad. So, excuse me.
The correct metaphor for a good life is os.me. It is where love, compassion and truthfulness flow unbound. Where we accept each other without any judgement. Where Wisdom fills our foundation and becomes the guiding light. It is like the lush green pastures on a mountain, where you can hear a pristine river burble close by, where there is peace and God, and clean air (very important, ask any Delhi resident)… Wait! Am I now talking about the ashram I ache to visit? Anyway, thank you for listening to my stream of consciousness.
Let me present to you our weekly picks of life-altering os.me reads.
Transformative Ideas
There's No God: Filmscreenwriter and author Mahendra Jakhar has a knack for translating complex ideas into intelligible copies. 'So the question is— what is this God that Buddha or other spiritual masters see inside them, and we don't,' he asks and then goes on to drop many truth bombs. Take a step closer to the God in you, read this insightful read.
Only Hurting People Hurt Other People: I have heard this adage several times. I would often wonder why is it my problem that they were hurting and why should I bear the brunt of their hurt anyway? Evidently, I hadn't understood it until I read John Clark's blog, which helps one accept the situation. He shares the "quickest way" to fix such people. It is crucial for creating a positive environment around you. Healing them means healing yourself, and your karmic account, writes John.
How to Build Emotional Resilience: Renowned counselling psychologist Divya Mohindroo says, 'Bet on yourself consciously' to build emotional resilience. She has been invited to write on this urgent topic in the mental health space. What is emotional resilience and the ways to build it — inside this blog.
10 Actionable Tips to Help You Make Better Content Today: One of the most popular writers on Medium, Amardeep S Parmar started his writing journey in 2020. Within 15 months, he quit his full-time corporate job to be a full-time writer because millions were reading his content. In this blog, he shares 10 actionable tips for creating fantastic content. Keep the notepad handy because he knows how to make viral content.
From a Lazy Bum to a Superwoman (or Man!): 10 Simple Habits to an Extraordinary You. This is not your usual listicle. It is an extremely helpful article peppered with all the answers related to each tip. For instance, waking up early is fine, but how do you do it, what do you do upon waking up, how does it help? Snigdha Ganguly answers all the questions you have ever had as you super-charge your journey to your outstanding self.
When I had a Glimpse of My Ego: The moment of awakening strikes when you least expect. For Ahana Banerjee, it occurred while watching an animated film! She shares her thoughts on how to liberate oneself from the ego, more importantly, why one should get over the prodigal 'I'.
The True Meaning of Blind Faith: In the midst of a bustling market, Gowri Hegde sees a customer steal from a blind woman. But you know what? God is always watching.
Quote of the Week
Not sure Banksy said it, makes sense anyway: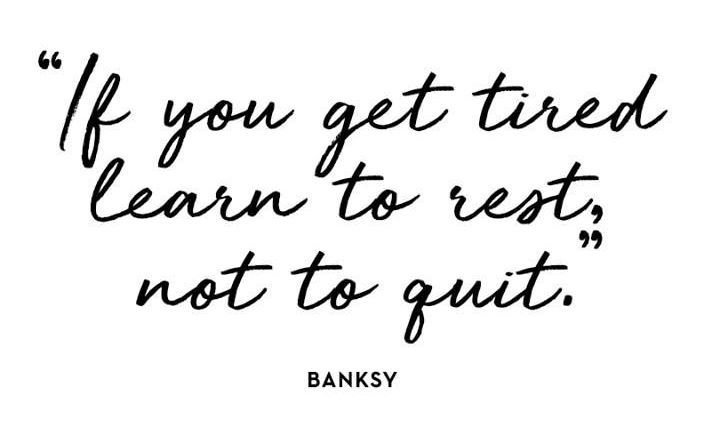 Wisdom from Swamiji
Politeness Versus Humility: There is a difference between politeness and humility. The former is a projection, the latter is an essential virtue. And one must know it. 'Why? In the absence of humility, any spiritual attainment vanishes like dew upon sunrise'. Spiritual leader Om Swami shares two ways to cultivate humility — easy and hard. Which one will you pick?
Being Good: Being Good: It's nice to be important but it's more important to be nice. In his inimitable style, Swamiji shares three core attributes of goodness. Let it do good to you.
Watch This Now!
I have recently completed a year with this outstanding, kind and truthful community and I feel blessed to be here. Thank you for all the love. As crazy as it may sound, I find it extremely difficult to write about myself for several reasons. Sometimes, I reveal myself in phrases and lines. Today, let me share a song: Arziyan from Delhi 6.
I know what you are thinking. That's your song, too!
I think of Swamiji when I hear the song. The lines that totally get me are:
Toot ke bikharna mujhko zaroor aata hai/ par na ibaadat wala shaoor aata hai/ sajde mein rehne do, ab kahin na jaunga ab jo tumne thukraya to sanwar na paunga…
(Roughly translates to: I know how to shatter and scatter into pieces, but I don't know the correct etiquette/rituals of praying/worshipping. Let me remain bowed down in your prayer, I won't go anywhere else now. If you were to reject me now, I won't be able to recover).
I browsed the meaning here.
What are the lines that talk to you the most or do you have a song? I'd love to hear about it.
Until next…
PS: The featured image is my favourite tourist destination, Switzerland.