Shubh Deepawali! To capture the significance of Diwali in words is a daunting task. According to one, and perhaps the most popular legend, Diwali celebrates Lord Ram's return to Ayodhya with Ma Sita and Lakshman after eliminating asura king Ravan.
The festival signifies the victory of good over evil, knowledge over ignorance, and light over darkness. It is called the festival of lights because it reminds us that no matter what dark corner of life we are in, it is within our power to dispel darkness by focusing on our inner light.
That no matter how insignificant we might think we are, we are capable of illuminating lives and the world with our goodness. That no matter how small, even a tiny diya is enough to light up the room. That you can be that ray of hope for someone. And that your act of kindness (no matter how small) has the potential to keep the world going.
There is nothing new that I am going to add to the significance of Diwali. And you are probably busy with the last-minute shopping for Diwali gifts, mithais, cleaning up and visiting friends and family.
So, I'd leave it to the os.me community to bring out the best of Diwali 2021. Today, let's start with Wisdom. Here's how to be that light:
Wisdom from Swamiji
The Esoteric Meaning of Diwali: Spiritual leader Om Swami sheds light on the esoteric meaning of the festival of lights. He shares a beautiful excerpt from the Tulsi Ramayana, and answers the question of the hour: Why do we celebrate Diwali?
How do You Celebrate Life?: The season of festivals has officially begun. Let's celebrate every occasion and every day. Swamiji reveals the greatest way to celebrate any occasion.
Watch This Now!
Transformative Ideas
Here's a pick of awesome reads penned by os.me members
The Essence of Diwali: For anyone who wants to understand the cultural context of Diwali for the Hindus, the Jains, the Newar Buddhists and the Sikhs, Alok Singha's blog should come in handy. He also offers the symbolic meaning of this festival that signifies the celebration of life and so much more.
There is a Light That Never Goes Out: I look forward to Fridays, thanks to celebrity writer Fracesc Miralles' blog on os.me. This one is a perfect Diwali read.  He writes about the flame that quietly illuminates within us for as long as we live, even when we are in the crypt. He says we need only three things to brighten up that light. Oh! He also writes about what the Indians say about shipwrecks and belongings. What do they say? Find out for yourself!
Let's Light a Lamp Tonight • शुभ-दीपावली: When we were kids, Diwali was a time to flaunt our 'skills' and risk-taking abilities, writes Saurabh Dixit. He takes us down memory lane to the places that have our childhood giggling carefree. There are two lovely poems and relatable pictures inside.
Spiritual Lessons 2: Diwali is an excellent time to revisit some spiritual lessons that should guide our life. After all, knowledge should win over ignorance. Nandita Basu lists down a few: An ordinary person is always talking; You will begin to live when you actually die. Go deeper, read it now!
The Witching Hour: Rashmi Sharma weaves magic with this bewitching poem about her grandmom turning into a witch. Perfect to go with your Diwali savouries!
A Festival of Smile — Diwali: A small, thoughtful act can turn this festival of lights into a festival of smiles. This heart-warming blog is about Chandrika Shubham Saini shopping for happiness as she ditches the shopping list.
os.me: The Light: os.me is a movement to make this world a better place, but you already know that. Yet, I include this in the list because Pratik Wadhwa's answers to the survey we conducted a few months ago made me swell with pride. We are creating something beautiful. You and I are that illuminated corner where the world comes to light up the candle of its soul with ours. This is where our beings shine freely, brighter and warmer.
Booked This Week
It's an excellent time to read Valmiki's Ramayana. However, that's not what I am recommending. The Forest of Enchantments by Chitra Banerjee Divakaruni is on my Read it Already list! It's the retelling of The Ramayana from Ma Sita's point of view.
The back cover of the book says: The Ramayana, one of the world's greatest epics, is also a tragic love story. In this brilliant retelling, Chitra Banerjee Divakaruni places Sita at the centre of the novel: this is Sita's version.

The Forest of Enchantments is also a very human story of some of the other women in the epic, often misunderstood and relegated to the margins: Kaikeyi, Surpanakha, Mandodari. A powerful comment on duty, betrayal, infidelity and honour, it is also about women's struggle to retain autonomy in a world that privileges men, as Chitra transforms an ancient story into a gripping, contemporary battle of wills.

While the Ramayana resonates even today, she makes it more relevant than ever, through the underlying questions in the novel: How should women be treated by their loved ones? What are their rights in a relationship? When does a woman need to stand up and say, 'Enough!'
Fun fact: Chitra was our guest on TBT, too!
That Verse!
Instead of sharing a quote, this week, I am sharing a poem by one of my fave writers and poets Charles Bukowski.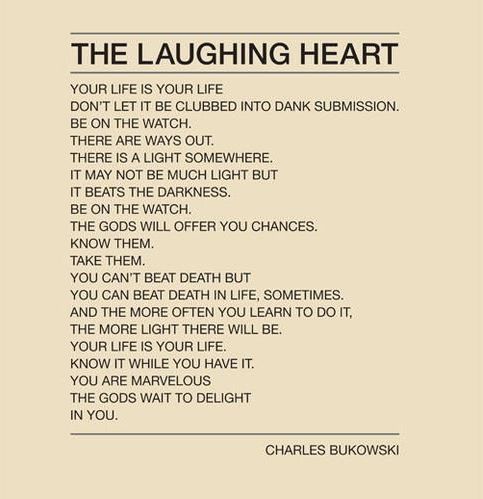 The Winners
The winners of The Write Choice — Diwali challenge are:
Abhishek Sharma for मेरी दीवाली. Abhishek takes us down memory lane when Diwali was a festival of family feasts and fetes. Full of nostalgia, joy and childhood memories, it also encourages the readers to live up every moment, because who knows kal ho na ho…
Saurabh Dixit for Let's Light a Lamp Tonight • शुभ-दीपावली. We all relate to being the fataka master or captivated bystander who watched a fataka master in awe. His two poems are pregnant with meaning and hope. Let's light a lamp tonight.
Congratulations to you both!
There were many potential winners but only posts with #TheWriteChoice were considered.
Dear os.me family, may you shine brighter and stronger. May your life be filled with more joys and laughter. Your gift can transform someone's life. So pick your Diwali gift wisely. Here's an idea: This festive season, consider gifting an os.me membership to someone who might be in need of hope, knowledge, compassion or just a kind community to hang out with.
As kids, we used to start a new diary on Diwali, for it meant new beginnings. What are some rituals that you follow? Share with the community in the comments below.
Until next…
Shubh Deepawali! Jai Siya Ram
PS: The winners of the Write Choice challenge were updated at 5:00pm.