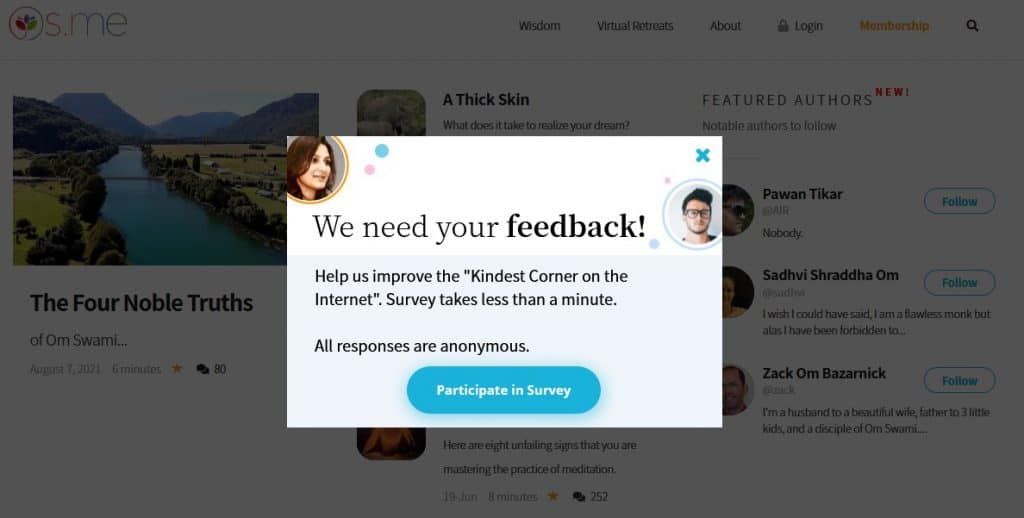 Let's get straight to the point. Remember this survey?  I will be answering some of the survey questions now-
What made you decide to join the os.me online community?
To be honest, I was going through a not so good time in my life (that is also due to a lot of bad decisions) and the dark clouds of negativity and sadness were my constant companion. Our mental health took a big hit during covid and lock down and the general atmosphere around me was gloomy. Though I don't watch news, my mind was still swimming in the lake of negativity, as is the case with majority of people on Earth.
You might have heard or read this somewhere – "you are the average of 5 people you spend the most time with." My experience and observation is in line with the quote. The people you spend time with has a definite impact on your thinking, behaviour and actions.
I knew that I just couldn't continue my life anymore like that. I had to change something. Since most people in the world generally gravitates towards negativity easily (including me at that time), I was looking for a place full of positive, kind, supportive, non-judgemental and compassionate humans. The idea was to spend more time at a place which has the potential and power to uplift you.
Os.me then emerged as a hope, a ray of light amongst the darkness of sadness and negativity.
I was aware of The Big Decision, but you know what, most of the time humans only act when something goes wrong. It wasn't until March 2021, that I finally purchased a membership to be a part of the supportive os.me community.
What did you expect when you joined os.me?
A place full of positivity, lots of love and support, a safe space to escape from the habitual mental state of negativity and a community so strong, supportive and positive enough to counter the darkness of negativity and sadness in my mind.
"Did not expect anything" – I chuckled after reading this option as my inner voice uttered– "I am not Om Swami yet."
Do you feel connected to other os.me members?
A big yessssssssss and that's what a premium membership can offer you, a sense of connectedness with the members of the community, a chance to know and interact with kind and compassionate humans.
Choose the biggest benefits of being an os.me member.
A safe space to escape-
It's a safe space to escape for me at least. In my observation, it's also a space where you are allowed to be vulnerable and share your struggles and problems without fear of any judgements.
I don't know why, but I feel and think that lots of online communities like os.me are going to spring up in the future.
Interconnectedness-
We humans are definitely interconnected on a deeper level – this has been my first-hand experience on os.me. How, you may ask?
Some people have shared their vulnerability and their life situations on this platform. I am sure you can recall some stories off the top of your head. The support and love they received was truly overwhelming. It was overwhelming for me too because I also felt some of the love and support that the members in need received at that time.
How could you possibly justify this phenomenon? Interconnectedness seems the only answer to me.
Strong and positive online community-
You might have noticed that along with the people we spend time with, our environment also has a huge impact on our behaviours and our emotions. During my time at os.me, a strongly positive and supportive environment on os.me has definitely impacted and subtly changed me for the better.
It's not like that every day in my life is lively and full of positivity, I have my bad days too, but I can't just stress enough of having a supportive and positive environment. You may not instantly feel the impact, but with time you will certainly come to acknowledge the effect of having a wonderful community. I know this to be true during my time at os.me.
Would you recommend os.me to a friend or share on social media?
Since the responses were anonymous (not so anonymous now 🙃🙃), I was going to choose 'neither'. Oooohhhh, you might be wondering what is wrong with this fellow. Effects of conditioning, my friend. Being on os.me doesn't free you from conditioning.
My first thought was – "Hawwww, what will people (read relatives and friends) think about me, if I recommend os.me to them?  Also I thought that people will find it anyhow if they are really in need.
Then I shyly chose 'recommend to a friend', even choosing this option seemed ridiculous to me. (impact of conditioning, sigh)
If I were to take the survey again, I would chose probably chose 'both', though recommending to a friend still looks like a mountainous task for me. 🙈🙈
During the rough times of this pandemic, did you find the os.me community supportive and helpful to you?
Has there been a positive change in your personal well-being since you became a member?
The answer is a resounding yes to both the questions, or else if I had been left alone with my mind during the lock down (2021), the outcome wouldn't certainly be a beautiful one. Probably no-one can live alone with their untamed mind.
Do you think that writing on this platform is beneficial to you?
Yep, it is highly beneficial in general.  You can write here regularly and improve your writing skills. Writing here also pays, literally. And when you write on os.me, you may unknowingly be a catalyst of change in lives of some people. Writing here also means writing helpful and constructive comments which may also have a positive impact on the members and the community as a whole.
My gratitude to Swami ji for opening this place for everyone. 🙏
My gratitude to all the members for keeping this place full of positivity and for their support and kindness. 🙏
P.S. – This post was written in few hours, so please excuse any grammatical or any other mistakes. Finally managing to submit the post for the challenge before deadline. 🙈😂
Thank you for your time. 🙂
---