As Santa paints the town red with all the cheer and glee, as we make that slow gradual move towards the end of the year, as we talk about the year that was and contemplate the resolutions that we will make to break in the new year, its time for me to sit back and look at the year that was from the perspective of the books that I read in 2021.
Being the fourth year that my book read count has exceeded 100, I am intentionally not making too much noise about that number. It was never in doubt for me this year, especially when I was at book no. 50 by May. But how far will I go, that was the big question. As I reduced my reading speed in the last 3 months hence I think I ended up some 20 books short eventually!
But 131 is definitely a big number by any counts. It's more than 10 books a month, more like reading a book every 3 days, and to do it consistently for the whole year! And of course, I never cheat by trying to pick up a 30-50 pages book, so I can finish reading it fast. Yes, the list this year includes The Little Prince, but I read it because its a genuinely good book and not because it's a short read.
How can I ever forget that 2021 is the year where I made my very own contribution to the world of books, I wrote my first book!!!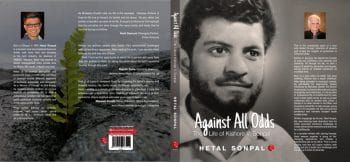 And talking about the book, posting about it, attending book signing events and talk shows, etc, got me a very unique perspective of how tough it is to transition from being a reader to being an author. As a reader, if you really need to appreciate the role of an author and what all he/she goes through, you need to be a writer once to realise it all. It is quite a task, seriously.
So coming to my books, it's tough as hell to pick out the top 10 of the year, so I will first do a walk though on the books, and the top 10 will emerge more towards the end.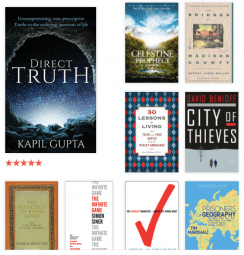 The year started off with some genuinely mind blowing books. "Direct Truth" by Kapil Gupta was a total game changer. Simple and easy to read format of questions and answers and one is jut blown away by the simple way in which some of the most complicated topics are addressed.
I loved 'Prisoner's of Geography' as it explained the world in a very simple way and it's easy to understand from perspective of history. Atul Gawande was awesome as always in 'The Checklist Manifesto", especially as he has researched a lot to share so many examples outside of his medical domain, to show the importance of checklist.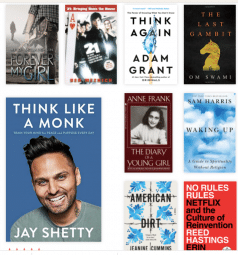 Adam Grant's Think Again was one of the rare 'new books' that I read in the same year it was published. And he is awesome as always. No Rules Rules totally deserves all the publicity it has got for the unconventional style in which Reed Hastings runs the company we know as Netflix. Jay Shetty has a band of critics that might far exceed his follower base but look, I found the book useful and loved reading it. Anne Frank's book, of course, needs no introduction.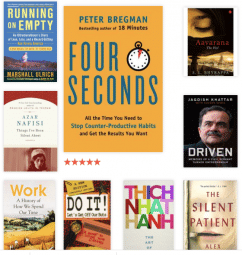 This was the year that I discovered Thich Nhat Hand and simply fell in love with the master. The Art of Living is a book which I re-read three times in the year. Four Seconds turned to be an easy to read page turner which has wealth of wisdom on every page. It was a book lying at home, from my Dad's collection.Running on Empty was first among series of books that I read on Running this year and gave me a great perspective on ultra-running and what it entails.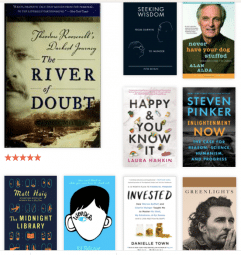 Seeking Wisdom, hands down, top 10 for life, not just for this year. Will always remain indebted to Amit Somani for recommending this gem of a book. "River of Doubt" was a total surprise. To know that a US president went on an expedition in South America and even wrote a memorable book about the journey, wow!!. I would rather not have Matt Haig in my book list ever -totally forgettable best-seller book of his, Midnight Library. 'Invested' was among quit a few books I read on investing in the year and it really helped me build my understanding on the subject. Wonder by RJ Palasio is a classic among kids readings and it totally deserves all the praise and adulation it has got.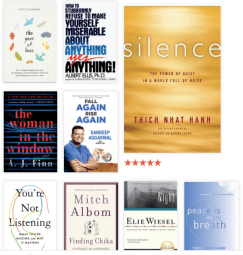 Mitch Albom is back!! the man who gave us the wonderful 'Tuesday's with Morrie" and helped us understand old people, did something similar for us to understand children with this one. You are not listening was an eye opener on how we spend too much time reading books and very little time 'listening' to other people. Note to self !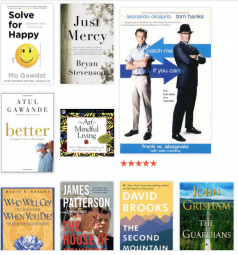 Loved David Brooks' The Second Mountain, as the concept of having goal no. 2 in life is important, instead of we spending all our energy towards one mission. House of Kennedys is a great to know the most famous US first family. Catch Me if You Can helped me relive some magical moments from that awesome movie I remember seeing when it was released two decades back and DiCaprio was just amazing in the lead in that.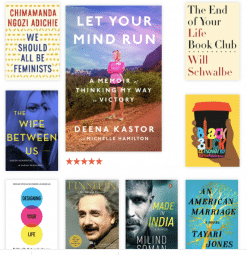 Among the books on running, Deena's book stands out, as it closely related to my own belief that running is mostly in the mind. Talking of running, Milind'a book was generally a disappointment, had expected a lot from 'Made in India". Einstein is of course, an epic of a biography. Designing your life, more as a concept was great, the book, not so much. The End of your life Book club, the concept and the book are just way too good. The wife between us was among the many fiction that I read this year, unusually high no. for a hard core non-fiction fan like me!

Jiddu Krishnamurthi was a legend and The Book of Life is definitely one of his best, where he has touched upon many topics and explained them in a very simple way. Ellen's biography is among the most hilarious biographies and I can say that it ranks really high in that list, especially as I have also read the one by Jerry Sienfield. Sinek is yet to impress me with any of his other books. "Start with Why' that I read in 2018 still remains by far his best, according to me.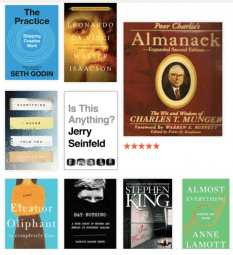 Poor Charlie's almanack is quite a riveting read, gems of wisdom are spread all over the book. Da Vinci was a perfect follow up to Einstein. I have almost completed a PhD in reading Walter Isaacson's books this year. Stephen King is at this best talking about a subject which he is so well qualified to talk about, Writing! Saw Nothing was a great book to be able to understand the Norther Ireland conflict from really up close.

I read a lot of Fredrick Backman, but its difficult to beat "A Man called Ove", his finest till date. The library book was very informative read, as it used the burning down of the LA public library as the base of the story. Loved "how to break a terrorist' as it gave a great perspective on interrogating hard-nosed terrorist and breaking them down.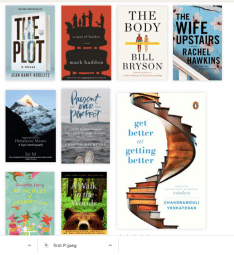 Bill Bryson is a legendary writer and in 'The Body" he has another gem of a book that gives details about human body in such a light and simple way!. Chandramouli gave the world two awesome books before his untimely death and this one surely is a must read. In "A Walk in the woods", Bill displayed his amazing versatility, by talking about his trek into the Appalachian Trial.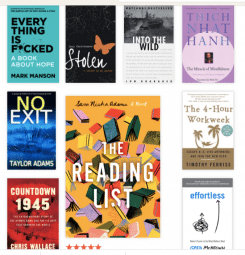 Mark Manson's follow up to the huge bestseller book was good attempt, I should say. The Reading List was another new book that I read in the year of the release. The 4 hour work week by Tim Ferris is legendary as a concept and the book has lots and lots of practical tips on how one can optimise. Countdown 1945 turned to be a surprise late entrant into the top 10 for the year for me, along-with The Effortless by Greg Mckeown, which genuinely did not need to make much of an effort to impress!!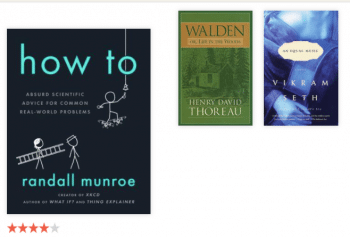 Winding down towards the end, I am glad I read Vikram Seth's Equal Music. Helped me correct my opinion on Indian origin authors and also made me read a romantic novel when i had so many non-fiction books to read!. Randall Munroe is hilarious in 'Hot to' and I am already reading his more popular 'What if' next.
——– In Conclusion ———-
So, its been quite a journey going through all the books I read this year and I am not sure if I have been able to do justice to some of the really good ones that I thoroughly enjoyed reading this year.
From a format perspective, it was audiobooks that formed a majority and I have no qualms of admitting how much I love the format, despite the limitation that its low retention reading, as I am not making notes, highlights, etc. as I am reading. My books have been a constant companion over thousands of kilometres that I ran and walked in 2021. It made those distances really easy to cover and at times, the made me go the extra mile or two !
Looking forward to another exciting year of new books, old books, digital books, audio books and the good old physical books to read in 2022!!!
---