When Swami wants, things happen. So, basically, a few people whom I know will be visiting the Sri Badrika Ashram to witness the grandeur of Sri Hari but due to my circumstances, my plan has been halted yet again! Yesternight, I was a bit perplexed due to this and boom! A leela was played and here I am writing about what happened today! Today is a special day for me. I could have chosen to split this post in parts, but I choose not to do it. So, dear, it will be a long post of me talking about Divine leela! Read on, if you are interested.
Today is Jagannath Sanan Yatra and I wished to visit some divine place in order to come to terms with the fact that I won't be in Sri Badrika Ashram and secondly, well, today is Sanan Yatra, so better visit some divine place. Co-incidentally, I met with Abhishek, a devotee and we hatched a plan-
1. Visit Sri Ramakrishna Mission
2. Visit Baba Neeb Karori's Delhi Ashram
So, as per our plan, we first headed to Sri Ramakrishna Mission and the shrine was surreally peaceful despite the bazaar-buzz outside. The entire hall resounded with many mantras and Thakur was sitting beautifully in front of Lord Jagannath ji's image as if, He was Himself the face of the Lord! To the right of Thakur was Swami Vivekananda and towards His left was seated my Maa, my Sri Maa, Maa Sharada Devi. She was sitting infront of the whole hall with utmost elegance and a lovely shyness with her hair flowing down lite an eternal waterfall of grace. I looked at her Divine picture and all I saw was Love! A few tears rolled down my cheeks as I saw my smallness midst the Divine trio as a mantra was being chanted for the havan or yagya– Om Aim Sarvadev-Devi Swaroopaya Sri Ramakrishnaya Swaha!… I was sitting in the hall, hiding behind my mask where I smiled, I cried, I complained and smiled again. I yearned, then got distracted, and again had a few tears and the roller-coaster of my inner child went on like that till it was time to pay a visit to Baba Neeb Karori's Ashram.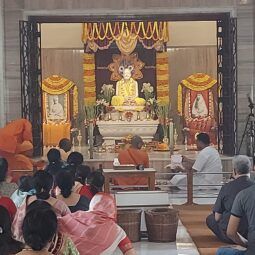 So, we headed towards Kashmiri gate where we hired a rikshaw and asked him to take us to Neeb Karori Babaji's Ashram. He said something and without paying much attention to it, I said "yes" and whoosh went our rikshaw and we rolled into a temple. It did not seem much similar to the pictures of Baba Neem Karoli's Ashram but we went ahead. It was a temple we never heard of and gosh! The crowd was crazy!!! Everyone was running and it was a complete chaos and we became skeptical whether to go in or not to go. Anyway, we had come there so far, so, we decided to go in.
After being lost for a few minutes, we finally found the shoe racks and a lady there told us to immediately drop our shoes right there and just run for darshan and we did exactly that! Everyone was in a frenzy of a super-duper hurry and so were we with our eyes on alert to quickly spot Lord Hanuman. Suddenly, our eyes fell on little, cutie-pie Hanumanji who was sitting so lovingly and innocently on His aasan! It was probably a two second darshan but how cute my Hanuman was looking today! All dressed up in beautiful clothes, Hanumanji looked so lovely, as if a little cute baby is giving darshan!
Again, we took to our heels without any teeka or prasada and went back to the shoe-racks. Thankfully, nobody stole our footwears and suddenly, an old man approached us and began to ask us a few general questions and told us about that very Hanuman Mandir which is called "Marghat Wale Baba" or "Marghat Wale Hanuman Mandir" and that its an ancient temple! We thanked the uncle for the small talk, went outside and soon the gates of the temple were shut on the face of devotees who had come late and it was only then that we understood why there was such a speedy rush as we had arrived at approximately last 10 minutes of morning darshan!
After a huge rush and a very little darshan, we started looking for exact address of Baba Neem Karoli Ashram but it showed a vague address- Bela Road, Kashmiri Gate. Anyway, we hired an auto to Bela Road. While on auto, we googled about Marghat Wale Baba and our jaws dropped and we were like- WHAATT!? So basically, Marghat Wale Hanuman Temple is really a very ancient temple which was built by the Pandavas. It was at this very place where Sri Hanuman took a little rest and again headed towards the Sanjeevani Booti Parvat. It was a crematorium and the moment Hanumanji landed here, a huge chaos spread among the spirits present there because they could not tolerate Hanumanji's divine and fierce energies. Eventually, those spirits attained mukti. Yamuna Maiiya too met Hanuman ji at this place and even today, in every four to five years, this place gets flooded and the waters of Maa Yamuna meets Hanumanji! The deity or idol/murti, it is said, hasn't been sculpted rather, it emerged by its own and we had darshan of this holy site!
We were dumbfounded with this new information. Did we REALLY have darshan of this holy place? Did we really run around the temple like that? Did we really see Hanumanji in that form? That too on a Tuesday of Snan Yatra!? We looked at each other and burst out in laughter! The Divine sent us to Marghat Wale Hanumanji instead of Neeb Karori Babaji's Ashram! This is sheer grace. Without the Divine working on us, we wouldn't have even heard about Marghat Wale Babaji, let alone visit the temple!
So, the auto-wale-bhaiiya left us somewhere in the three-lane Bela Road and we were lost. Where was Babaji's Aashram? How come Babaji is so famous but the temple is so obscure that even the residents of Bela Road don't know much about it? (One day, Baba Neeb karori asked his devotees to dig at a particular place and a murti of Sri hanuman emerged from there. Babaji then said that here, Hanuman ji was asleep, now he has been awakened.) We asked and asked, but got no answer. At one point, even google-maps betrayed us. We continued to walk in the hot sun to wherever our inner voice led us to with a partial help of the google-maps. We crossed the three scary lanes (you know how Delhi Traffic is!) and walked and walked and suddenly, we were at an end of a flyover. Now what? Google maps was showing this ashram on the flyover and my sceptic brain refused to believe it. C'mon! How can there be an ashram on a flyover? Anyway, we decided to walk on the road to anywhere our destiny took us to. We were tired and we were hopeful and just when we were making up our mind to give up searching for Babaji's ashram and return back, we spotted a board-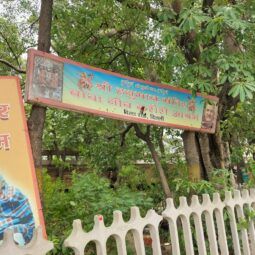 Hola! We reached Neeb karori Babaji's Delhi Ashram! We looked at each other and we laughed! Leela! Leela! Leela!
We went inside the Ashram premises and saw that the door to the main deity had been closed after morning darshan and now we understood what happened! The Divine sent us to Marghat wale Babaji because it knew that we won't be able to make it to Neeb Karori Babaji's Ashram for morning darshan on this auspicious day and we were indeed lucky today! There were a few people in the Ashram and no crowed as such. We had soft-drinks and walked around the ashram premises and suddenly I noticed that Neem Karoli Babaji has fingers like Swamiji's! The hands that bless are always the same hands- Sabka Malik Ek.
Then, a very kind person walked towards us and handed us a mango, which was the prasad of Babaji and I was amazed at Babaji's grace. A very helpful lady then gave us a knife and we had our sweet prasaad. Actually, while we were on our way from Ramakrishna Ashram to Hanuman Mandir, I had complained that I neither got a teeka nor prasaad nor bhog and Marghat Wale Babaji was too rushy! And by the grace of Lord, here I got a piece of mango prasaad! I was sitting under a tree and saw a squirrel munching away a small stick and I remembered how even a squirrel helped Sri Ram for his mission to built Ram-setu. I suddenly remembered that Hanumanji ate fruits from the Ashok Vatika and Swamiji loves Mangoes too! I then recited Hanuman Chalisa to the Divine door that watches Lord Hanuman everyday and then, we came back to our places, with our hearts full.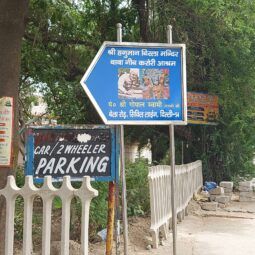 p.s.- Gareeb Gaushala is a nearby spot to ashram on Bela Road. And nearest metro station is Kashmiri gate, exit number 7. (prefer to take some vehicle to take you there.)
 
 
 
 
 
 
 
---