My humble salutations at Thy feet Master…
            I wonder what karma I did in past life..You found me and I found you.. Today on this auspicious Ram navami  when every one was lost in You  ,suddenly  You gave a surprise gift by allowing everyone to go inside the garvagriha and take the blessing of Bhagwan ji. 
                   Who can be like this Prabhu? So much compassionate, so full of love…Another disguise of God  ..Am I worthy??? You made me worthy.. As You said  today..what can someone give to God? Nothing. GOD CAN ONLY GIVE.. O.. Bhagwan..Living God ..Dearest Swami…Sakha….Guru ji  what can I give to You and Sri Hari? Everything  belong to  Bhagwan. But as You said we all did it. 
PAYO JI MAI TOH RAM RATAN DHAN PAYO…..
Thank you is not enough for all this.But still thank you very much Guru ji. The bonding , the connection  ,the thread between Guru and Shishya is strong ..It shows the strength and divinity of Sanaatan dharma…I am proud to be born in India where shishyas like Karna , Arjun ,Eklavya existed. Twameva Mata cha pita twameva twameva bandhus cha sakha twameva..twameva vidyamdravina twameva..twameva sarvang mama deva deva…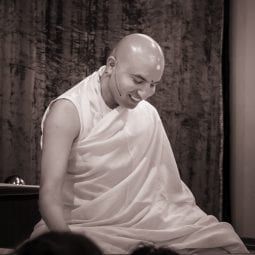 GATISTWANG GATISTWANG
          TWAMEKA BHABANI 
---