As many of us know, March 8th is International Women's Day, a day dedicated to bringing awareness about Women's Empowerment. What better time than this to thank the five beautiful people who helped me get wherever I am today? So, here we go:
My Mother
If I can care for people today, it was she who taught me that. She isn't expressive about her love, but those who know her can't have enough of her! My mom recently received Deeksha from Swami. To ensure that Swami doesn't have to endure much for her Karma, I put her through self-transformational exercises and Sadhana. She started her spiritual practices so late in life, but still, she has sincerely followed everything. She's an achiever in her own right! My heartfelt gratitude to you, my beautiful Amma.
My Father
What Janaka was to Sita, he is to me. I don't remotely consider myself anything close to Sita, but there's no better way to explain my relationship with my father. He is my beloved friend, cherished rival, and first Guru. He laid the foundation for my learning the scriptures and put me on the spiritual path. Further, he gave me high hopes of what a woman can achieve materialistically. My dad is genuinely amongst those leaders who treat their daughters as their heirs. Thank you, Appa. You're awesome!
My Husband
What can I say about this man? Looking at him reminded Swami of the humility and service attitude of Hanuman. Is there anything else for me to say here? I read a quote: we can know how a man treats a woman from the radiance of happiness on her face. He has supported and tolerated me as nobody else could. I don't write about him out of the ego that he is 'my husband'. I write because he's the model husband. He's a corporate leader who has seen enough success, yet he prefers to hide from the limelight and let this woman lead from the front. Above all, he's a super dad! To the most remarkable man of my life – Thank you!
My Son
I won't write much about him because it puts pressure on the children when parents praise their kids. However, I can say this: he is the most incredible blessing Nature has showered on me. My life centers around him, and he is the purpose of my existence. If I'm free from anger today, he sowed the seed for that change in me. Heartfelt gratitude to you, my rockstar!
My Swami
Words can't express some things, and that's the space Swami has in my life. I know that he was, is, and will be my eternal truth. My life is his Seva, and there's nothing else to say what he means to me. I would fill every word of every post I write with gratitude to him if I had a choice! Thank you, my beloved Swami.
*****
An Observation
I didn't know the difference between feminism and being a female chauvinist as a teenager. Hence, I had developed an innate hatred for men. Amongst many others, that was one of the reasons that triggered my desire to renounce. However, Nature is a phenomenal teacher because it designed my life to have more men behind this "empowered person" than women.
A woman's freedom and achievements are in her hands, but the support from people around her makes a difference. History says that the attitudes of men have caused the deterioration of women. Now, let the future say: all the male followers of Swami empowered the women in their lives beyond anything history has ever seen!
Om Sri Matre Namaha.
Love,
Devi
*****
A special thanks to two more amazing people:
To Akshay, for writing such a heartfelt post about his truth and journey with me. Your love made me cry.
*****
A full view of the featured image (the artist gave me the rights to use this image):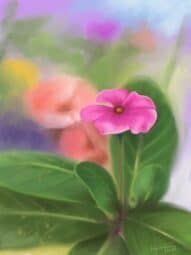 ---