A TIME When Time to Cross Sea and Convey Message of Shri Ram to Ravan: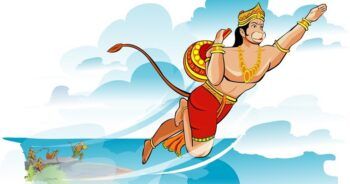 जब समुद्र लंघने की बात आई। सभी अपने अपने पावर या क्षमता या कहे बल के बारे में बताते लगे। Jamanth जी बोले मैं अब वृद्धावस्था के करन कुमजोर हो गया हूं बरना समुद्र एक chalang mai paar kar jaatha। अंगद जी बोले लगे मैं पार तो कर लुंगा लेकिन लौट ने  ashamarth hu.
sab apne apne bal ka बारे में बताते hai lekin hanuman ji kuch nahi bothe hai, tho kisi ne pooch aap apne bal ke baare mai kyo nahi bol rahe.
tho wo KAHTHE  hai mere pass बल hai hi kaha, Jiske pass apnA  बल ho, sho bole. hamare passs mera kuch nahi. Mera tho sab shri ram ki kripa ke kaaran hai.
mera tho sab unka hai. mere pass tho बल  hai hi.
THIS IS THE BEST EXAPLE OF A DEVOTEE OR BHAKTH.
I WANT TO BE LIKE THAT AND i THINK YOU TOO BE LIKE THAT. JUST DEVOTE YOURSELF TO YOUR GOD OR GURU.
AND REST THEY WILL HANDLE.
LET ME KNOW IN COMMENT WHOM YOU DEVOTE YOURSELF THANKS
---