At the behest, Charan Sparsh Swamiji. I want to cry today. Don't want to write anything. But it is said that if grief is shared, it reduces. Yes, today I am grief stricken. I have lost one of my best friends and a good team mate in Srinivas Pinisetti.
The cruel COVID 19 took him away from us. He is no more, we lost him. His entire life was struggle. He was not from an affluent family, completed his education with difficulties. Got a good job. He loved a Brahmin girl and the Girl side was not ready to marry their daughter to a non-Brahmin boy. It is a typical taboo in South India.
The poor fellow struggled for three years. He did whatever possible. Even he went to an Ashram to take diksha of some Swamiji to convert into Brahmin. But in all these personal turmoil, he never let his work take back seat. We used to tell him, we are by your side and any kind of kidnapping required, we will help you. Finally he married the love of his life in Arya Samaj much to the unwillingness of the girl's side.
He was blessed with a baby girl in January 2021. Very soft spoken, highly tolerant, always wearing a smile on his face he was a very motivational and charismatic fellow. He played Cricket so well that he was the opening batsman of our division. 
A brilliant Mechanical Engineer who was always ready to improvise is silenced for ever. But he has left deep imprints in all our hearts. My humble pranam to the nice soul.
Oh, Swamiji, plz take the soul to your sharan and may the atma travel to the parmatma.
Jai Shri Hari.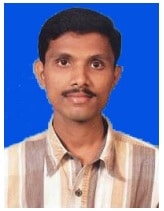 ---