The day was Aug 9, 2021. It was about 11am in the morning. I was busy with my routine work when a message popped up from a friend. "Congratulations!!! – You Got It!!!". The message was from Sagar and we both had applied to IIM Kozhikode for the PhD program and had had our interviews almost 50 days back.
"Anyone who stops learning is old, whether at twenty or eighty. Anyone who keeps learning stays young."-
Henry Ford.
The first reaction was that of surprise. I was not expecting to hear the news from Sagar. But then the realisation set in, that the result has been posted on IIM K website and Sagar had looked at the same. Though unfortunately, he did not get through, he was very happy for me.
"The more that you read, the more things you will know. The more that you learn, the more places you'll go."
-Dr. Seuss.
The feeling had not even sunk in completely, when we got to know that our classes started in less than a week, on Aug 15, 2021.
So here's the big deal:
22 years after I did my MBA from NMIMS, Mumbai
25 years after I graduated as an Engineer from SGSITS, Indore
And a whopping 29 years after I had completed my schooling from Campion School, Bhopal,
I was heading BACK TO SCHOOL!!
Yes, I am aware that learning is a life long process and I am not ruling out doing more courses in the future too. But to sign up for a formal, regular learning program like a PhD, at the not so young age of 47, was not an easy decision.
"I am learning all the time. The tombstone will be my diploma."
— Eartha Kitt.
The idea to do a PhD first came to me in Dec 2019, but it was only in Dec 2020 that I got serious about it, serious enough to start evaluating the options. Dad's illness and demise had taken up most my time in 2020.
I was very clear that I wanted to do it from one of the IIMs. As Ahmedabad, Bangalore and Calcutta have only full time programs, I had to skip them, as I preferred a remote program, giving me more flexibility to manage my work assignments.
"Live as if you were to die tomorrow. Learn as if you were to live forever."
-Mahatma Gandhi.
That left out Indore, Lucknow and Kozhikode. Unfortunately, I missed the deadline for Lucknow, but applied to Indore and Kozhikode. Indore, I was waitlisted but Kozhikode offered me a confirmed seat and I decided to take it up.
The institute, set up in 1996 by the Government of India in collaboration with the State Government of Kerala, is one of the 20 Indian Institutes of Management (IIMs). It was the fifth IIM to be established. In 2003, IIM Kozhikode started using its hill top campus. The then President of India, APJ Abdul Kalam inaugurated the campus.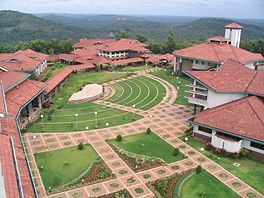 The campus is spread across two hills which are part of the Western Ghats. Set up over 111 acres of land, the campus relies on rain water harvesting as its primary source of water.
Laboratory for Innovation Venturing and Entrepreneurship (LIVE or IIMK LIVE) is a business incubator and entrepreneurship development centre of the Institute. The centre was setup in June 2016 with the support of Department of Science and Technology, Government of India and acts as the on campus Technology Business Incubator under NSTEDB of the Indian government. It aims at contributing to the country's economic goals through innovation led entrepreneurship. The centre located in IIM Kozhikode Campus is involved in promoting and supporting innovation led entrepreneurship in India.
"If you only read the books that everyone else is reading, you can only think what everyone else is thinking."
— Haruki Murakami.
The experience in last one month itself has been quite great. Adjusting to attending classes, especially online was not easy initially, but thanks to support from the professors, we are getting used to it now. The best part is the fellow students. The 31 students in our batch all come from rich diverse backgrounds. With experience ranging from as little as 14 years to even as much as 34 years of experience.
"Commit yourself to lifelong learning. The most valuable asset you'll ever have is your mind and what you put into it."
-Albert Einstein.
Anusha was thrilled to know that daughter and daddy would be joining college at the same time. When I shared this among the group, I got to know that we have a classmate, whose son has just completed his PhD after 6 years of gruelling effort and it was his son who encouraged him to go for the PhD program !!!
Initial experience of the classes we have attended for subjects like Operations Research, Economics and Accounts has been great. While I still have a strong recollection of these subjects from my MBA, there is also the realisation that there is so much that I did not know. Its interesting how, after graduation or even post graduation, we get into a job in one particular stream or function and then continue in the same field all the way till our retirement. Rarely do we take a major detour or deviation.
"The correct analogy for the mind is not a vessel that needs filling, but wood that needs igniting."
— Plutarch.
How I fare and when do I complete my doctoral studies to get the coveted "DOCTOR" tag against my name, that only time will tell. But what's for sure, is that there is huge scope for learning and yeah, will have some fun along the way !!.
"Being a student is easy. Learning requires actual work."
–William Crawford.
---