Jai Shri Hari, Jai Swamiji. My younger brother is down with COVID. Please keep him in your refuse and grace him for early recovery.
Today, on Mothers' day, I am going to tell the amazing story of music which made our Mother-Son relationship special. When I was a kid, I loved music. In fact, we 3 siblings (my elder sister and younger brother) enjoyed music which is a great stress buster. On those days of cassettes, with the middle-class income of our family, we used to spend a tiny fraction on recording the cassettes which with time turned into CDs. After my elder sister left home for job, me and my brother used to listen to FM Radio while preparing for various competitive examinations.
Biswa on the other hand, had a great interest for Keyboard. In fact, in his intermediate Electronics Project, he made something called 'multi melody organ generator' which is a very raw version of a toy keyboard with 7 keys. But the middle-class mentality of his family, made sure that he did not join any keyboard class as he would be 'distracted' from studies. So his dream remained a dream in the pursuit of 'studies'.
Well, Sahil had a combo of both! When he was in womb, Biswa used to play 'Aqua Barbie' song and he used to toss inside. Even today, if he feels down, he listens to the song to boost his mood. The keyboard journey of the mother-son duo started in 2018, on his 7th birthday, when I played Happy Birth Day song on his toy keyboard. I learnt to play the tune by following YouTube. He also tried out and was amazed to see that even in his toy keyboard, he could play the notes. In the following 4 to 5 months, we both were able to learn some easy songs that can be played like our National Anthem and some rhymes etc.
But in 2019 Biswa suffered a sports injury while playing badminton tearing his left knee ligament which called for an immediate ACL knee surgery. Our musical journey came to a screeching halt. As I had to take care of Biswa, home, my job and Sahil, keyboard learning took a back seat. But once Biswa recovered (he recovered really fast thanks to his strong will power to stand on his feet, after one month he started going to office and after three months he started playing badminton) and was able to do his own work, again I wanted Sahil to learn from where we left. But he was not interested as he had lost the momentum and was out of practice.
So, to bring him back on to track, I played numerous Hindi songs on repeat mode (thanks to Alexa, the cute girl 😊). I tried to play them on the keyboard on my own by following YouTube. And bang on, again Sahil developed the lost interest. It was rekindled. After that, there was no looking back for the mom-son duo. We upgraded the Keyboard to an upgraded one, still it was a high-end toy and not a proper keyboard.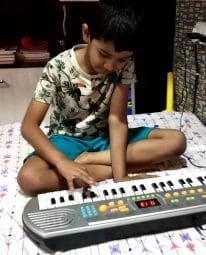 On 15th Aug, 2019 Sahil played the National Anthem in our gated community Society celebrations. It was much appreciated by all the residents. Then followed the Vinayak Chaturthi and he was allocated a special slot for playing keyboard. He would play a tune and the residents had to guess the song! The event was so interesting that it was a big hit. It boosted Sahil's confidence.
Biswa and me decided that it was time to upgrade the Keyboard to an entry level one and we went for a 61 keys Casio Keyboard. We were thinking of some professional guidance when the entire country plunged into the COVID 19 induced nationwide lock down in 2020. The learning took a big hit. Sahil was not ready for on-line keyboard classes as he had no idea of basics of systematic Keyboard learning. But I did not loose hope. I tried to learn the basics of scales, notes, octaves, chords etc. and guided him with the basics of Keyboard.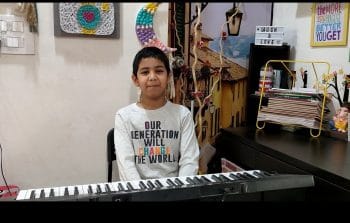 We had come to the track a little. But it did not last long as Biswa was gripped by a low phase of mind. It was way difficult to continue. But Sahil carried on alone. I was spending a lot of time trying to console Biswa. It was like a daily routine. I cooked in the morning. Biswa used to go to office or bunk depending on his mood. After coming back from bank, again I was spending a couple of hours trying to pull him out of the trap by talking to him. But Sahil, in the meantime, showed utmost courage and took refuge of the keyboard to lift his mood. He himself started exploring various songs on You Tube and started playing songs with karaoke.
I arranged a teacher for Sahil in September 2020 who came to our house to take the class. He taught Sahil some vital basics of music, minor and major chords, beats and reading sheet music. Then Biswa joined os.me family and slowly got influence by revered Swamiji. He was taken aback when he learnt that Swamiji also has a liking for keyboard. Sahil was also very impressed and played keyboard with more enthusiasm. But again, came a hinderance as the music teacher of Sahil got shifted to another part of the city due to his personal reasons. But by then, Sahil had got the test of music and keyboard. He has played songs of various genres starting from the legendary Kishore Kumar, Udit Narayan to Arijit Singh.
By the end of January, 2021, Biswa had improved a lot and we searched for an on-line teacher. We found one and he introduced Sahil to even more features of the Keyboard. We were so impressed with Sahil's performance that we decided to upgrade his keyboard to a semi professional one. We purchased Korg PA 300 which is a Professional Arranger and very rich in features as well as sound output quality. Now Sahil started playing Mozart, Beethoven and all western music. With the Arranger, his background scores were easy and seamlessly blending with his playing skills. Day by day he is improving his skills and has developed a desire to play Swamiji's Piano one day when the Ashram reopens.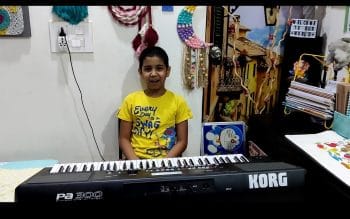 The last thing which I want to stress is, we have to create interest in the kids. We need to do the stuffs if we want to really spark the same in them. Just enrolling them to some classes or good school is not enough. We have to be a student along with them. Kids imitate what they see. If you want them to reduce their screen time, first you follow the suit. If you want them to read books, do not hook yourself on social media or Netflix. Be true to yourselves and to the little ones. They will follow seamlessly.
May be Biswa's unfulfilled Keyboard learning desire and my musical upbringing passed on the intelligent DNA to Sahil. I feel really happy that I could successfully pass on the stress buster to him as being an only child, he needs a true companion which can elevate him in his gloomy times.
All glory to Swamiji and jai Shri Hari and a happy Mothers' day to all the mothers via the following tribute played by Sahil
---