'' The course of human history shifted on the fateful day when it dawned on some fellow possessed of an unusual degree of self-control that he didn't have to pee on the fire, and could instead preserve the flames and put them into some good use : keeping himself warm say or cooking his dinner''
Michael Pollan :
 Cooked  A Natural History Of Transformation.
Beetroot Hummus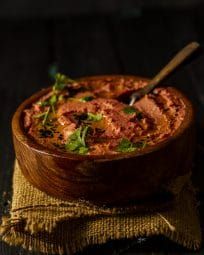 Hummus is a popular dish in Egypt used as a dip for flatbread. (pita bread )  . I make Hummus for the joy of making a new dish and also its nutritive value. Well, it can be used as adip for garlic bread or chips or grilled veggies, the choice is yours!
Ingredients :
1 cup chickpeas (soaked overnight )
A pinch of baking powder
1 /2 cup  Tahini paste ( I used Lpesos Tahini Sesame Butter )
1/ 2 cup boiled beetroot cubes
Few garlic pods.
2 tsp lime juice
2 tsp roasted cumin seeds.
Salt
Olive oil
Spices for garnish.
Directions:
 Cook chickpeas in a pressure cooker adding a pinch of baking soda with two cups water. Cool and strain. Keep the cooked chickpea stock aside, we can use it if needed to dilute the hummus later. Make a fine paste of cooked chickpeas, garlic, cumin seeds, and beetroot cubes. Add salt. Add the Tahini paste and blend once again. Check for salt at this stage.  Please don't add any water for grinding, if needed use the stock. Add the lime juice. Mix well. Take in a bowl. Add olive oil on top, garnish with chilli flakes or any other dry herbs like thyme, oregano etc.  I just added some fresh coriander from my kitchen garden.
If you don't have Tahini paste, you can make it home too.
Roast one cup of white sesame on low flame. Cool. Make a fine paste adding olive oil. You can store this also.  Tahini can be used to flavour fresh salads also.
Rich in minerals, unsaturated fat, proteins and calcium. This is an alkaline food. Give it a try. Let us eat Mediterranian ( Pssst! …Indian )  today.
Book Recommendation:
Cooked: A Natural History Of Transformation By  Michael Pollan. ( recipe is not from this book )
---