There were four gentlemen standing and looking towards the north and singing:
"THE GURU HAS COME
THE GURU HAS COME"
We were still bound.We stood like stone statues listening to the music.
When we opened our eyes, these four gentlemen were not there.
We came to the hermitage and sat down on the platform outside the hermitage.
Moment after,I felt a pull as if somebody has taken away my heart with his palm.I became un-conscious.
My body was unconscious.I could see that "I am not the body."
From my heart came the words,"Mother my Beloved's beloved has come."
Then my eyes closed.I was not conscious.I don't know what happened.
I saw my mother and father startled. Then I don't know what happened.
When my eyes opened my head was lying on very loving feet.My eyes were shedding tears on them.A loving hand caressed my head.It gave ecstasy..
I was so delighted that I would not lift my head.
The hand that was full of deep love lifted my head.
When I saw the face I felt a flash and a dazzle.
My head again fell at his feet and I said,"O, Beloved's beloved."
Those lovely and loving hands again lifted my head and made me sit down.
I could not see his face again
Mother said: Your Beloved's beloved has come to see.
What should I see?
Who has come?My Beloved's beloved has come.My soul has come.The first thought that came to me when he touched my head with his sacred and loving hands,was whether he is a beloved or he is "Love" himself.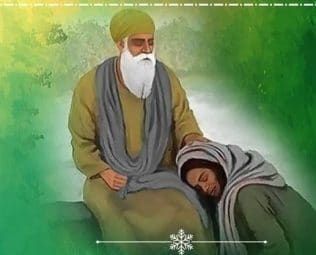 Tears came to my eyes,my head fell at his feet again and he was caressing my head with his loving hands.
I said to my mind: He really loved my beloved,and because of him he is bestowing so much sweet love on me.
At this time what should I do? I cannot think of anything. Should I cut my body, cut it into pieces and wave them around his head and put pieces in fire? May I be a sacrifice to him ? Whatever I have, should I give in alms?
I have become fortunate.I ,who was a sinner,am being loved.I shot his beloved with an arrow.He has come and he loves me.It is wondrous, extremely wondrous.
I cried and said: O,my Beloved's beloved,but my throat didn't speak and I kept crying.Again I tried to speak,but again my throat didn't speak.
At this moment a divine song was sung: 
When the music stopped, mother said: Daughter,let us be hospitable to the Beloved's beloved.He has come from a distance.Let us look after his comforts, food and water.
Again my heart throbbed.I said to myself: Oh! I am always forgetful.
Even now,I am immersed in my own happiness.I have not cared for the comfort of my beloved.I felt sorry.I became unconscious and fell down.
When I regained consciousness I said:O,my Beloved's beloved, only you can love the sinners.O, redeemer of sinners,only you can forgo your comforts and reach the forests to bless people.
O merciful and gracious, bless me.You are a saviour. O,my Beloved's beloved: I am nothing.I am gone.
Saying this again I fell at his feet.
What happened?I was out of my body.My body was lying at his feet, but I was standing outside,and what did I see ?I saw all Beauty,all sweetness,like the beads in a wire,which now I have come to know, is called the wire of "Super consciousness".
It was like a caterpillar reaching the rose flower,and becoming a beautiful butterfly.
There was a flash and I became joy incarnate.Then I saw that I am awake and I am sitting down.
My body was lighter than a flower and I was separate from my body.
My Beloved's beloved looked towards me ,smiled and said, Daughter,are you not a soul?
To be continued….
---