Nearly 19 years back, during my initial days in Indian Air Force, I had learnt a slew of lessons, substantially, for entire life-time. It was an altogether different and unique experience, right since the moment I entered the huge gates of well-fortified training academy.
My training was scheduled to start from 19th December and most of us reached there by 17th; well in advance. After vaccinations (as to reduce chances of falling sick since we all were from various corners of Bharat, the varieties of climatic conditions), we were allotted to Billets, our residences. The cool breeze of early morning was fascinating. Dining in the Mess, for the first time, with such a huge company around was energising. 
Wow. That first day was really special, and ever memorable. Special, not just because my newer happy moments there, but it was rather a mix. I had never left my family before, so I (still being a teen-ager) was mostly at the verge of crying my heart out. I was home-sick, to the extent that when I rang up from there firstly at my home, from a long-queued STD booth inside our training academy, for first three minutes I was just crying and crying. There were only two such cabins; with strict restriction of 300 seconds. 
Though I was above average student (of my small-town only 🙂 ) but still I found it very tough to cope up initially with the tight schedule there, right since 4 a.m. to 10 p.m. (people prefer 10 to 4 jobs, I chose 4 to 10 🙂 ). Right from Wake-up Whistle at 4, getting ready in PT-kit and reporting at 4:45 for Morning Health-Run, we used to have a very smaller window to cover bath, getting ready in uniform (with heavy boots having shining toe, white shining blanko-ed belt and anklet-strips, name-tab just above right-side pocket of half-sleeved shirt, head gear and so on), having breakfast in Mess; for reporting to hard-ground with drill-purpose guns for Parade; being followed by long Classes, lunch, Evening PT Games, Night Classes for Self-Study, preparing Uniform for next day and Lights-Off at 10. Full-packed, the entire day.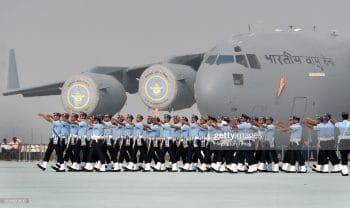 For all activities, one common factor was 'Double-up', the Jogging. Wherever you go, 'Double-up' was a must. No trainee can simply walk. Plus, it was mandatory to jog in groups mostly, with minimum 10 ab-initios in each group, with 3 parallel queues. It was called a 'Flight'. So while going to Parade, Classes, etc., we had to wait for forming that 'Flight'. If we were bit late or so, that Flight might leave and we had to wait again till 10 buddies join-in. One more thing, our steps must match, be it Double-up or Marching. All minutely monitored by Squadron Duty Officer (SDO) of that particular day. His office was close to our barracks.
Maybe it was destined for me to get moulded to a better version of myself.
One fine day, some 10th to 15th day, after coming back from Morning Health-Run, it took bit longer to get ready for the Parade; as I could not polish my shoes previous night. Though I skipped my breakfast, still I got bit late. Mostly Flights from my Billet (or neighbourly Billets) had left. One Flight was in shortage of one man, seemed to the last one. So, hurriedly I joined, though I was not fully ready. My shoe-laces were not tightened and my anklet strips were loose. 
Although I myself was least confident that moment, due to my less-intact dressing. But I thought each second was precious and I felt like I had no other choice (as per my then thought process). Since I was in terrible fear for punishments to late-commers at Parade-Ground.
One more buddy joined and we hardly started Doubling-up, I heard a shouting voice of SDO, "stop everybody". I don't know how he had observed so keenly. To some extent, I was expecting his watch. 
"Come out", he yelled at me, "is that your turn-out?". Murmured "sorry sir" was the only way out there.
Continues to Part-2… 🙂
---