This is an unusual post. It's Giveaway Announcement. And it's a giveaway which is only for readers of os.me. I am sharing this offer with the readers here, but all of you have been extremely kind and supportive in my writing journey. And all my writing has helped me earn Karma points from the platform, so I decided to use part of those points to give back to the readers for their kindness.
Many of you might be familiar with my book, Against All Odds – life of Kishore V Sonpal. I have penned my dad's biography. Here is the post that talked about the book launch in Aug : Against All Odds.
I am giving away TWENTY COPIES of my book to readers on this platform.
Two months since the launch, the experience has been quite overwhelming. Apart from Amazon (globally in Kindle, hardcover and paper back versions) and Flipkart online, the book is also available in more than 50 physical stores in India.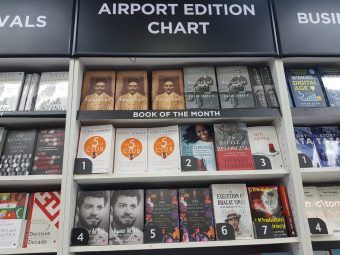 There have been over 30 heartwarming and deeply touching reviews of the book on Amazon and GoodReads
Many of the reviews are from our os.me members and I am taking the liberty to share a few of them, as they really reflect the true essence of the book and why I decided to write it:
Prahalad Rajkumar
5.0 out of 5 stars Success Principles from the life of Kishore Sonpal
Reviewed in India on 23 August 2021Verified Purchase
Against All Odds is a remarkable book about a simple man. Success doesn't demand exotic ingredients. Instead, it is about getting the basics right, and living a life of discipline and principle, as we see from the life of Kishore Sonpal. A beautiful and touching tribute penned by Kishore's son Hetal Sonpal. The entire book is filled with nuggets of wisdom, and the best is reserved for the last – the articles, notes and diary entries of Kishore Sonpal in the appendix is wisdom at its finest. Against All Odds is a book that engages and instructs at the same time, a great read.
Akshay Iyer
5.0 out of 5 stars A Son Immortalizes His Father and Leaves Us All Richer for the Experience
Reviewed in India on 24 August 2021Verified Purchase
Some books transcend their immediate subject and impart lessons that you least expected from them. I started Against All Odds because a really good friend had written a book about his late father. However, Kishore simply became a medium through which I learned how anyone can transcend their immediate circumstances and use the age-old techniques of hard work, honesty, simplicity, and discipline to sculpt a meaningful and rich life. Hetal manages to balance emotion and objectivity as he chronicles the journey of his father. The rich anecdotes help you understand how Kishore implemented the philosophies of his life every single day. The book leaves you wanting to learn so much more about Kishore and walking away with the knowledge that you can implement the principles he followed to give meaning to your life. By writing this book, Hetal has immortalized Kishore and ensured that anyone who reads this book walks away much richer for the experience.
Amarendra Om Kumar Sarma
5.0 out of 5 stars An amazing book with loads of life lessons!
Reviewed in India on 31 August 2021Verified Purchase
How many sons write a book on their fathers? In most cases, the father-son relation is often complicated. But the author of the book Mr. Hetal is really fortunate! His relationship with his father is akin to a friendship between two best friends. Mr. Kishore Sonpal lived an inspiring life, never deterred by setbacks and difficulties in life. He was a fighter, a man of principles who inspired whoever came into contact with him.
The book is extremely well written. In fact, readers get a very good idea of pre and post independent India and there is a feeling as if readers are also making the journey through these times! The book is full of life lessons and practical wisdom. The author has done a commendable job and I thank him for writing this beautiful book. To influence lives of thousands, one simply needs to be a person with a pure and simple heart! :This is one of the core messages I derived reading this very beautiful book. 🙏
Ravi Trivedi
5.0 out of 5 stars Inspiring Life Story With Many Lessons
Reviewed in India on 5 September 2021
The author has written his father's autobiography in a very lucid and engaging manner. The story shows the strength and grit of Mr Kishore Sonpal and many inspiring life lessons for us. Further, the story is personal which we can all relate to in our daily lives.
His musings section is what appeals to me the most and I liked his thoughts around Contentment, Ten rules of happiness and Change yourself.
A recommended book for all who are looking for inspiring real life personal stories.
In one of the discussions on marketing the book, someone asked me, whats the TG (Target group). I was stumped with the question, as I had not delved on the point at all. The book language is very simple, its talking about my Dad's life all the way from childhood to the very end, it has a chapter on his marriage and how dramatic it turned out to be, there is chapter on how he survived a train accident, so I was not willing to cull out a section of the audience and say this works only for this TG. My most favourite and most liked post on the book was when I shared the below pic, of how the book has been loved by a 12 year old Kid (he's part of my entrepreneurship class) and a 95 year old great grandmother (akshay's grandmother, btw).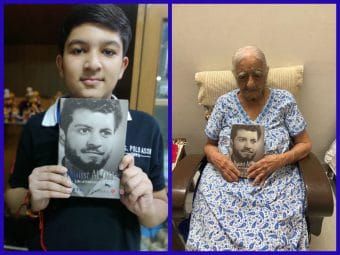 Have had many events to promote the book. The one in Bhopal last weekend was quite touching, as that's my birthplace (Janmbhoomi) and also my father's Karmbhoomi, as his first corporate stint (after 7 years in the Railways), that he really built his career and learnt a lot. There was wide press coverage of the event in the local media as well.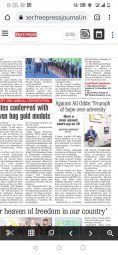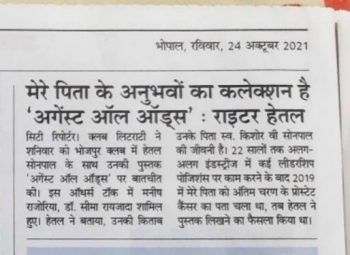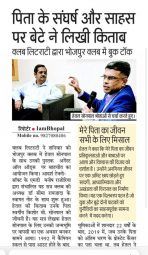 So, here are the details on the Giveaway:
First twenty respondents on this post, who respond in the comments, will get the book.
Choose either of the formats, hardcover (my favourite) or the Kindle version.
Read the book before Nov 30th, 2021 – its a short 130 pages easy read, so it should not be so difficult to finish in 32 days.
Share your book review on Amazon (must) and Goodreads (optional) . Whatever you felt about the book, even if you did not like it, please do share why, so it would be learnings for me and the other readers.
If you feel you game for this, then please do indicate in the comments, that you are interested in getting the copy.
This has been more of a passionate project than a commercial one. My intent is to ensure my father's learnings and life experiences benefit maximum number of people and hence this is yet another step in that direction. Hope you all will help me in my mission.
---