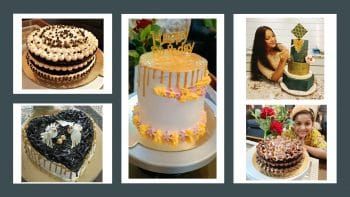 Baking came to me when my little daughter whined for cakes during the Covid lockdowns. On top of that, she wanted a perfect cake with cream swirls and nice decorations. I kept ignoring her demands for a few months but finally, had to step into the unexplored territory.
Going for small creamy cupcakes seemed to be the safer option. So, I watched many YouTube videos and recipes online, arranged for the ingredients and jumped into the baking arena. To no one's surprise, the first lot of cupcakes were a complete disaster. Some were undercooked and some as hard as bricks. Now this made me more interested in it as problem solving is another of my great hobbies. I soon figured out that baking is not only about the correct recipe but also a good oven. Obviously it had to be the over (how could I've taken all the blame). So, we bought a new big oven and from there my never ending crusade with baking started.
The starting reasons may be the demands of my family, but very soon baking, icing, and decorating grew on me as a real passion. I baked eggless cakes with many flavours, worked with fondant and sugar pastes, experimented on cheesecakes. I then moved on to very exotic styles, along with tall & elegant structuring.
During the ill fated days of the pandemic, I baked small cakes of hope and happiness for my friends and family. The creativity and focus involved in the ornamental cakes kept me going. A beautiful cake, with an exotic aroma and taste gives me immense happiness and great sense of achievement. It's a feeling that only a passionate and creative person will understand.
A fervent hobby gives you a great drive and pulls you out of any kind of depression and anxiety. It takes you into a zone where you forget yourself and all your worries in the flow of deep involvement. You even lose track of time which helps you to find happiness that eventually de-stresses and rejuvenates the suppressed energies and positivity. I urge you to follow your passion and put your emotions and creativity out on that which you love, irrespective of the profession you may be in.
Intriguingly, you may have innumerable interests and hobbies, but you probably have only one or two extreme passions. The difference is in the intensity and how seriously you take them. Hobbies may be relaxing but, believe me, passion strongly drives you crazy.
Jai Shri Hari
---