Jai Jai Maa to Everyone.
I offer my obeisance to the divine in you.
I don't know why but on last Ekadashi (04/08/2021), I was doing my Shri Mata's Vigrah's (idol) seva. While I was doing her shringar, I have to put blouse on Maa's Vakshasthala (I don't know why but I don't feel anything while saying breast). I don't know what happened, why this bhava came but all I know it came. What was the Bhava? What happens when a hungry few months old child sees her mother? Simply saliva comes in mouth and he starts crying for milk. I got this desire…. But my chitta(mind) is not pure I stopped myself from thinking about this… How I can imagine this, will she feed me?
Two person starts talking inside me.
One says: No, you can't think this, she is Goddess.
Another one says: So what if she is a goddess, before goddess she is my Mother and I'm her child. Its completely fine if you are wishing for this. (Trust me right now my mouth is full of water).
I avoided this bhava for a day, but whenever I used to go in front of my altar I was getting same bhava. Yesterday I told everything to my brother, he's a sadhak too. When I told him everything, he laughed loudly and he wished to hug me but he can't… Mai yaha himachal me or vo Lucknow me.
I asked him why you are laughing?
He replied: You are not the one my Abhishek, even Mahadeva wishes for the same 🙂 , for fulfilling his wish Maa took form of Tara and Shiva took the form of child and Maa fed him… I was unaware of this story till yesterday.
I'm looking for more information about Maa's tara form… Hope I'll get some.
So here's my Maa's Ekadashis's Shringar Darshana: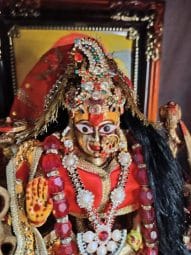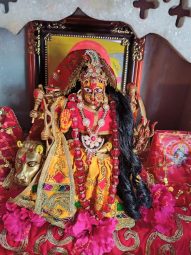 Display Pic credits: pinterest.com
---