Rejoicing in the Lord's Glory
The scheduled time came and HE picked us up in his tender palms, to give us an experience we could have never ever have imagined. The divine had called us to its abode to witness the celebration of life. We took the longer route and while driving downhill, we saw the Ashram from above. My heartbeat soared and I said to myself that I have made it again in short span of time. I could barely believe my luck. Not so long ago I was struggling to make my first trip to see my Master and here I was already on my second one. All His Grace.
We reached the Ashram on 27th November, 2015 and we were allotted the best room; Swamiji's original kacchi kutia (mud cottage). It had the vibe of his presence and the simplicity with which he lives. I just loved my stay there.
Swami Ji's birthday was only three days away and the preparations were on full swing. Ma Shamta lead the whole event and the volunteers worked tirelessly towards ensuring everything was as per the plan; from a vast food menu to providing comfortable stay to every devotee, from decorations to performances. Complete attention was given to every little detail, it was the Lord's birthday after all.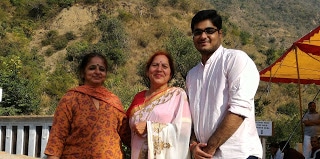 Matarani in the centre with my mother and me.
It was only my second visit to the Ashram but I had heard a lot about Matarani's (Swamiji's mother, lovingly called so by all devotees. Matarani made up of two words mata+rani means, the queen mother) love and compassion. I was very eager to see her. When I finally did, I touched her feet and she blessed me like I was her own child, she loved me so much. It felt like a divine blessing. She is as compassionate and loving as our dear Swamiji. We also met Swamiji's sister and her husband. We all sat for a little satsang at night where we were told many untold tales about Swamiji's innocence and giving nature. All I can say is that he has been a saint since birth. The whole family is so humble, they sat with us, shared with us so many stories (with tears in their eyes), and ate the same food as we did, without an iota of discrimination despite being lord's family. With a smile on her face, Matarani said, "I have given my son to the world". My mother quipped that it requires a great deal of courage for a mother to say that. The more I stayed in Matarani's company the more I grew to love and respect her.
The big day came, it was 30th November, 2015; Swami Ji's birthday. Everybody was excited, instead of wishing good morning, we were wishing each other happy birthday. It was like a festival.
At around 10.00 a.m., Swamiji came and all of us sang happy birthday to him. He gracefully accepted it, said thank you and moved to the meeting room for giving private audience to the devotees who were leaving that day.
The exquisite cakes were laid out on the table and Swami Ji came out of the meeting room at around 1.00 p.m. to cut the cakes. He did, took a bite and said "Please distribute the cake to all and I will get back to my job", such is our Swamiji. Even on his birthday he gave private audience to devotees from 10.00 a.m. till 2.45 p.m. In reality, it was us, the devotees who were enjoying the day, he was still working. He has inspired me for life by this gesture. Duties shall always precede emotions for me now. Thank you so much Swamiji, for what you do for us each day.
In one of the discourses earlier, he had announced that he will do Kirtan (devotional singing for God) on the evening of his birthday. I was waiting desperately for it as I had read a lot about it on this blog. The event started at 6.00 p.m. with devotees offering their poems and dance performances to Swamiji. Finally, the moment came when Kirtan started, Swamiji chanted Hare Krishna Maha- mantra and we followed. I cannot explain the energy of the place while Kirtan, it lasted for an hour or so and every single being in the temple was bursting in ecstasy and energy. It was a divine experience for me and it was like God worshiping God.
Next morning, most of the devotees left and by the time of evening discourse, only a handful of people were present. After Sri Hari aarti, Swamiji welcomed questions for QandA session and I got the opportunity to ask him a question, the most important question of my life so far. Swamiji gave an answer to it that continued for around 30 minutes. I will try to give the gist of that profound answer here as I cannot explain the complete answer on this forum. The gist is that "Swamiji will be for you what you perceive him as". This one line has opened up so many possibilities for me; I hope it does
the same for you also.
I was there for another 2 days and had amazing experiences, it felt like home. Spent the spare time basking in the divinity of the Ashram, enjoying the peace at the temple, connecting with the devotees and the best moments, seeing and hearing Swamiji speak at the discourse. Ashram is heaven, my humble pranams in Swamiji's feet for doing so much for us. I will wrap up the post here.
Much Love,
Mohit Om
---
This post was originally published on Swamiji's fan club website which no longer exists, to know more about that, refer to my intro part of the archives series here.
P.S: One can enjoy the "Hare Krishna Mahamantra" kirtan by Swamiji held on his birthday on 30th November 2013 by clicking here.
P.S: 
To view all the images of Swamiji's birthday celebration in 2015, visit here.
P.S: Changed ampersand sign to "and" in Q'and'A as ampersand sign is not supported in the editor.
P.S: This time I have even included the screenshot of the comments as Janant Om Ji wrote an entire poem in the comments, so you can enjoy it too.
Original Screenshot :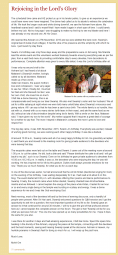 Click to zoom image
Comments Screenshot : 

Click to zoom image
---