Like kids in India during the 1980s, I too, have special memories of Ganesh Pooja time. Our town used to be filled with beautiful and colorful Ganesh puja pandals. There were small or big idols of all different kinds – Clay, Coconut, Paper, Water Bags, and what-not, on every corner of the streets, and on some special nights, a popular movie was set to play on VCR/projector. 
Around grade 4~5, I started our own celebrations with our own version of Ganesh Ji's idol using Kali Mitti and then working on fixing the cracks and painting it to get it ready before the Ganesh Chaturthi.  
From a small tent with a lot of decorations, we thought to scale it up and move it to open grounds, just to learn that it's Monsoon around this time, that dictates the terms. We saw rains taking all our work away and that's when my parents opened our house to welcome our Ganpati inside our home. I remember every evening all kids from the whole street would gather, sing and offer their prayers to Ganpati and then doing small fun activities. Families preparing and bringing prasad for our Ganpati.
A few years later, a Ganpati Vandana written by my father became part of our celebrations and has stayed with us as a very special family prayer since then, especially around Ganesh Pooja. 
Years passed and we kept revisiting these memories here & there, but something very surprising happened that astonished me on July 25th, 2017. 
I was at my desk having my lunch and, suddenly saw little Ganesh Ji emerge on the spoon.  The spoon filled with Dahi (Curd/Yogurt) was not the same as it was every time. I could not believe what I saw. Everything was so clear and proportionate, all I could do was bow down and thank him for his darshan on my little spoon. It's the one and only 'Dahi Ganpati' known to me (let me know if anyone has seen something like this)
Here is the picture clicked right then. Let me know what you think 🙂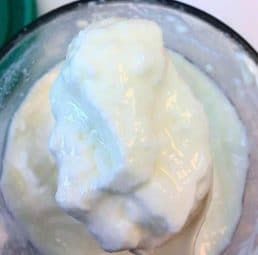 Coincidence, but what a Miraculous Coincidence 🙏 
Featured Pic: courtesy Atul Panse
---