In the previous part, you read how I want to make a makeshift greenhouse and the difficulties I am facing.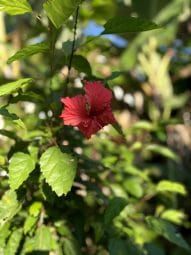 I experimented with bitter gourd and ladyfingers. My attempt didn't yield any vegetables. In the centre of the island, the temperature at maximum tops 19 degrees Celsius. I had to wait for summer. I wanted to try hibiscus tea. Everybody extolled the therapeutic benefits for liver detoxification, increased vitamin C, amazing benefits for skin and so on. I tried planting one plant and I was successful. It took some heavy lifting though. I had to buy soil at Rs 100 for 25 kgs. 
I offered the flowers to Hanuman Ji and in our prayer corner. When I tried infusing the hibiscus flower, it was so bitter that I couldn't drink it again and had to brush my tongue because of the lingering bitterness. 
I experimented with fig plants which turned out disastrous. It remained a dwarf. Mangoes were disappointing also. I got one tiny mango after so much effort and the skin was blackened. My avocado tree became a giant, but yields only 3 avocados per year. Bananas are sweet and delicious, but the skin turns black. There went my goal of selling them for some little money to help with the expenses at home.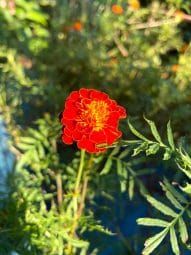 Snails had a feast on my marigold flowers. My mandarins turned out sour. My coconut tree gives us mini coconuts which you never even saw. My green pepper plant gave me only one capsicum😂. My potato plant yielded 3 mini potatoes and my tomato plants were a complete flop. My radishes kept splitting because of too much rain. My curry leaves plant remained a dwarf. Bada hone Ki koi koshish nahin. Kaam chor kahin ka. Itna compost thus thus ke khaya🤣😅.
🥭Hari Om🥭
---