#TheWriteChoice 
Bhagwan aur mein
Rishta Anant
Jiya 
Har pal har shaam
Chodah na koi pal
Jis pal tujhe na yaad kiya
Mere maan mere taan
Mere rom rom
Base ho tum
Fir mujhse duri rakhte
Assa kya parade kiya humne
Jo humse
Yun ho dur
Maan lo hamro baat
Jara taraf idhar bhi lehrao
Aankho mein basa
Dil mein chupa
Apki hun aur apki rahungi 
Aa re Bhagwan 
Tera ho saara 
Tera hi sahra
Terae bin na Kate 
Jeewan
Yun Bedard ba
Ab sanwaro 
Mera jeewan
Jaanti hun ap prem ho mere
Aur mein apki
Duniya mein ayi hun 
Bas tere liye 
Bas tere liye
Ab toh basa le
Apne maan
Jahan apne angan
O my love
My love for Beloved God is beyond my being. This is the only thing I lived my entire life. For me I find God in everything be it my parents, niece and nephew or anything for that matter. God has been there since my childhood and live for him has increased day by day by tons and millions of tons. For you I sacrifice my life for the loves sake.
Jai Sri Hari 🙏🌸
Love💖
~Neelam Om
P.S. Thank you os.me family for reading and encouraging me. It really fills me with warmth and confidence. keep encouraging.
Related Q&A
Lord Shiva is easily pleased! What's your experience?
Jai Shri Hari!
Lord Shiva is called Bholenath, the one who is easily pleased!
Is it true that he is that easily pleased than Lord Vishnu?
(I believe in both of them as the same divine - HariHar!)
What's your experience with lord Shiva?
Thank you in advance.
Om Namah Shivaya!
Har Har Mahadev!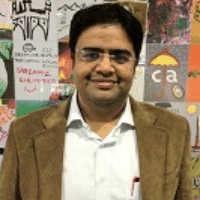 AkshayOm
replied 2mo ago
Jai Sri Hari bhai. You can never worship Mahadev thinking he is easily pleased. It's the same Mahadev who moved his toe to crush Ravana under a mountain and yet melted when he sung Shiva Tandava Stotram. It's the same Mahadev who pulled out one hair to create Bhairava and yet wept in agony for Sati. You can only love him because he wants you to. The eternal Yogi, the first guru, the king with no crown. Only his love can tell you the meaning of love. 
What is the most beautiful emotion/feeling you have for Bhagwan?
Well, we all love Bhagwan so much, so in order to express your love for Bhagwan. What is your favourite bhav(emotion or feeling) that connects you with Bhagwan instantly? 
Jai Sri Hari 🙏
Sri H
replied 3w ago
Jai Shri Hari!
The only emotion that connects me to Bhagwan instantly is Loneliness.
Because I am never alone, Mahadev is always with me. I can feel it. I can experience it every moment when I think I am lonely.
He is always with me and I have faith that he will forever be with me.
Thank you.
Har Har Mahadev!
What is the most beautiful virtue of Bhagwan, you have recently imbibed/ thinking about ?
When I was child, I read somewhere that to love Bhagwan is to imbibe his values that he stands for in your being.. is the most beautiful way of loving God. Here, we all love Bhagwan dearly, have you imbibed or thinking to imbibe one of the virtue of Bhagwan in your being. What is that single most virtue close to your heart? Do share yourself. 
Anu D
replied 1w ago
Being fit, attractive and always smiling😉😉❤️❤️
How can you see the divine in inanimate things?
Have you ever felt a feeling of love and oneness with inanimate things like wall or a chair as you may feel for trees and river? How can this feeling be developed?
Neelam Om
replied 3w ago
Hello Kirtee,
It's a journey before you reach this state of consciousness you will see massive transformation in one's consciousness. I believe it's not a one moment when you start to feel love for all animate and inanimate beings or see divine in all things. Keep walking and see how it unfolds, if it is to. It's only with grace that one can be blessed with such state.
Jai Sri Hari 🙏
Is devotion really enough? Or scriptures lie?
All tantra as well as Puranas refer to Lord as Bhaktisulabh  - easy to attain by devotion, bhavgamyam - attained by emotions.
But is this really true?
Sri Ramakrishna Paramhamsa lived such intense devotion for so many years... But nothing happened. Only when he was about to kill himself did Devi manifest. 
But after Bhairavi Brahmani taught him tantra (by telling him only then he'll be able to get Her darshan regularly so as to believe his experience to be real), he got tanmayta with Her (Devi)... And could get darshan anytime. Tantra helped him achieve that.
Even in Devi Bhagvatam course SwamiJi says, what you have to do depends on what is the definition of prapti (attainment) for you? ... Whether you just want bhava like Meera had or Tukaram Maharaj had or Tanmayta like Ramakrishna had.
If only bhava is achievable by ONLY devotion without coupling it with Tantric upasana then why do scriptures refer to Lord as Bhaktisulabh?
PS:- I'm not talking about possibility of Liberation ... But of ishta prapti.
Anu D
replied 2w ago
You are dissecting a matter of the heart with the knife of your sharp intellect! Ufff!! that hurts yaar! 

Ishq kijiye tab samajhiye, zindagi Kya cheez hai!😉
---