जयकारा शेरावाली दा बोलों….. सच्चे दरबार की जय जोर से बोलो जय माता दी…… गुरु मां की जय हो…
।।Shri Radhe Shyam।।
।।Jay Mata di।।
Hello family. I hope you are all healthy and cool
Today I will share my experience of bringing Guru Maa to our home during the Navratri. You all know that this time around, Navratri started from 7th October, so my Guru Maa has also arrived in our house. Let me tell you in advance that Shri Shiv ji is my Satguru Dev Bagwan. Parvati ji is my guru ma because she is shakti swaroopa, my guru is ma…..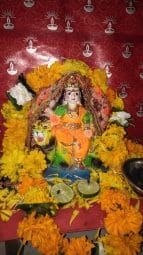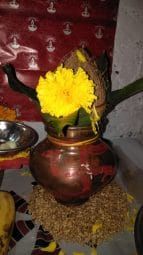 There was a lot of sadness in the house on the first day of Navratri. The reason that everyone was worried was a personal problem of the family, but the day Navratri started, when the mother arrived in the house, then all the problems subsided on their own.
Because Guru Maa had come to the house, when my mother brought the statue of Guru Maa from the market, I was engaged in solving some personal problems that day. Then mummy brought the model and placed it on the side, the statue had arrived in the afternoon. But, we established that we had to do it in the evening. My younger brother got involved in the decoration, when we lifted the idol of Guru Maa to install the statue in the evening, we saw that the hand of the idol was jerked, the idol was broken and the shopkeeper stuck it with fevicol and sold it after adding a little bit of color, mummy did not pay attention at the time. When we saw it at night, immediately we went to the shopkeeper and asked why the idol is broken. The shopkeeper said that we are coming back to return the idol after so long. Yet, he hesitantly took it back and still did not give us our money. After 1 minute, another customer came to him and he sold my idol of Guru Maa to him. I thought that I should tell him that this idol is broken but had to talk to the shopkeeper. He was the one who posed a difficult problem. With great difficulty, we gave our explanations. Then, me and my brother went to the market to get another idol. It was 9:00 at night, most of the idols by then were sold, but after going a little further, we found an idol of the Guru Ma at the Jain Idol Center. That idol was a little small but we had to take the idol of Guru Maa at night by 9: 30. We came home on and reduced the time of the installation of the idol of the mother, did the aarti; "main tera Mandir aakhe diya baati….."
And in the end, we got a beautiful delicious prasad.
I enjoyed it very much. Guru Maa ki Jai Ho
---