-I am fond of watching south indian movies. Recently I have seen Thalapathy Vijay and Setupati Vijay's "MASTER " Teaser. It's BGM (background music) giving goosebumps everytime it is listened. (https://youtu.be/UTiXQcrLlv4) 
– When we are born , we are having only 2 types of fear :- One is Fear of Falling and Another is fear of Loud Noise. All other fears are imposed upon us as we grow by society.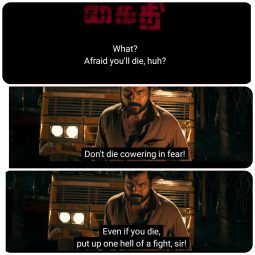 – Above image taken from kaithi
– There are many types of fear viz. death, disease, accident,unsuccessful, unfamy, etc. भृतहरि has rightly said 
भोगे रोगभयं कुले च्युतिभयं वित्ते नृपालाद्भयं
माने दैन्यभयं बले रिपुभयं रूपे तरुण्या भयम् ।
शास्त्रे वादभयं गुणे खलभयं काये कृतान्ताद्भयं
सर्वं वस्तुभयाSन्वितं भुवि नृणां वैराग्यमेवाSभयम् ।।
Translation:- People indulging in sensual pleasures are afraid of contracting diseases, people belonging to a prominent dynasty are afraid of losing their status. rich people are afraid of being taxed by the king or the Government. Similarly honourable persons are afraid of being poor,
powerful people are afraid of their enemies, young people are afraid
of losing their beauty, learned people are afraid of arguments about their disciplines of learning, virtuous people are afraid of wicked persons, and human body from Death.
In fact every thing in this World is
linked in one way or other with fear, but only those persons who
practise 'Vairagya" (detachment from worldly desires) live without any fear.
– Nazir Akabarabadi has also said 
गर उसने दिया ग़म तो उसी ग़म में रहे खुश।
और उसने जो मातम दिया, मातम में रहे खुश॥
खाने को मिला कम, तो उसी कम में रहे खुश।
जिस तौर कहा उसने उस आलम में रहे खुश॥
दुख दर्द में आफ़ात में जंजाल में खुश है।
पूरे हैं वही मर्द, जो हर हाल में खुश हैं ।।
P.S. :-
सो अनन्य जाकें असि मति न टरइ हनुमंत।
मैं सेवक सचराचर रूप स्वामि भगवंत॥
भावार्थ
और हे हनुमान! अनन्य वही है जिसकी ऐसी बुद्धि कभी नहीं टलती कि मैं सेवक हूँ और यह चराचर (जड़-चेतन) जगत्‌ मेरे स्वामी भगवान्‌ का रूप है।।
Picture Credits :- RRR 
---