The only common thought after Diwali is how to detox after binging on all those sugar-laden goodies.
1. Get rid of them
It is the toughest part. We can't afford to give away all those melting in the mouth laddus, karanjas, sankarpals .They are sitting in the dabbas and sending out quite invitations . We don't want to waste food, so reach out for the dabbas . The result is added kilos on body and guilt in mind. 
Find someone who couldn't afford all those goodies and yummy Faral.
My maid has two small kids and she is so happy to carry some sweets back home. She leaves home in the morning at 6.30 and gets back by evening  7 . She never gets time to make special foods for kids.  She said, the younger one likes sweets and he keeps eating sugar. The elder one is a little girl and I dot on her. She almost resembles the little girl of the smiling little girl sitting in the bucket image. I even planned to make her sit in a bucket full of water and take a shot. This one loves spicy food and she complains since her mommy is not cooking food at home, the food is lacking taste and punch. With most of my Diwali sweets going their home at least the little boy must be happy.
Make a plan and keep everything ready before you start.
2 Do an intermittent Fasting
Intermittent fasting is when you give a 16-hour break for two consecutive meals. This helps when you can't keep a count on calories and when you snack on high-calorie snacks. Once or twice a week is good enough if you are having normal health and food habits. Fasting is a simple way to reduce sugar and insulin levels and also to burn excess calories.
( If you have any health issues do consult your doctor before any kind of dieting and fasting.)
You can start by eating dinner early just before sunset is ideal. You will feel hunger pangs by the usual dinner time. Take a protein milkshake or turmeric latte before sleeping.
Protein with milk is double protein as milk has protein too and this keeps those hunger pangs at bay. Turmeric latte is warming and purifying. It is a detox in itself. Curcumin the antioxidant in turmeric is the active component in turmeric. Antioxidants protect your body from cell damage and oxidative stress.
Cinnamon gives flavor and aroma to the latte, it also has anti-inflammatory and anti-oxidant properties.
Turmric cinnamon Latte 
Boil One glass of milk adding 1 teaspoon of turmeric powder. Add a pinch of cinnamon powder and black pepper.
I avoid sugar or honey in this preparation.
3 Move out of your comfort zone!
Move those lazy muscles.
Go for a nature walk, gym, do yoga, Suryanamaskar, running. Pick one at least according to your preference so that you can do it for at least twenty minutes.
I prefer a nature walk, with little yoga stretching. You can read the benefits of Suryanamaskar here (link)
Forest bathing is a good way to replenish oxygen.
We need mind and body balance. Don't forget your meditation. Read good books, listen to some songs, or even do a little jig! The mind loves them all or else it will trouble you with messy thoughts.
4 EAT LIGHT  
Don't stuff, just because you did a morning walk and skipped dinner. Less luggage more comfort!
I can't skip my morning tea, but I reduce the number of times I consume tea. One cup of tea is replaced with one cup of green tea or fresh fruit juice.
I take fresh fruit juice in the morning when I am doing intermittent fasting. I prefer watermelon juice or tender coconut juice.
After that by 11 am I take a light breakfast. Breakfast can be fresh fruit and vegetable salad or any of your usual breakfast items like dosa, idli,  poha, upma, etc.  But make them fresh. Don't reach out for laddus, sev, and chaklis for breakfast.
You can try some delicious detox smoothies for breakfast if you want to skip the usual.
Detox Smoothies
 
STRAWBERRY OATS SMOOTHIE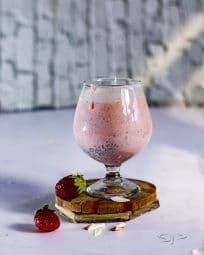 1/2 cup cooked rolled oats. ( take 2 teaspoons of oats and cook it in one cup water )
4 to 5 fresh strawberries
2 tsp soaked chia seeds
 1Small banana
1 glass almond milk/cow milk
Blend to a nice smoothie. Garnish with finely chopped almonds.  Add 2 tsp honey if you want more sweetness.
DATES  OATS  SMOOTHIE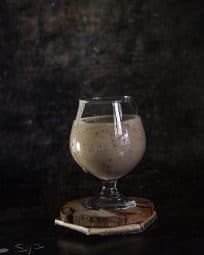 4 to 5 Dates
1 /2 cup cooked oats
2 chikkus
Few soaked almonds
1 glass milk
Blend them into a smoothie. This smoothie is so very sweet no need to add honey or sugar.
Almond Banana Smoothie
1 banana
1cup cantaloupe ( if you have fresh strawberries or blueberries that would be great too )
2 teaspoon soaked chia seeds
1 glass coconut milk/ normal milk
Few soaked almonds
1 tsp protein powder / or you can skip it 
Blend the ingredients into a smoothie.
 
Papaya  Mint Smoothie
 
1 cup Papaya
2 ripe peaches
2 tsp soaked chia seeds
1 glass  fresh coconut milk/ normal milk
2 tsp honey
Few mint leaves
Blend the ingredients, add honey and garnish with mint leaves
You can pick one of the smoothies or any other fruit combination of your choice.
  Later you can have a light vegetarian lunch and again early dinner. 
Hoping this will inspire you for sugar detox plans 🙂
Wish to see more detox suggestions  in the comments section.
Jai Sri Hari . 
---