Moringa is rich in Calcium and Iron. It is good for malnourished children and helps in relieving joint pain in elders. Moringa leaves can be dried and used all round the year. For making moringa puri and moringa toor dal I have used moringa powdered made from dried moringa leaves.
Moringa Puri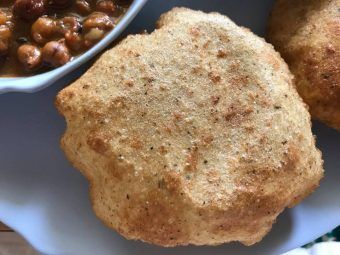 Ingredients
Wheat flour – 1 cup
Suji / Semolina – ¼ cup
Ajwain / Carom – ¼ teaspoon
Moringa powder – ¼ teaspoon
Ghee – ½ teaspoon
Salt to taste
Oil/ Ghee for frying
Method
1.      Take wheat flour and semolina in a bowl and mix them well.
2.      Mix salt, ajwain and moringa powder in it.
3.      Pour warm ghee in it and rub it well.
4.      Knead the dough with warm water and left it for 15 minutes.
5.      Make small balls and roll them with a help of rolling pin.
6.      Deep fry them on medium fire.
7.      Serve them hot with channa or potato tomato veg.
Moringa toor dal
Ingredients
Toor dal- 1 cup
Water- 2 1/2 cup
Moringa powder – ¼ teaspoon
Ghee – ½ teaspoon
Turmeric powder – ¼ teaspoon
Cumin seeds – ¼ teaspoon
Salt to taste
Method
Soak toor dal for 30 minutes in water.
Add salt and turmeric powder and cook it in pressure cooker.
Heat ghee in a pan till it simmers and add cumin seeds to it till dark brown.
Add moringa powder
Stir a little and serve hot with rice or chapatis.
For #TheWriteChoice
---