ॐ नमः शिवाय🔱
Om Namah Shivay🔱
Happy Maha Shivaratri 2021 to all
You can check the Part 1, and Part 2 of the yatra
Day 7 – 18 June 2018
The day to commence our Mount Kailash Parikrama had arrived. Today morning, we started our journey to Yam Dwar.  From this stretch till the end of the trip, we just had a backpack with minimal items for parikrama.  All places of stay will be lodges and with only open toilets.
After about 45 mins in the bus, we reached Yam Dwar. The view of the south face of Mount Kailash was breathtaking and which appears to have spine like structure in the middle. The day seemed to be a good one with good clarity, and nice weather.   There are times when it snows here, and further in the way, and then the second day of the parikrama is closed down at times.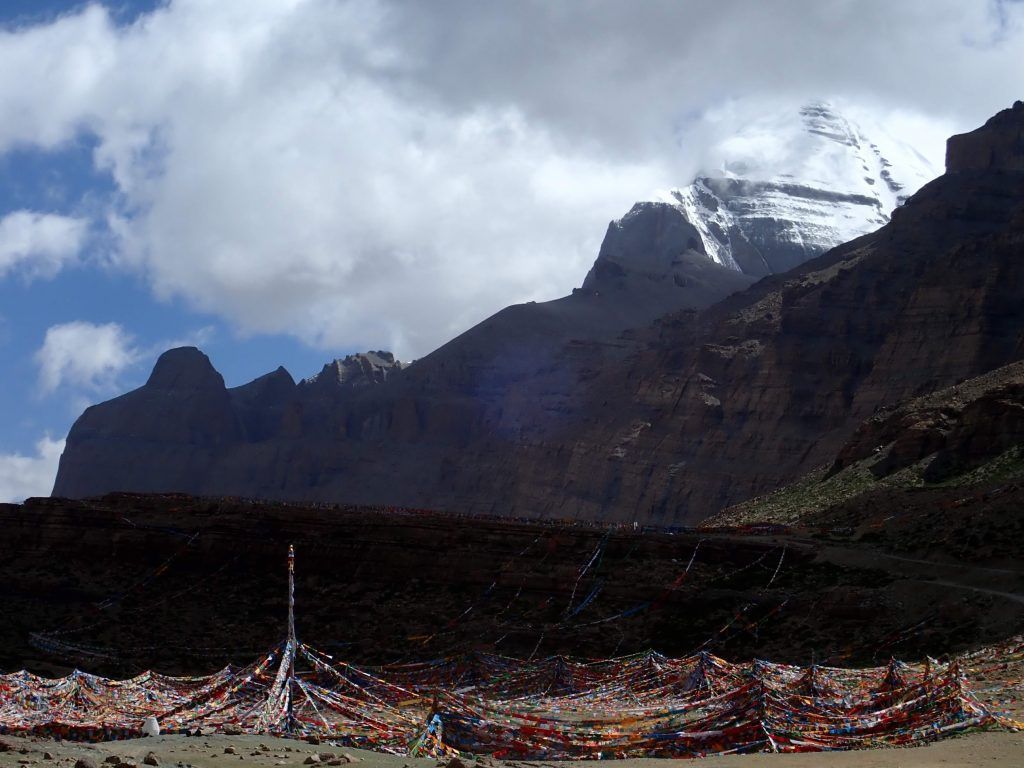 Yam Dwar significance
Yam means Yamraj – the God of death, and Dwar is the door, so this means the door to death.  Once who crosses this gateway of Yamraj is believed to be freed from the negative energies and gets liberated from past sins. The kora/parikrama from Yam Dwar starts in the clockwise direction.
On a lighter note, I had taken bath in Mansarovar 2 days back, which also absolves of the past sins, so only 2 days of sins were left to be atoned when I crossed! 😊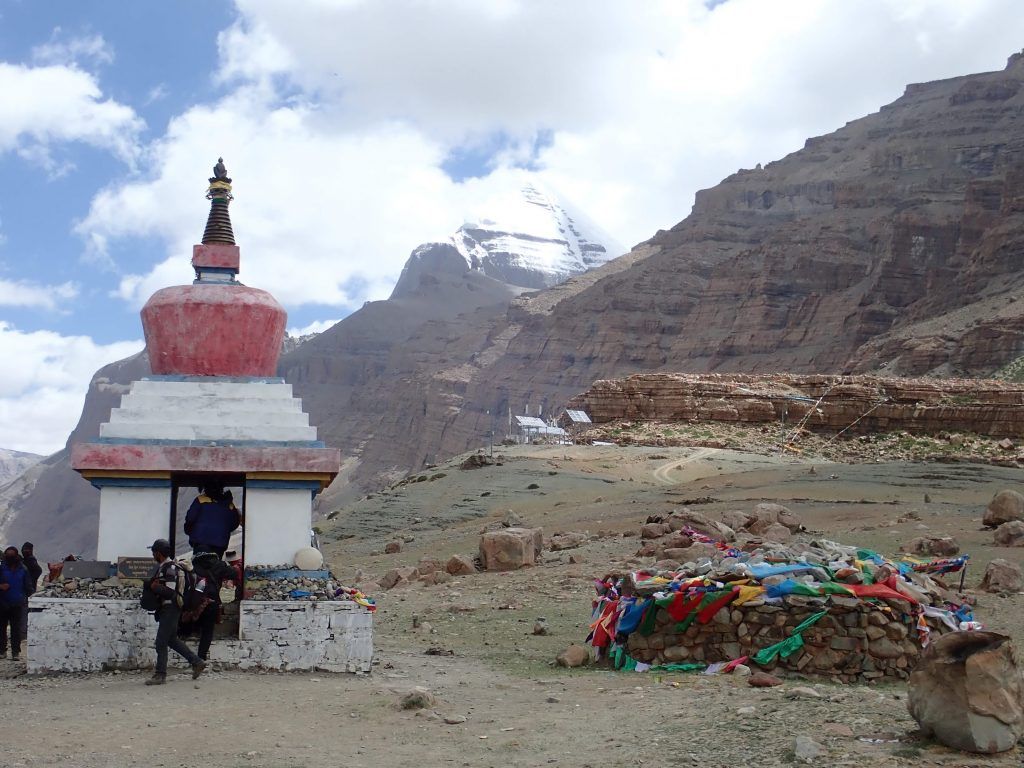 There were 3 groups of pilgrims today
1st group – There were some who were just heading back after visiting Yam Dwar, and making a local parikrama. This was a group of about 10 people who had issues with back or other health issues.
2nd group – Those who were making the parikrama in a pony, which was the largest group.
3rd group – Those who would be fully trekking down the route.
The trek today is about 15 kms, and takes about 4 to 5 hours in walking, and ascends about 700 feet, so the trek in itself is moderate but the altitude makes all the difference, and at that altitude walking a few steps is very tiring, due to less oxygen. The locals who lived here walked with ease, as they had gotten used to the oxygen level, plus they were much fitter with the daily walk they do 😊
From our small group Maharaj and Dayananda decided to walk. Mataji, Gomu and me would take a pony. My leg pain was on the higher side and I was on maximum pain killers to ensure I sit still on the pony.  Though the trek itself on the first day wasn't that tough, it was the altitude which made it much harder, and also given my condition, that was the only option.
After we reached Yam Dwar all those who wanted a Pony then were put in a draw for random matching with the Horse/Pony and the porter for carrying the backpack.  We were not allowed to carry the backpack on our shoulders. Those who were trekking started immediately.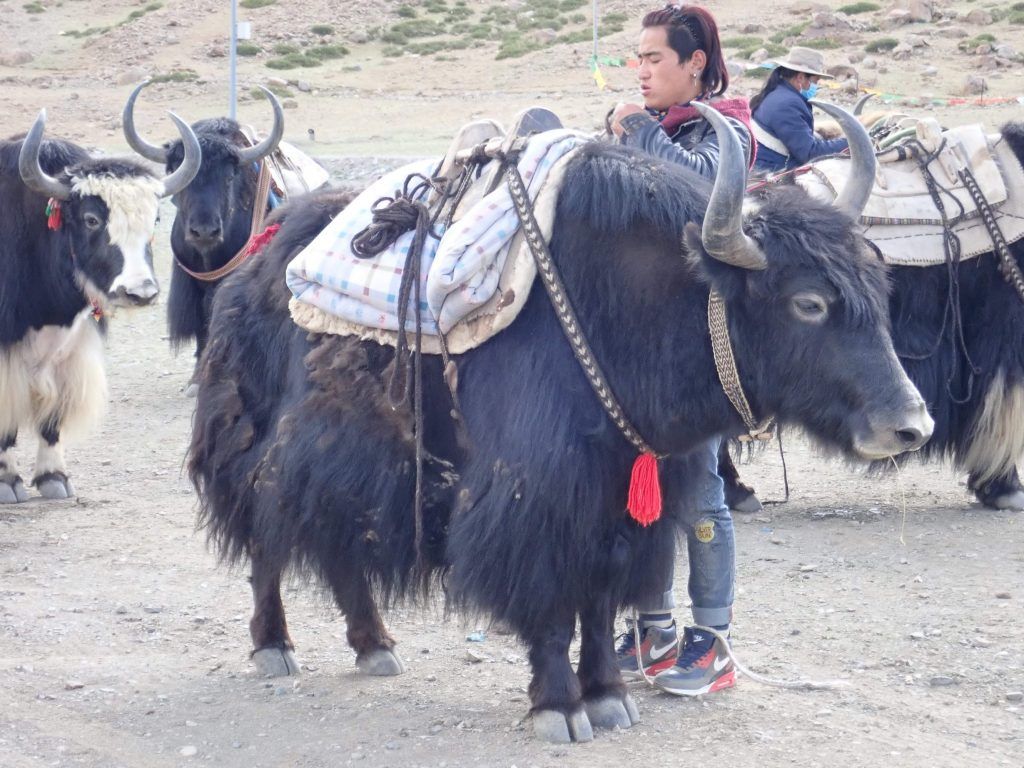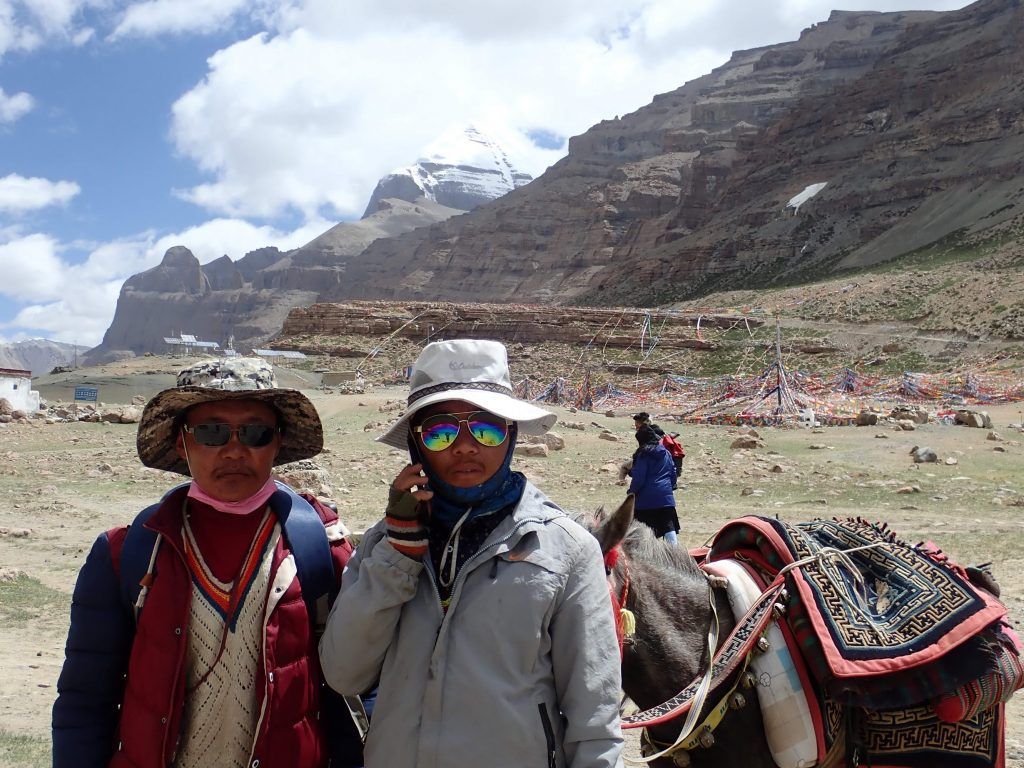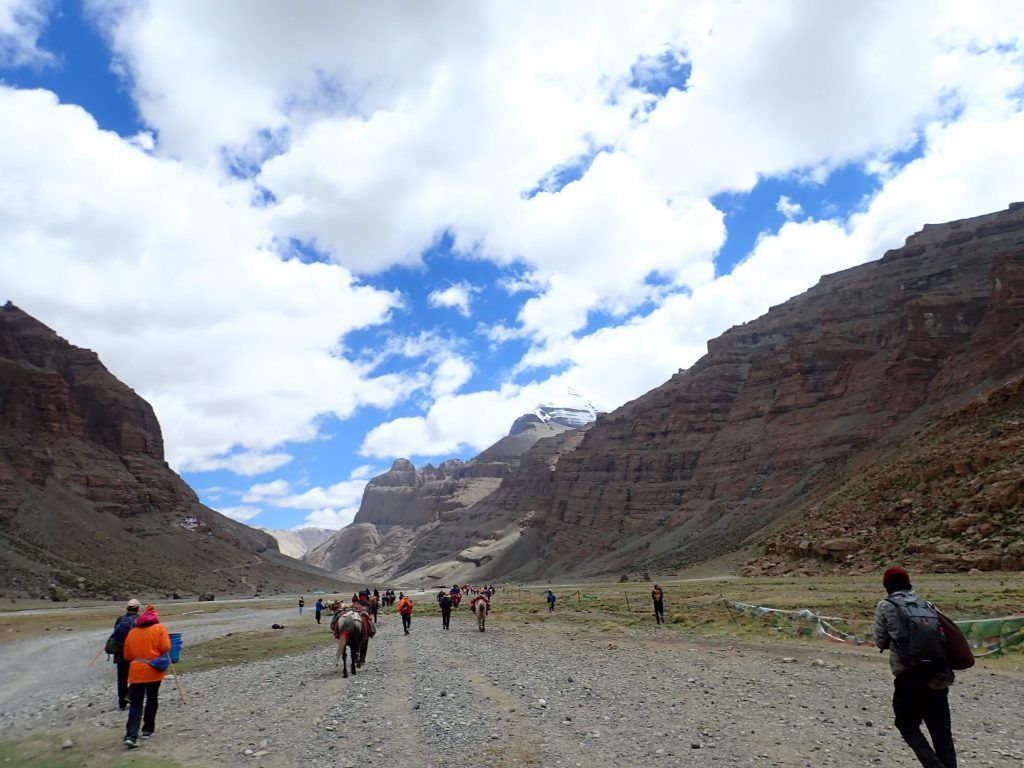 Someone also had shared some advice for making the ride easier for pony.  Since this was an hilly area, the pony would have to walk up and down which was more strain for them.   This involved leaning forward when going up the hill, and leaning backward slightly when going down the hill.  This moves the center of gravity so the pony has to do less work, and is better balanced.   This is advice which made sense from a physics perspective, and I did end up following it. We did see some pony getting tired, or distracted or scared and in one case had thrown down the rider. I also used some visualization and sent some positive vibes/love to the poor pony who was carrying such a heavy person like me.
We saw some monks and people doing a full prostration parikrama, which meant they would prostrate fully along the complete parikrama.  Then there are some who start very early and complete the full parikrama on the same day or don't stop till they complete the parikrama.  But both of them seemed to be local people, as they were comfortable with the thin air.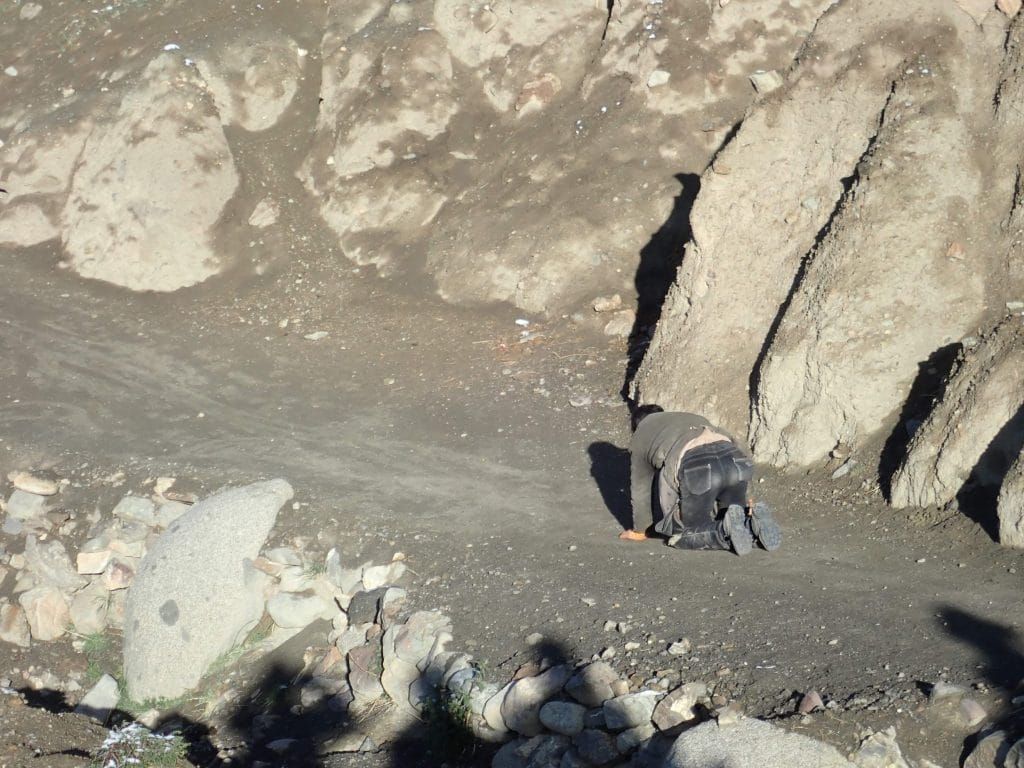 Midway during the days trek, one could see the west face of Mount Kailash, and it appeared magnificent like a crescent shaped moon. I did try to soak in as much of the vibes and felt really different at this stage of the yatra.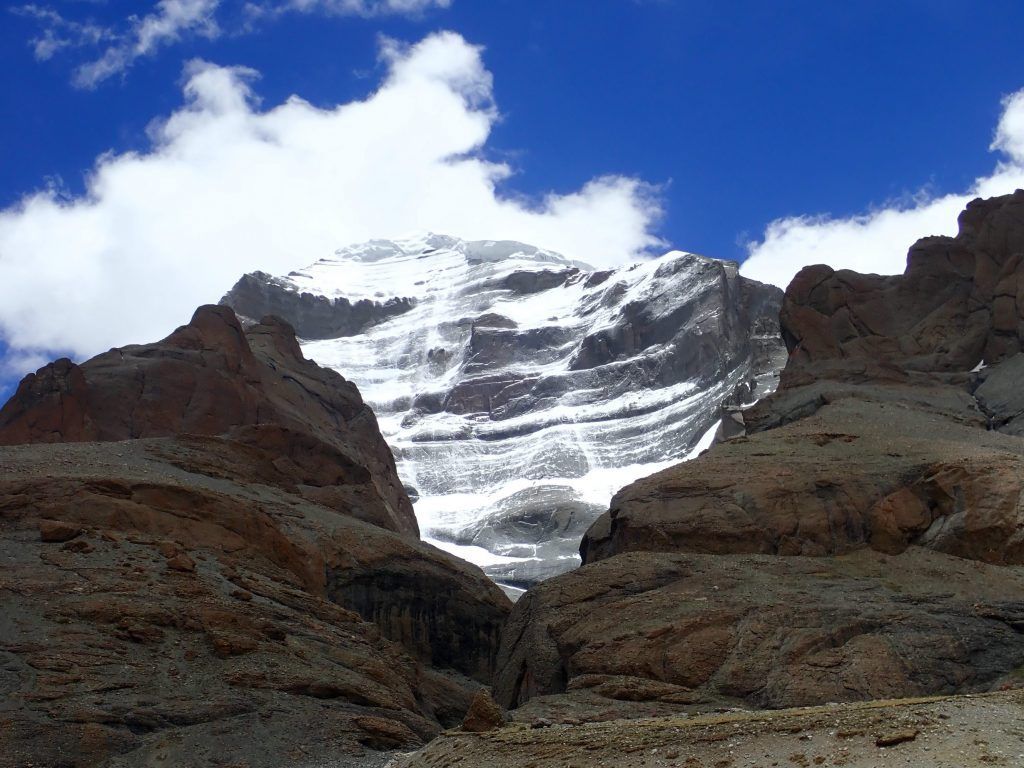 In our parikrama today, we would see the South face, West face and North face of Mount Kailash. On day two, we would see the East face which is barely visible, and so today was the day with great views of Mount Kailash.
We reached by our destination for the day Dirapuk by 4 PM.  Next to that was a Buddhist Monastery. We saw Buddhist monasteries in all the places, near Manasarovar, near west face and now here.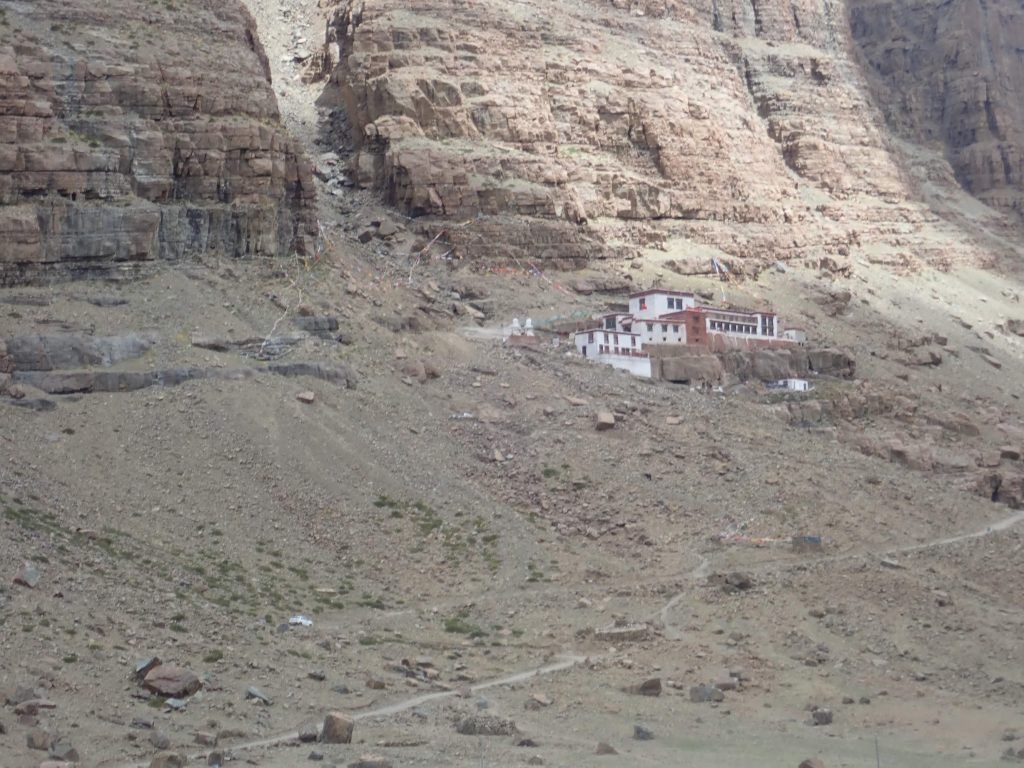 We saw the magnificent North face of Mount Kailash.   On trekking for a few hours one can go to the base of the mountain, and to a point called the Charan Sparsh point.  This is where as the name suggests you can touch the feet of the mountain. Since there were a few hours before the evening there were a couple of groups who decided to go forward as much as possible. The trek to Charan Sparsh point is about 4 hours, one way, so we knew we would be getting closer only. There are tour operators who keep an extra day for the charan sparsh, as well.   The sun would set only at around 9 PM, so we had a good amount of time to be back.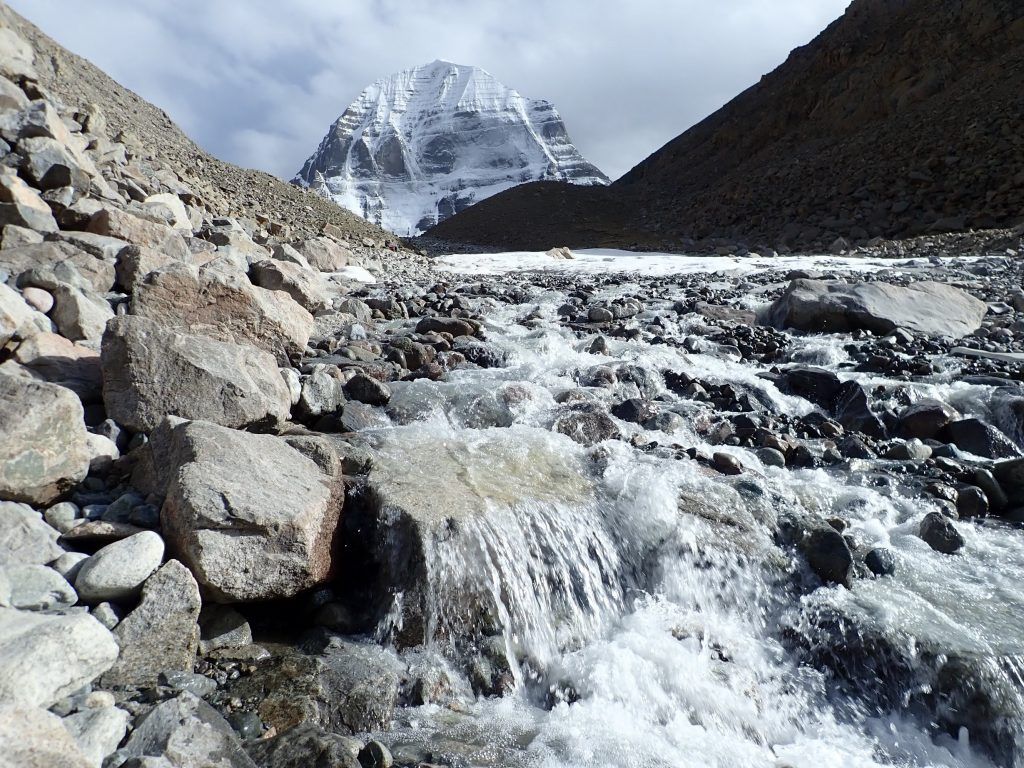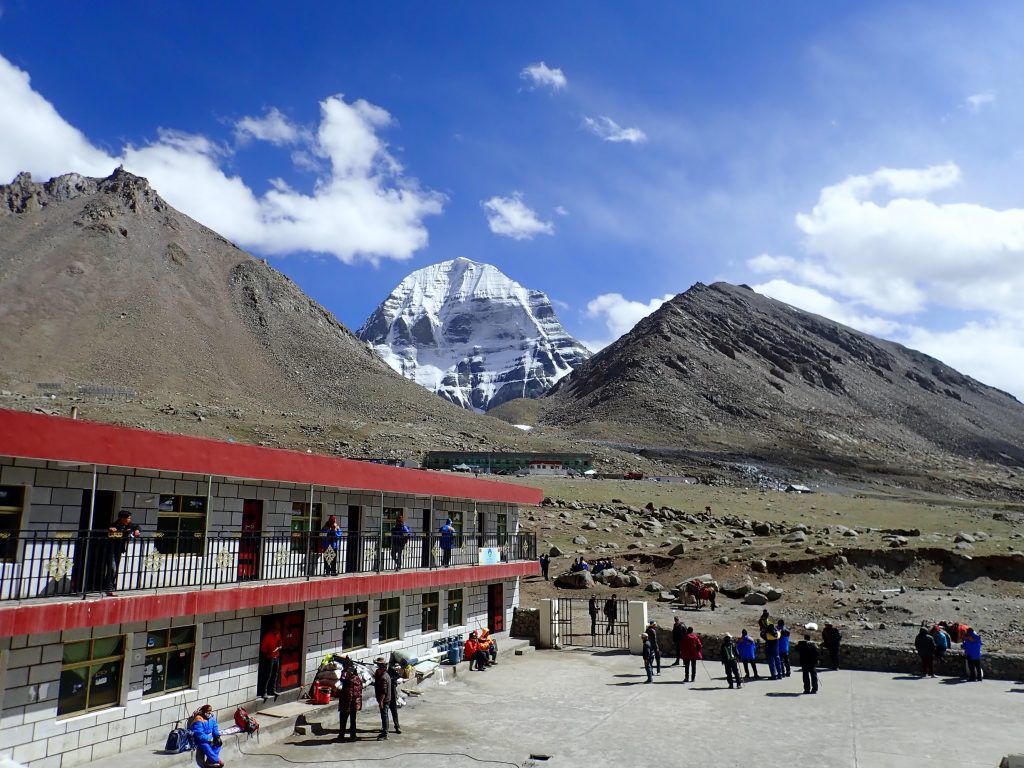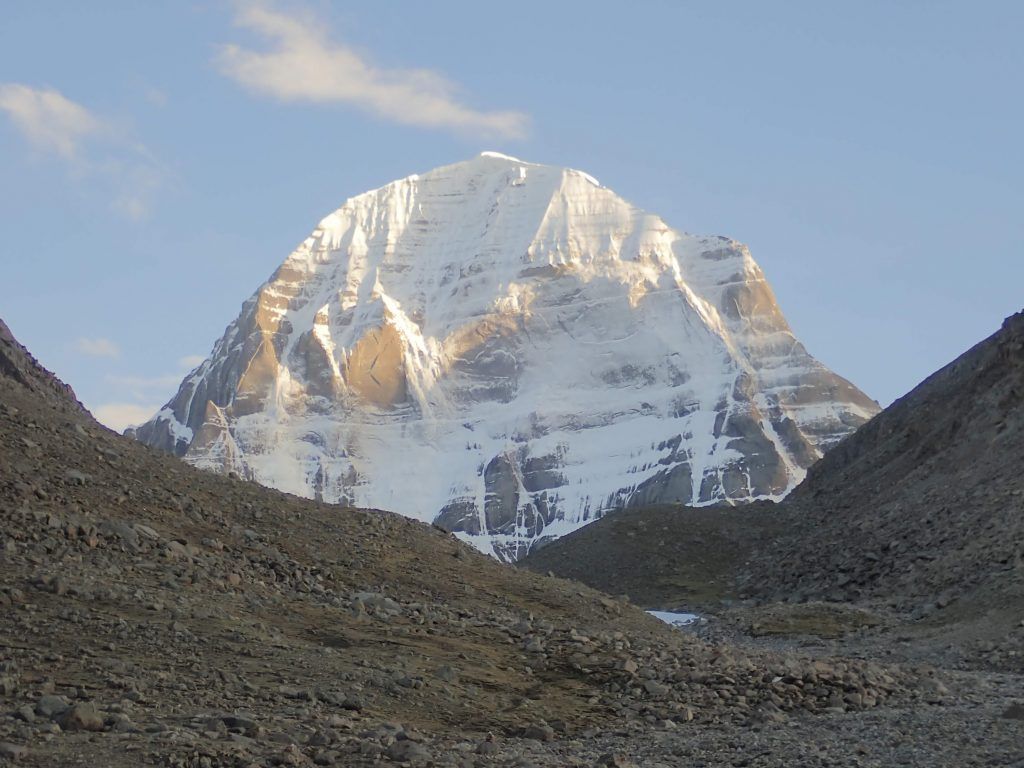 But my pain was severe, and it probably worsened as I was stiff from sitting on Horse the whole day. I was not able to walk at all, and so instead of delaying the group I asked them to go ahead. Having said that, I thought of walking as far as I could for the next few hours, and returned back by 7 PM.  The view was beautiful, and I was all alone, and I was in tears watching the beauty and feeling the oneness for a very long time.  But the distance I could cover was only what others would have done in about 20 to 25 mins, so I was walking really slow.
When I returned the Guides and Sherpas who walked with us were checking our oxygen levels and fitness for the next day which was considered the hardest.
Those who had lower levels of oxygen were advised to return back. For me it was about 82%, and this was expected to go down by another 10% at peak altitude which was about 2300 feet higher than current levels. Anything above 65% was considered normal at that altitude.  For reference anything below 90% is considered low oxygen and cause for concern at home.
Tomorrow, there was a mandatory walking for 2 kms for all, and we would cross the Dolma La pass at 18500 feet. As I was trekking to Charan Sparsh point earlier, some of the sherpas and guides had seen me limping and walking slowly. Hence, one of the Sherpa and guides suggested that I should not continue further and return back, given my health. He shared the trek the next day had very steep portions for 200 meters stretch and we had to walk at least 2km in steep descent.  Mataji was also suggested to go back, due to her fatigue.
This was a big decision for me, and we had a discussion, and Swami Shantivratananda ji encouraged me to complete the parikrama. At that stage, I knew if I went ahead, I would finish the Parikrama, but I wasn't sure of the time it would take. I had practiced for trekking so many times last year, but right now it was different. Further, I had just walked towards the Charan Sparsh point, and walked in about 1hr 30 mins, the distance others did in 20 to 25 mins, so I felt I would be the hold up in the group. There was strong pulsating pain, which didn't go down despite being on many painkillers. So this  feeling I wasn't able to overcome, and I made a decision to come back. It was tough one.  I made a resolution to come back some day to complete the full parikrama.
Mataji also decided to return given fatigue, oxygen levels and her health. So, I gave company to Mataji who only spoke Kannada and little English and accompany her back to the hotel next day. There were about 8 more people who returned back.
Dayanand from our group who had walked on Day 1 felt very tired, and was lucky to be able to secure a horse just for Day 2.  So it was only Swami ji from walking on Day 2, and Gomu, and Dayanand on horses on Day 2.
Day 8 (Day 2 of Parikrama)
This day, we returned back and reached the hotel by 1 PM, and the next 19 hours were just resting before starting back. On the way back we saw an emergency vehicle also, which is used to evacuate people with altitude sickness or other issues. We saw them take someone back.
For the readers let me continue the journey through the lens of other fellow family members, and I will write the experience in first person only.  Today was the start of the toughest day of the trek for us. First we had an ascent for about 3 hours, where the ponies were struggling hard to carry the passengers.  We moved from 16300 feet at Dirapuk to 18,600 feet at Dolma la pass, so about 2300 feet of ascent in 3 hours.
When we reached the Dolma La pass, the view was very beautiful, but the oxygen is so thin that one is requested to take only one or two pictures and not stay more than a few minutes in this area.   As soon as we started descending we saw the Gauri Kund where Mata Parvati did several penances, and this place is also associated with the legend of how Ganesha acquired his elephant head.  Some of the Sherpas offered to fill some water from Gauri Kund for a fee, and got us the holy water.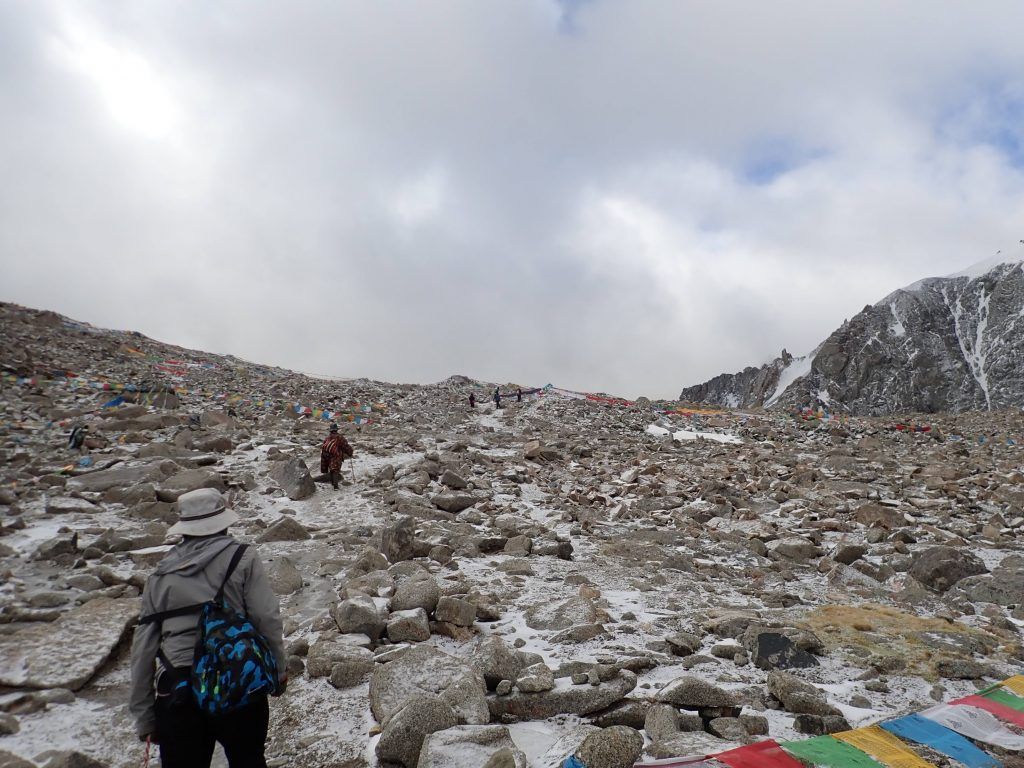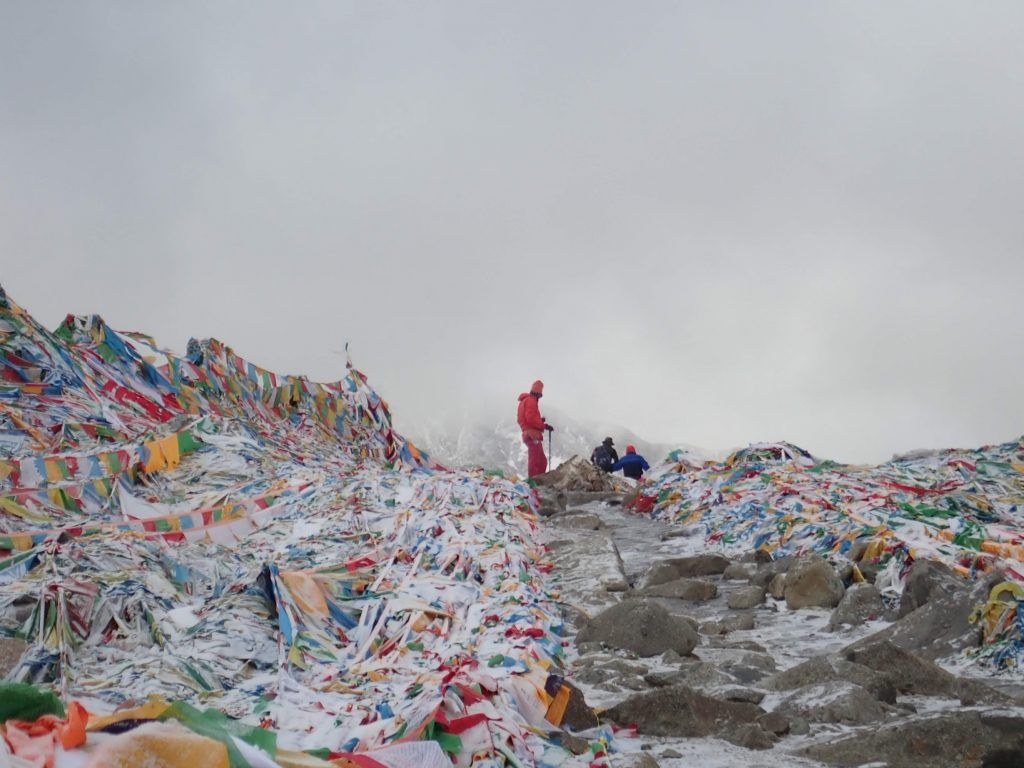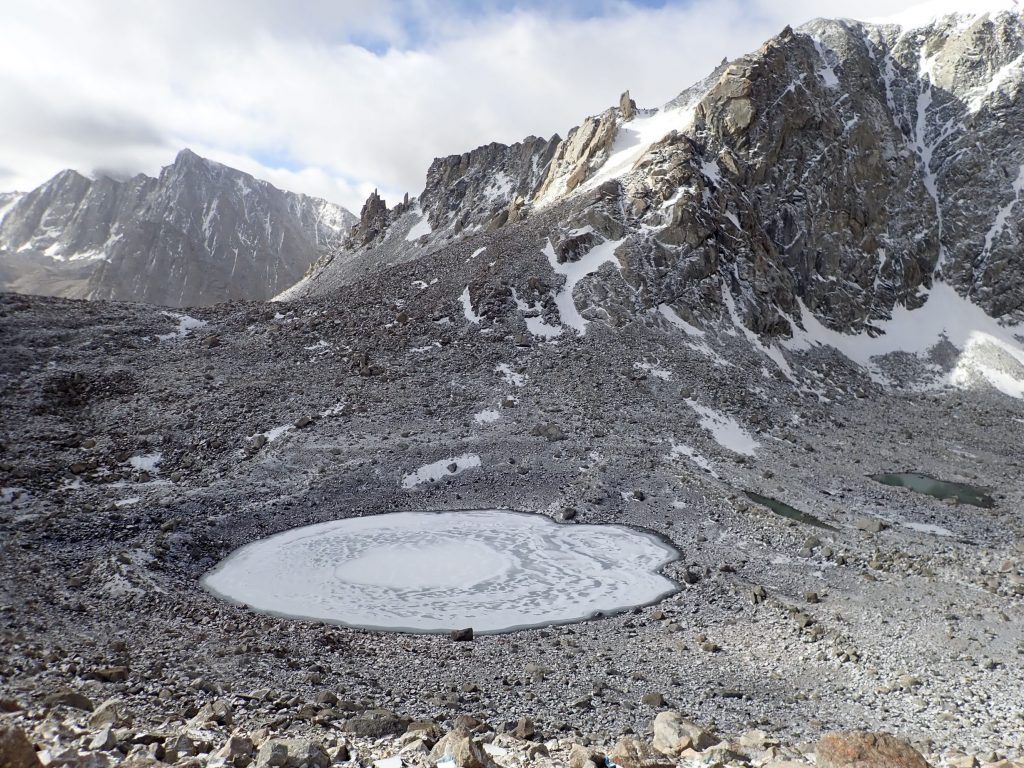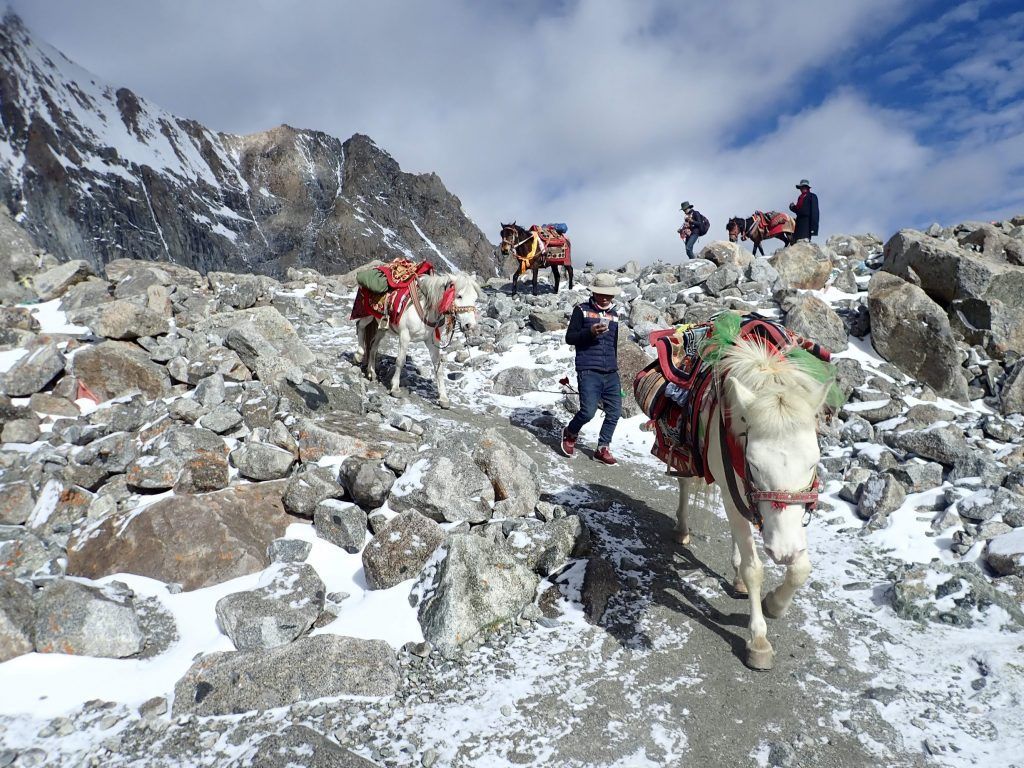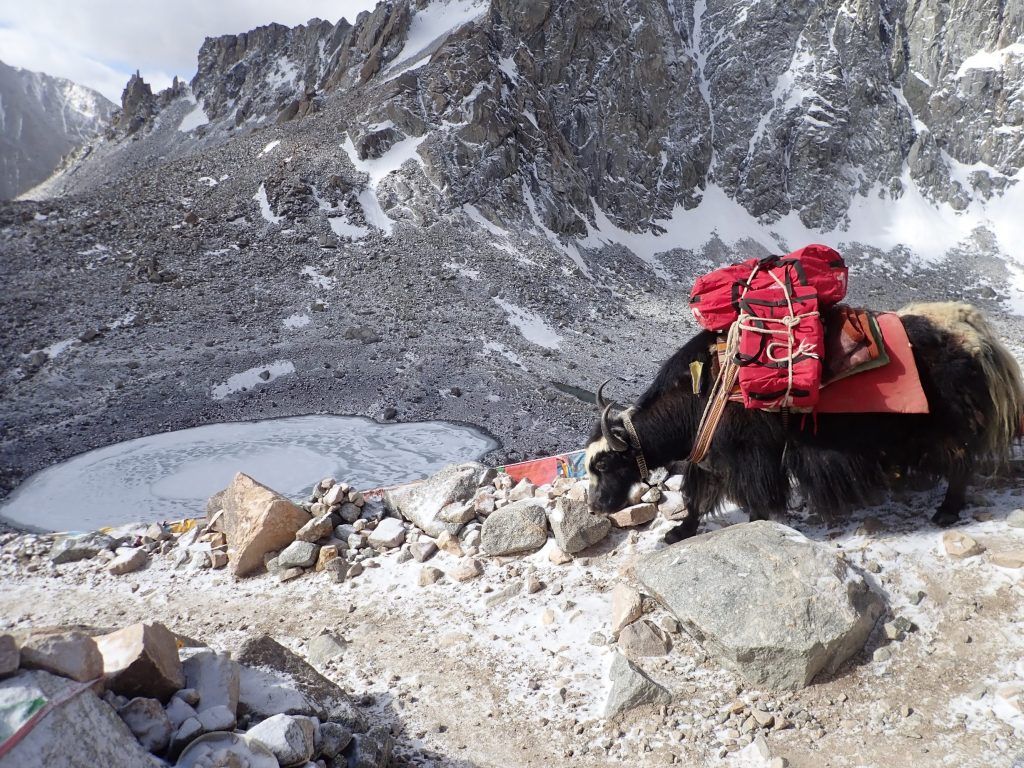 Post that we had a deep descent, and all had to walk in this section. After this it was a flat area and those with horses continued on those, and rest walked.  We stayed at Zuthulkpuk in the night which had similar arrangements like the previous day.
Day 9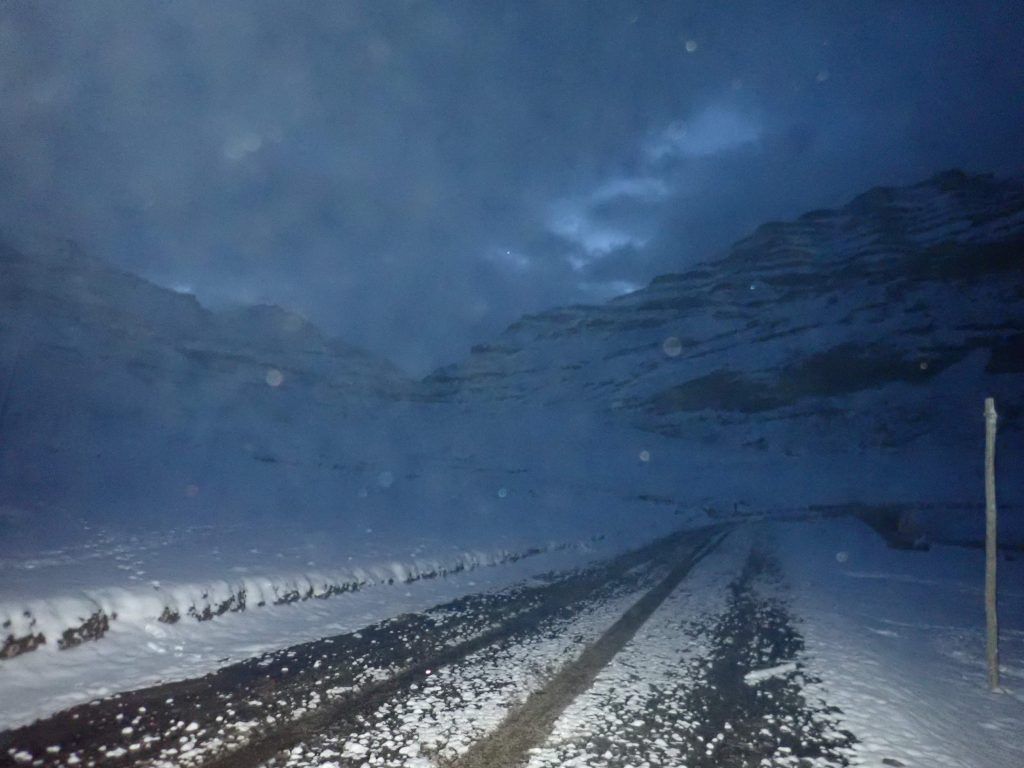 We had to start early in the morning to cover a flat trek for 2 to 3 hours, and then we would eat breakfast and start back to return.  In the morning it snowed, and luckily it wasn't very heavy, and the walk was very beautiful.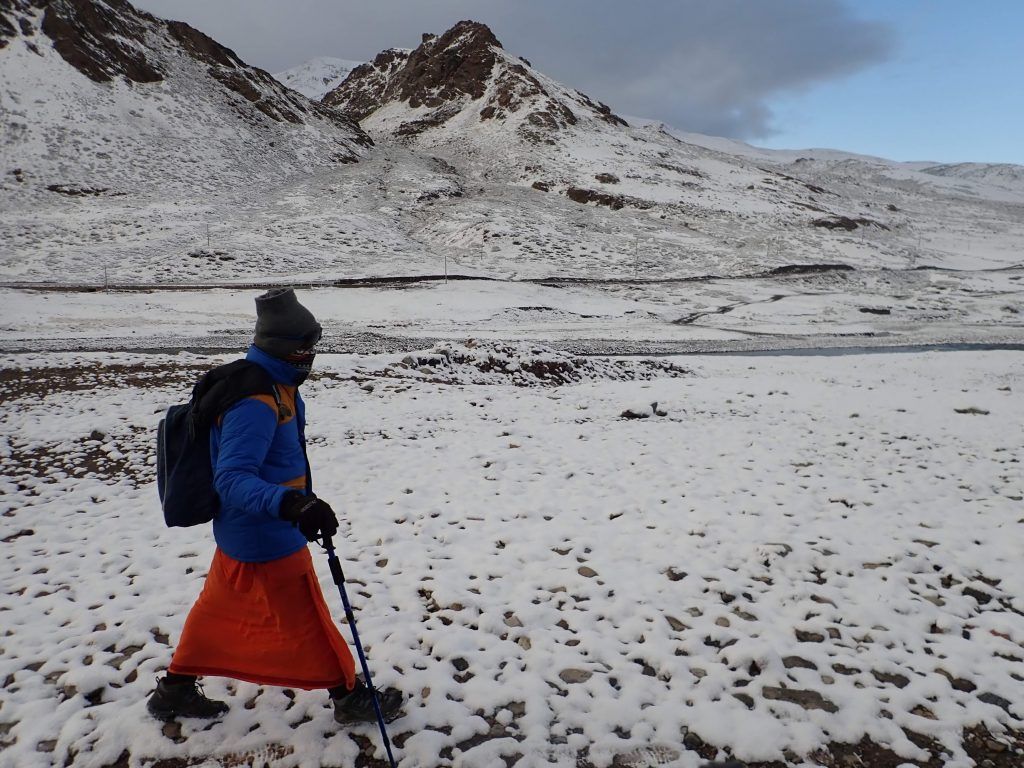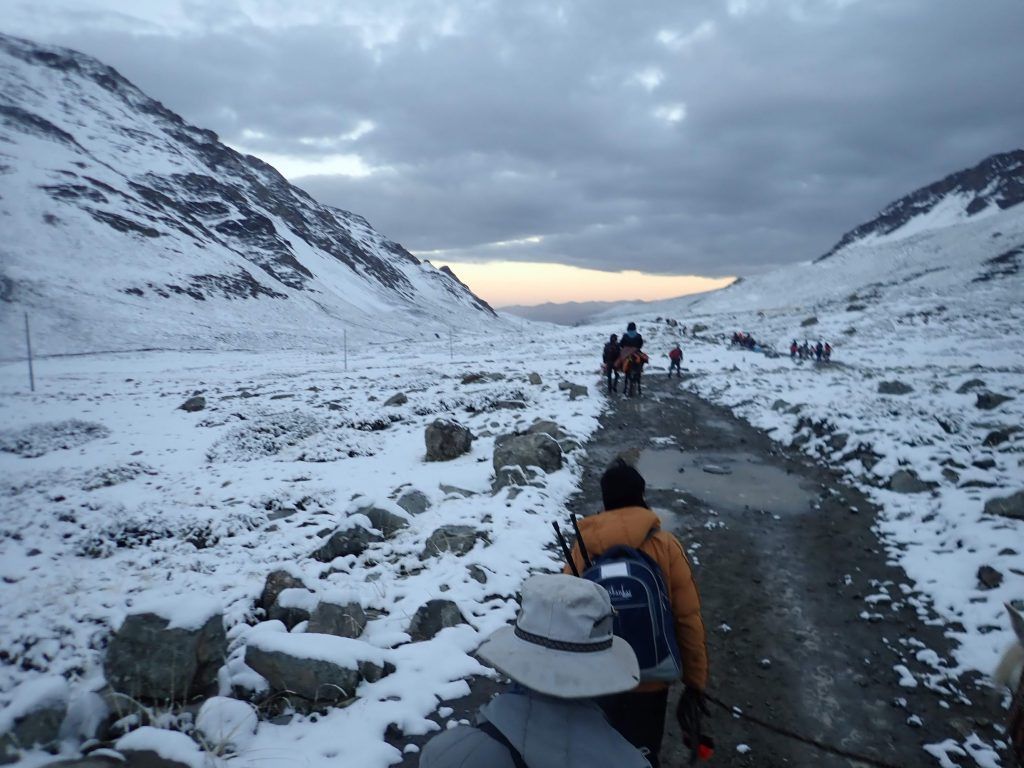 Then we joined the full group which was at the Darchen base camp hotel.  In our batch about 42 people completed the full parikrama, which was huge.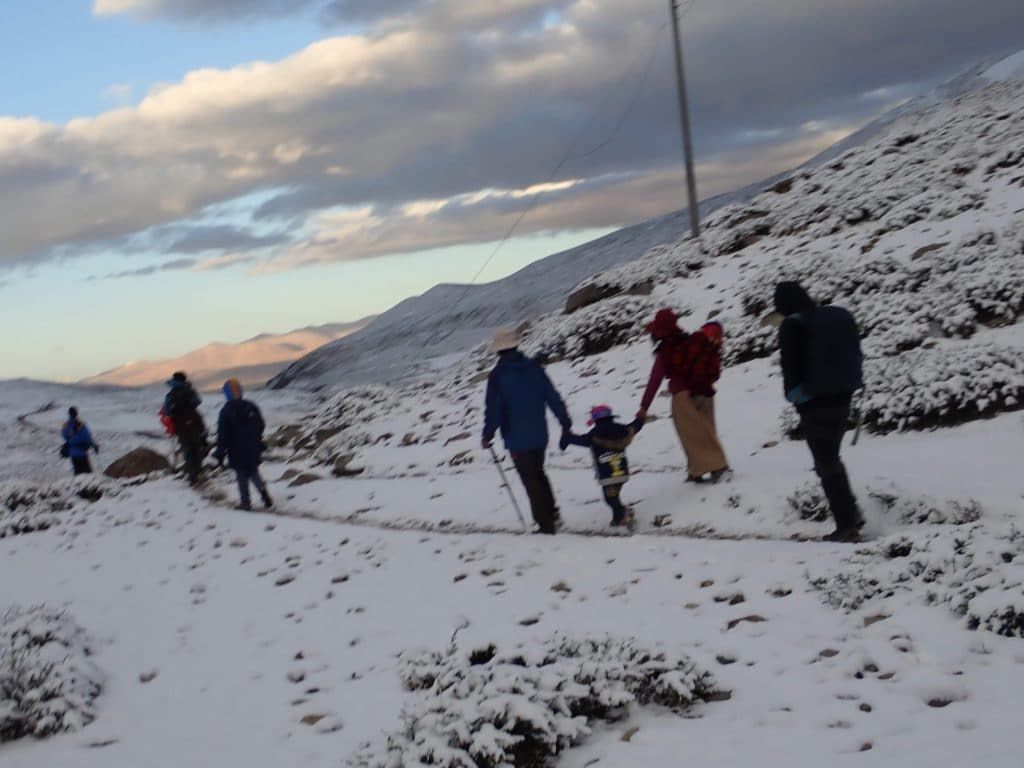 We started back to cross to Hilsa site in afternoon, and were in Hilsa by 2 PM after swift border crossing at Nepal border.  Some people were starting to head back to Simikot in a helicopter straight away, and while we were ahead in the list, the organizers requested us to go later, and in the worst case we would stay back at Hilsa, along with 20 others.  The helicopters stopped flying by 6 PM and we had to stay back and spend the night at Hilsa.

Day 10
We were the second group to take off today. After taking off from Hilsa to Simikot, in the second group, at around 9:15AM, it was sheer luck that our small group reached Nepalgunj by 11:30 PM the same day.
As soon as we got off the helicopter in Simikot, while there were many groups waiting to board the plane, it seems there was a shortfall of about 6 passengers in the plane which was ready to go, right now.  So the airport staff asked us to board the plane to keep the full occupancy for the planes. We boarded immediately and they said the luggage will reach us in subsequent flights.
Nepalgunj, was at 35 degrees heat, and the moment I landed about 85% of the pain was gone!. It was an hour of waiting and some commotion to figure out how to get the bags, but by 12:10 PM, we had got the bags, and we had a good chance to get back to Lucknow in time to reach Bangalore the same day. Rest of our family group wanted to stay back and start the next day. There was a family who wanted to leave immediately as well, and so we pooled together. We were able to rush to the hotel and get our items which we had left there to make our bags lighter, re-pack the things and head out immediately. Thanks to swift work by our travel agents, we got a taxi on time, and we were at the airport by 5:00 PM, much ahead of the time.
On reaching the airport, I was in amazement with the sort of luxuries we lived in. I had stayed in lodges with an open toilet and the most basic amenities, and it made me see that so many things we really don't need to maintain our body. We are caught in layers over layers of luxury, and each of them creating its set of challenges and distractions for us.
We were lucky that few of us were able to finish the Yatra in 1 day less than scheduled, and many exactly in the planned time. Just 10 days after our return, there were about 100 yatris who had to be evacuated by Indian authorities. It was God's grace, for making it such a beautiful and smooth trip.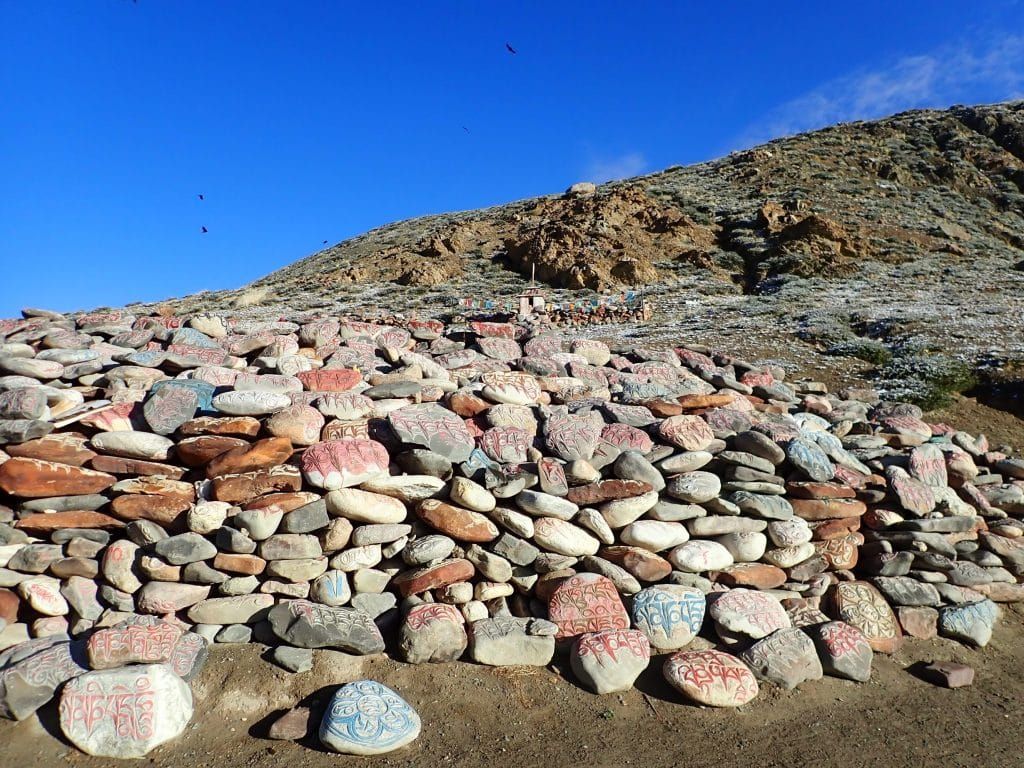 Beautiful Stones with "Om Mane Padme Hum" written, on our trek.  This is the ancient Buddhist mantra
 
Few Thoughts on Yatras/Pilgrimages
Yatras are like bootcamp, where you can be absorbed in the thought of the God with focus for many days, assuming you go with similar minded devotees, and not worry much about food/stay. Further, the energy of the place is different, as many people and masses have thought of God in the same areas, or meditated or prayed. There are sages also who have visited and may have lived there. What you take away from such pilgrimages, depends on what you can retain once you are back from there.
The real spiritual journey is not external but an internal one. In the beginning external environment and factors can help, but it is the self-transformation from inside that makes the difference in the long run.
🔱Om Namah Shivay!
🌺Om Sri Matreh Namah!
---